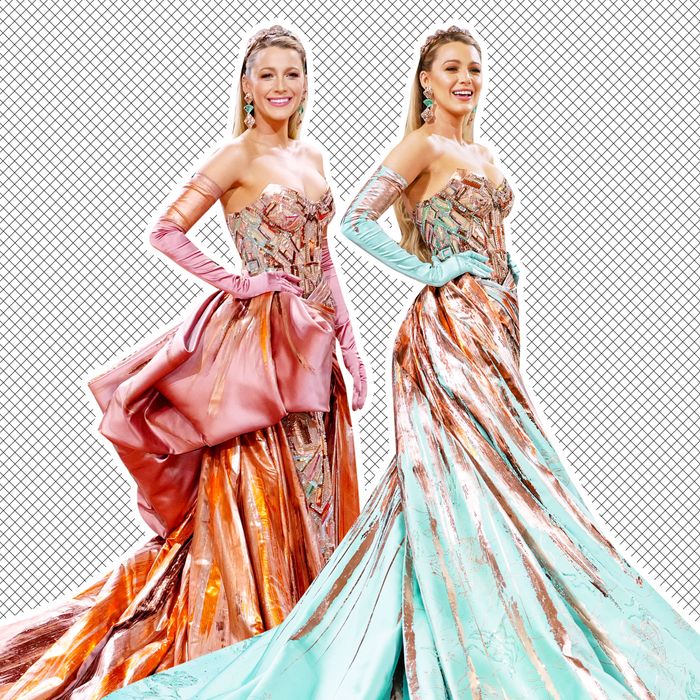 Photo-Illustration: by The Cut; Photos: Getty Images
Tonight, Blake Lively joined the elite canon of Met Gala outfit transformations. As one of the co-hosts of the gala, the dress code for which is "gilded glamour," Lively showed up to the red carpet in a Versace dress whose mechanics I am frankly struggling to wrap my mind around. It started as a big pouf-y pink metallic gown before Lively summoned three tuxedoed men to unfold the train, revealing an even bigger turquoise train adorned with tiny little sparkles. The reveal also somehow involved a change in (an unlayering of?) silk gloves. Please, how does this dress work?
The gown, it turns out, is an ode to the Statue of Liberty, which was of course constructed in New York in 1885 — i.e., during the Gilded Age. The outside represents the monument's original copper look, while the inside is designed to reflect the green patina that now covers it. There's also a celestial map on the green train, which is inspired by the ceiling of Grand Central Station. Okay, Serena!
In videos of the big reveal, one of the men appears to remove a large fabric bow before the other two unfold the rest of the gown. E! also showed footage of the men slipping Lively's gloves off with a flourish to reveal the turquoise ones underneath. I strongly suspect this was rehearsed because never have I removed gloves so gracefully, and that's without a second set of gloves underneath.
Still, if anyone with a background in, um, fabric engineering would like to break down this dress to me step by step, I would welcome it. Maybe understanding how the real Statue of Liberty was constructed would help?