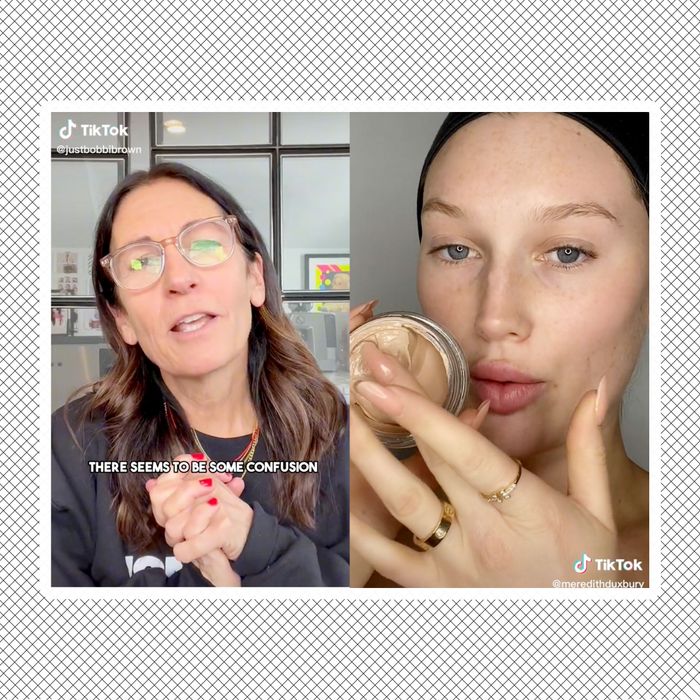 Photo-Illustration: by The Cut; Photos:@justbobbibrown, @meredithduxbury/TikTok
If you, like me, spend most of your time online trying to unpack niche dramas, it's likely you have been trying to decode a number of cryptic tweets alluding to makeup artist Bobbi Brown and an influencer on TikTok. Here's the rundown on the "drama" you could very much live without knowing.
On Monday, May 17, Bobbi Brown, the makeup artist who probably taught you how to do makeup via her books, posted the video above to TikTok. "I always love learning new makeup techniques," she says as she applies more than a hefty scoop of her brand, Jones Road's, new What The Foundation tinted moisturizer to her face. "Didn't really work," she concludes with a thick layer of makeup on her skin.
And like, yeah, it obviously didn't.
So why would a beauty expert made such a rookie mistake? Well, a number of eagle-eyed commenters and Twitter users pointed out this was not a seemingly random video but in fact one shading another TikTok user's video.
Let the rest of the drama unfold.
Makeup artist Meredith Duxbury is known for her layered-on looks, and in early May, Duxbury posted a video on the clock app where she applied an uncomfortable amount of the new foundation and gave it a less than favorable review.
In the past she has managed to make layers of foundation look good but this time around missed the mark since, as commenters pointed out, this foundation is made for light coverage. So of course, applying it like sunscreen or body butter isn't going to get the results you want. Hence Brown's shady video. For good measure, though, Brown herself breaks down how to actually use it.
Now we're sure Brown was just poking fun at Duxbury, but "Bobbi Brown shading" brings up more results on this on Twitter than any contour technique.
We also agree with the general consensus of Twitter users that assure even if Brown were jokingly shading us, we'd have to log out for the day. There you have it: a master class in makeup and shading.