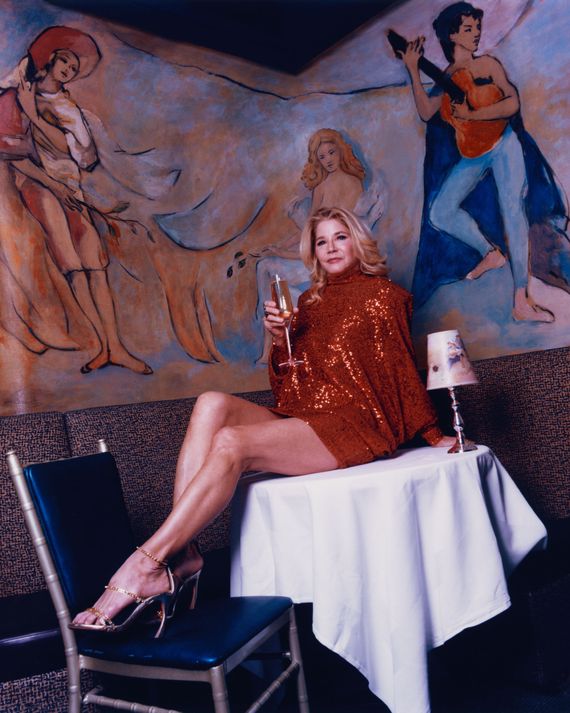 Candace Bushnell wearing a dress by Naeem Khan and shoes by Alexandre Birman at Café Carlyle.
Photo: Alec Vierra
Candace Bushnell, who is a little over five feet tall with a sample-size waist, is sitting in a booth at Café Carlyle wearing shoulder pads broad enough for a linebacker. "It seems very Carlyle to me," she says of her look, which is orange, sparkly, and designed by Naeem Khan. "Like, Hey, here's a dame! An independent woman with shoulder pads and sequins!" She takes a spin around the room, where her one-woman show, Is There Still Sex in the City?, is scheduled to open the following night, and then whispers to no one in particular: "It's almost a little Liza Minnelli."
If you don't know the name Candace Bushnell, she is the only woman on the planet who can accurately claim to be the "original" Carrie Bradshaw. Carrie was a semi-autobiographical character she wrote about in her now-famous "Sex and the City" column, which first ran in the Observer in 1994 — long before Sarah Jessica Parker put on a gold "Carrie" necklace and made it a household name. Ten novels, six hit seasons of an HBO show, a prequel, and a sequel later, Bushnell is ready to take back New York. Again. This time as herself.
Is There Still Sex In the City? is based on Bushnell's latest novel of the same title, which she wrote following her divorce from ballet dancer Charles Askegard at age 50. (Yes, a ballet dancer. Sound familiar?) It opened off-Broadway at the Daryl Roth Theater in December of 2021, but closed after just a few weeks when Bushnell, like so many other New Yorkers at the time, came down with COVID-19. The show at Café Carlyle picks up where she left off, though it's a bit shorter this time and more, well, Liza Minnelli, given the historic cabaret setting. It was originally slated for five nights starting May 10, but two more dates have since been added, and Bushnell plans to wear a different outfit by a different New York–based designer for each performance. She gave us an exclusive run-through of the looks.
"I just thought it would be fun to wear a different dress every night because you can't do that onstage with costumes," she said. Rather than dust off one of the many iconic pieces still in her closet, she "wanted to do something new," and worked with her stylist Nolan Meader to pull a range of Carlyle-worthy looks.
The contents of Bushnell's closet have always played a supporting role in her work. The black patent-leather Manolo Blahnik boots that "changed her life," for example, which she wore when she visited a sex club called Le Trapeze for her first Observer column, will be onstage with her as a prop at the Carlyle, along with her landline phone and a bottle of vodka. So what's the story now? She still has the blonde hair; the long, lean, tan legs; and the Manolos. But at 63, Bushnell is the star. She's Candace with a C, not Carrie with an R, to borrow a line from Minelli. And she looks as good as she did when she was originally the talk of the town, if not better.
"For this, we were really looking for things that were showstopper-ish, but not so much that it's overwhelming," she said, waving a sequined arm. "My director is very much like, 'I don't want us to be looking at the outfit the whole time, as opposed to you.'" She paused, a smirk forming her face. "So we're doing both."
Both Bushnell and Bradshaw had a lasting impact on the way women in New York and all over the world dress. They perpetuated the idea that living here is enough of a reason to get dressed up to run an errand; that smart, working women can spend their time thinking about shoes too; and that even a newsboy cap can be sexy. Unlike TV Bradshaw, however, Bushnell's style does not exist in a vacuum. Like her column, it's a little more shamelessly lowbrow; a little more lived in. She seems more interested in having a good time than good taste. We did not talk about the latest Paris collections or whoever won the last CFDA award, rather what New Yorkers are actually thinking and feeling about clothes. "Sequins and feathers are really, really in right now," she says, surveying her own clothing rack. "Everyone wants sequins and feathers." That and perhaps to make an impossible reservation at a very intimate, very expensive, iconic New York venue.
"I wanted it to feel like I've been at a party with the audience, and we're coming back to my apartment, and we're talking, and I'm telling stories," she said of her wardrobe choices for the Carlyle show. "You know what it's like when you go out in New York, and somehow you end up back at somebody's apartment, and everyone's still in their party dresses? It's that classic New York feeling of anything could happen. Like, Oh, hey, I ended up back at so-and-so's apartment and we were talking until … I'd say two in the morning, but this won't be quite that late."
Another difference between Bushnell and TV Bradshaw is that "you can't just say: 'Oh, hey, I want clothes from this person,'" she explained. Meader helped introduce her to newer names on the New York Fashion Week calendar, like the pop-y Christian Cowan, who has been worn by everyone from Cardi B to Madonna, and Markarian, a label founded by Alexandra O'Neill that's less Las Vegas and more Upper East Side. (Jill Biden wore it to her husband's inauguration; Bushnell wore it to the premiere of … And Just Like That.) Both Cowan and O'Neill will be attending shows at the Carlyle this week, and Bushnell has attended their runway shows as well.
"There are just so many designers out there now. It's a very different landscape than it was in the days when shows were in the tents in the '90s, when there was an established group of designers who'd been around for a long time," Bushnell said. "It has just really exploded. Something that once seemed out of the realm of possibility is now possible thanks to the internet and Instagram. Fashion has become accessible, at least visually, to people. I'd have to do more shows to wear all the designers out there."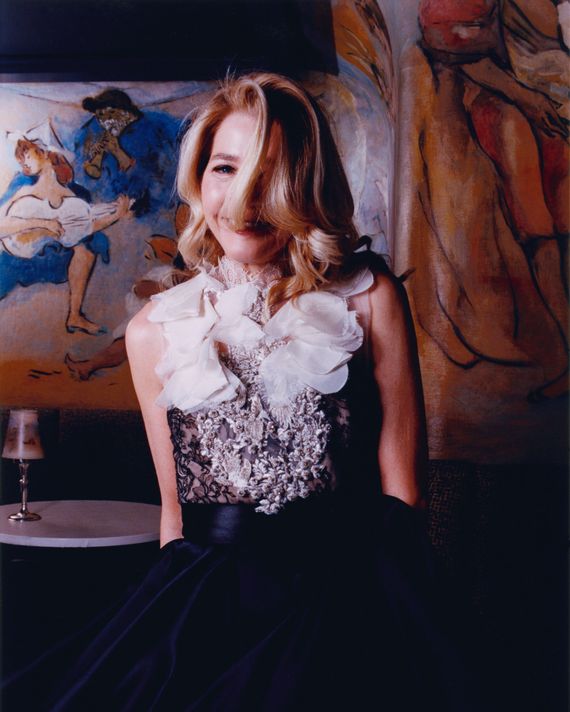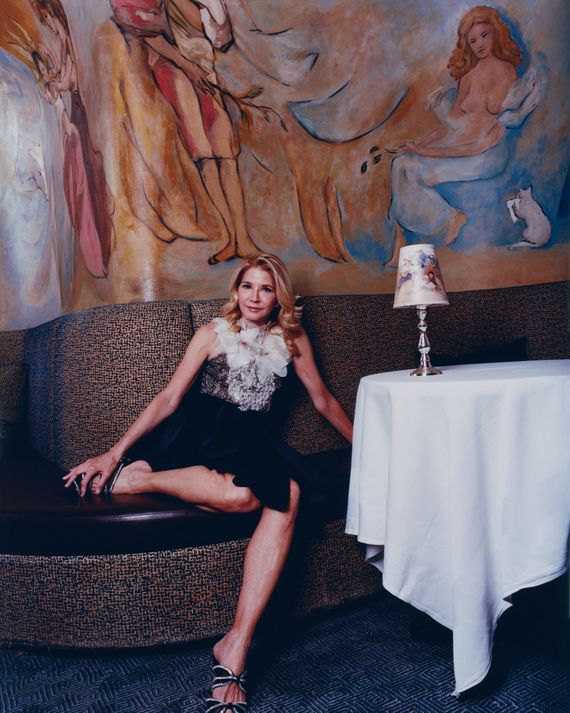 She's also got some more familiar names in the mix, like a poofy purple dress by Oscar de la Renta. (In 2005, she walked the runway for the late designer, and she still has the red dress he made for her.) And Meader pulled a more cocktail-y, black-and-white dress by Marchesa, which was founded by Harvey Weinstein's ex-wife Georgina Chapman. "Whatever. That's all I gotta say," Bushnell replied when I asked her to comment on the choice. For the first time all afternoon, she seemed to struggle to find the right words. "I've always thought she was really talented," she added with a shrug. "She does really great red-carpet stuff. I don't know. I don't even know if I should wear Marchesa … But this is so cute."
It's been a while since Bushnell got dressed up, period. "I pass by a lot of stores and think: I don't know where anyone is wearing that these days," she said with a sigh. She'll walk up and down Madison Avenue on the Upper East Side, where she lives with her two poodles, Pepper and Prancer, stopping by Lanvin and, of course, Manolo Blahnik. But she seems like less of a shopaholic than she perhaps once was.
She's been busy. In between takes with the photographer, she futzed with the set and various props, moving a blue couch from her apartment five inches to the left or right on the stage while wearing five-inch heels. Occasionally, she would mumble a line to herself in a mimicking voice. At one point, she looked down at her sequin silver Christian Cowan dress under the stage lights and said something Carrie Bradshaw would never: "Is this too much?"
After the shoot wrapped, Bushnell needed to run off to get a COVID booster — her fourth shot since the start of the pandemic. As she unbuckled her Manolos and slipped back into her blue velvet sneakers with skulls and crossbones on the front, she told me that in her last performance, there were lots of shoes onstage with her. "I'm actually not sure I got them all back," she said, drifting off. "I was like, 'Just keep them with the props because I don't have room in my closet.'"