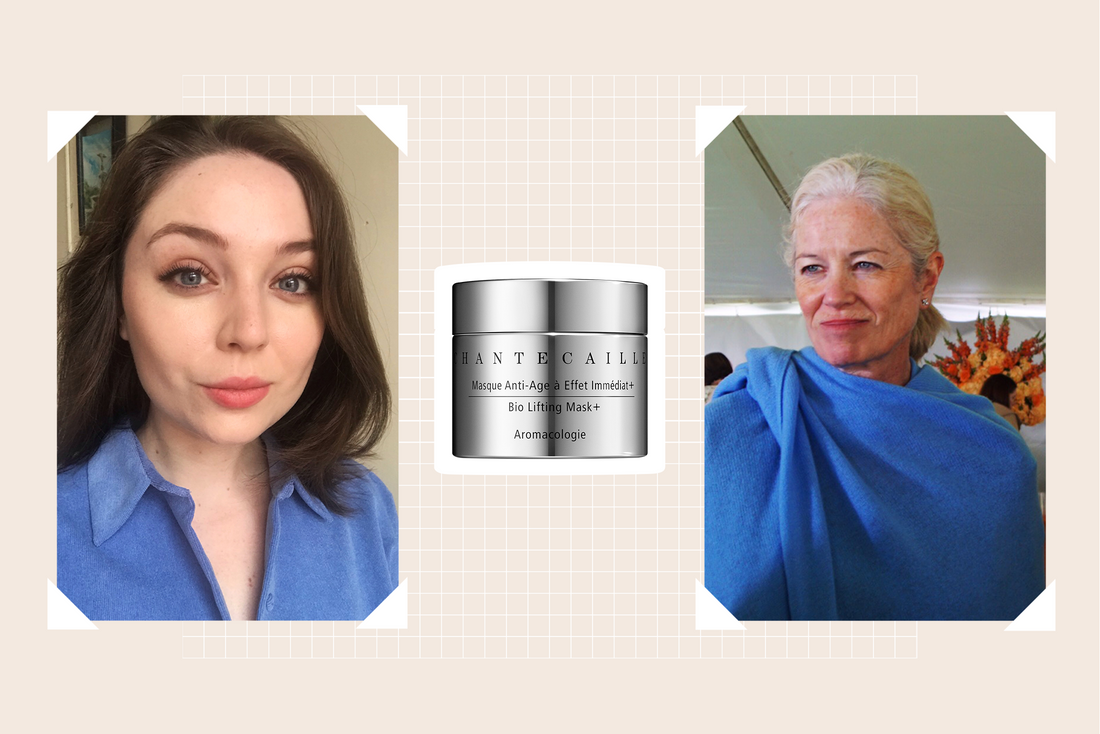 Photo-Illustration: By Ashlie Juarbe
Our moms introduced us to the classics — some more effective than others. Now it's time for us to introduce them to what's new in skincare.
Chantecaille challenged my mom, Judy Musho, and I to try their cult-favorite Bio Lifting Mask+, formulated with new ingredients, and see how it'd fare against both of our skin types. My mom was concerned about dryness and wrinkles, and all I wanted was to conquer my combination skin's brightness and tone.
Chantecaille was founded by a mother-daughter team, and along the way, Sylvie Chantecaille and her daughters have made products that they love for every stage of life. They say that the Bio Lifting Mask+ can benefit any skin at any age — a classic product to rely on now and in the years to come.
They say that with continuous use, the Bio Lifting Mask+ can help smooth signs of aging, firm, hydrate, and lift your skin thanks to innovative ingredients like plant stem cells, peptides, tensing agents, and moisture barrier enhancers.* Plus, it's made with new ingredients like an alga tensing blend, bionymph peptide stem cell extract, and imperata cylindrica extract that the brand says with continuous use may also help give a tightening and smoothing effect, reduce crow's feet volume, reduce fine lines, and increase skin moisture.*
I've gifted my mom so much skincare over the years — and they're all gathering dust in her medicine cabinet. She said they all felt too heavy or didn't deliver on their promises. But she loved this mask even before she tried it. "It's gorgeous," she said. "The packaging in the silver container is just beautiful and simple and classy and matches my hair," she laughed. "It feels special."
The mask is versatile; it can be used as a traditional mask (applied in a thin layer and washed off in five, 10, or 15 minutes later), or it can be left on overnight for a more intense treatment, which all the Chantecaille women swear by. For 10 days, my mom and I smoothed a thin layer of the mask over our skin before we went to sleep, and haven't stopped since. "You just showed me the light," she said. " It's opened up my whole understanding of skincare. I've never used anything so good." As for me, my skin feels even, bright, moisturized and glowy, and I'm wearing less and less foundation the more I use it.
After our trial, I asked my mom to give me her full review of the mask, and we got to talking. Below, our conversation on skincare, aging, and the Chantecaille mask we're going to use until the last drop.
Judy:
I was blessed with genetics and for a long time, and I didn't have to do a lot. I was always very natural, and didn't wear a lot of makeup if any. And I didn't use any skincare. As I get older, that doesn't work anymore. Now using this Chantecaille mask, I have to say, it's nothing like anything I've ever used before. My skin is softer than it's ever been.
Lee:
Really?
Judy:
Yes! After I shower, my skin is still soft. Before, my skin was like dried paper. It was really bad. Now with this, it's soft. It's plump. It feels good.
Lee:
It's helping to retain that moisture.
Judy:
Yes, absolutely. And it feels so good going on. I love the way it feels. It's refreshing. There's no other word for it. It feels light, and I still feel very natural after using it.
Lee:
Chantecaille says your skin should feel firmer, lifted, hydrated, smoother, and a little more glowy, so I think we're both feeling those results in different ways.
Judy:
I am sitting here looking back saying, I wish I did something like this sooner. I truly think if I started this in my 40s I'd be benefiting from it now. It goes so fast. I feel like I woke up and looked at myself in the mirror and went, 'Wow, I really have wrinkles.' Especially when you feel like you've been blessed with good genes, you go around thinking you're good. You don't realize you should have taken better care earlier on.
Lee:
At the same time, aging is such a privilege. Having wrinkles shows all you've lived through and that you're still here. They're never going to fully go away, but if you take care of your skin and use great products like the mask, you can help your skin be in the best shape it can be.
Judy:
I love that. I'm really surprised because you've given me how many products, and I never use them. But this one just feels good to me, and my skin is different already. I feel like now the mask is one of my classic core products. You know what I mean?
Lee:
I feel the same way. I don't have to worry about wrinkles yet, but I have been wearing less makeup because my skin feels smoother and the tone is more even. It's so nice to have a product that you know you can rely on, that you know works really well. Once you run out, you can get another one.
Judy:
There are just some really classic things that are musts. And this has become that for me.
Lee:
I'm really glad that we found this! It's so rare to find skincare that works for both of us.
Judy:
I'm going to keep using it until the jar is gone.
Lee:
Me too.
*Tests performed on ingredients.
This advertising content was produced in collaboration between Vox Creative and our sponsor, without involvement from Vox Media editorial staff.