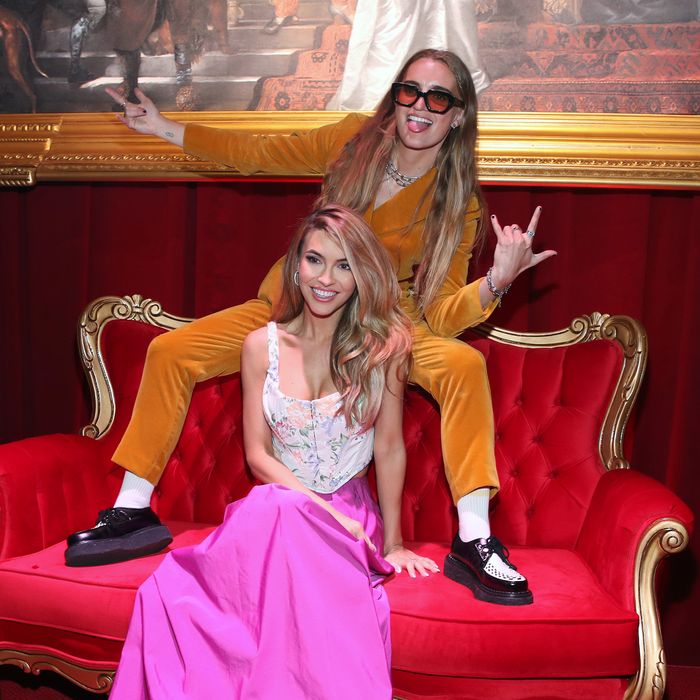 Photo: Jonathan Leibson/Getty Images for Netflix
Being half of a high-profile couple is nothing new for Chrishell Stause, who was previously married to This Is Us star Justin Hartley before starting a relationship with her boss and Selling Sunset co-star Jason Oppenheim. But being in a public queer relationship is. Last week, Stause announced she has been dating G Flip, a nonbinary musician who uses they/them pronouns, at the season-five Selling Sunset reunion. While Stause was prepared to hear some negative reactions about all of this, the reality star also seems to be having a blast publicizing her new relationship on social media.
As Stause told reunion host Tan France, she met G Flip on the set of the Australian rocker's upcoming music video, "Get Outta Here," and "G definitely made the first move." They've been seeing each other for a little while now. To be clear, Stause technically hasn't labeled her sexuality one way or another. "I think I was probably as surprised as anyone, just because nothing's changed for me. I'm still very attracted to masculine energy and a good human," she said at the reunion. Adding that she wasn't someone who knew their sexuality from a young age, she continued, "I'm just very open to good energy. I don't know what my future holds, but it is a complicated issue to talk about." As for how the audience would react, she knew there would be some fans who aren't happy about this new development, but she's not concerned with pleasing people. "I'm so happy, and so if that angers someone, then that's not really my problem."
And when she says it's not her problem, she means it. As her social-media activity suggests, she's not going to let any trolls ruin her fun. "Okay, closet update guys," she said in an Instagram Story uploaded May 7, the day after the reunion premiered. Standing in a white bikini, Stause showed off her under-construction walk-in closet. "Um, yeah, it's coming along," she said after giving a brief tour, putting the camera back on her. "Okay, I'm going to come out of it now." (She even added a wink emoji to the video in case you didn't get her double meaning.)
Then that Sunday, in celebration of Mother's Day, she posted a screenshot of her co-star Maya Vander's shocked and confused reaction to her relationship news. "Me realizing how many people didn't know you can adopt children on your own," she wrote on the photo, memeing the already viral reaction. (Don't worry: She had Vander's permission to post the meme, writing in the caption that Vander was "a supportive beautiful mom.")
Of course, the meme wasn't just a comment on a viral moment, it was also a response to those online who have criticized Stause for dating G Flip, claiming that it was somehow inconsistent with her decision to break up with Oppenheim because he didn't want children. "I know a lot of you are confused. But what is important is that I am not," she added in the caption. "Thank you to the beautiful open minds that have shown support. I want to hug you." She later posted a video discussing her relationship with G Flip in more detail, including what it's like being in a relationship with a nonbinary person. "There are many more qualified people to speak on this but maybe I can be the bridge to those of you open to understanding," she wrote.
Then on Thursday, G Flip's music video for "Get Me Outta Here" finally dropped. Stause shared a reel of the video on her social media, captioning it, "Sorry everyone, I was confused and thought this was how babies were made. Back to the drawing board!" Glad to see she's still having fun.
This post has been updated.