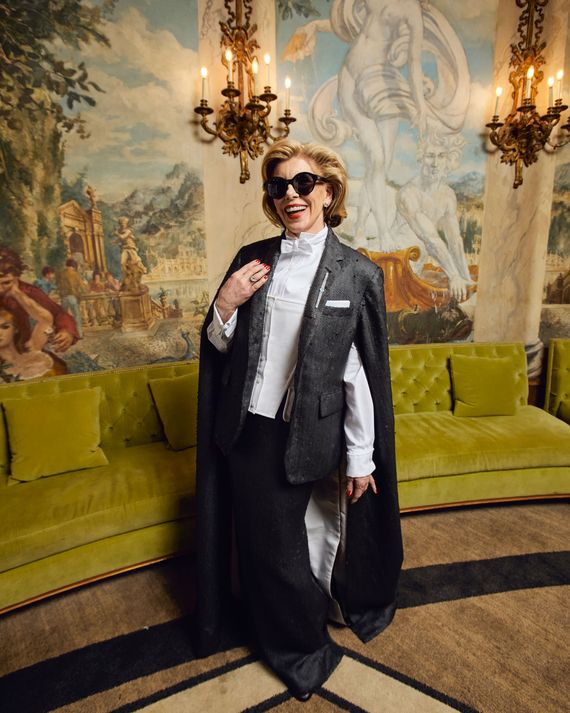 On the Friday before the Met Gala, Christine Baranski practices going up and down the stairs of the Metropolitan Museum of Art, which will soon be tented, carpeted, and covered in celebrities. An actor prepares. "You always want to rehearse what you're gonna do. You just wanna get the feel of it," she says. And so she practices. Up and down.
It's Baranski's first Met Gala. Coincidentally, it's also her 70th birthday. And the "gilded glamour" theme the same year she's starring in the HBO period drama The Gilded Age? That's synergy, baby. The plan was to have a quiet birthday: dinner in a beautiful French restaurant with close friends, perhaps, or maybe a family picnic. "But as it turns out, I will be turning 70 at the biggest party of the year," she says with the kind of laugh that makes you want to hand her another Emmy Award. "Not that it's being held in my honor, but I'm going to pretend everybody showed up just for me." (Should next year's Met Gala be Baranski-themed?)
These days, Baranski, a venerated actress of the stage and screen, is deftly balancing roles in two acclaimed series: the aforementioned Gilded Age and Paramount+'s The Good Fight, in which she plays Diane Lockhart, a character introduced during her six-time Emmy-nominated run on The Good Wife. (Lockhart herself is a celebrated fashion icon.)
Designer Thom Browne dressed her for the occasion. "I am always inspired by people who are the best at what they do," says Browne. "Christine represents this. Her work speaks for itself." Her reaction to finding out she had secured an invite from one of American fashion's most celebrated doyens? "What am I going to be hauling up the stairs? was my first thought. Then, How much will I have to worry about going to the bathroom? Or, How much will I have to worry about feathers or sequins or straps?"
Thankfully, Browne wasn't putting her in the look he created for Cardi B in 2019, instead playing off of Baranski's innate big-dick energy: a pocketed matte black sequined cape that includes a hybrid tailored-jacket front, a white piqué corset — a nod to white tie — with a blink-and-you'll-miss-it scallop-edge-hem detail, and an elongated black sequined skirt, all of which create a look that's signature Browne in its gender ambivalence. Oh, and a matching bow tie to finish the look.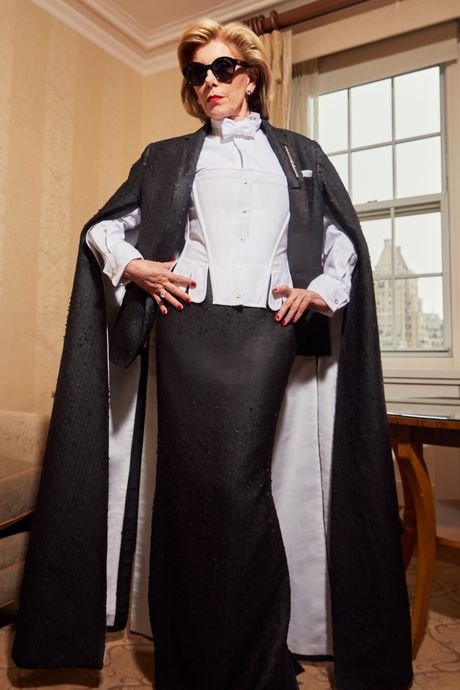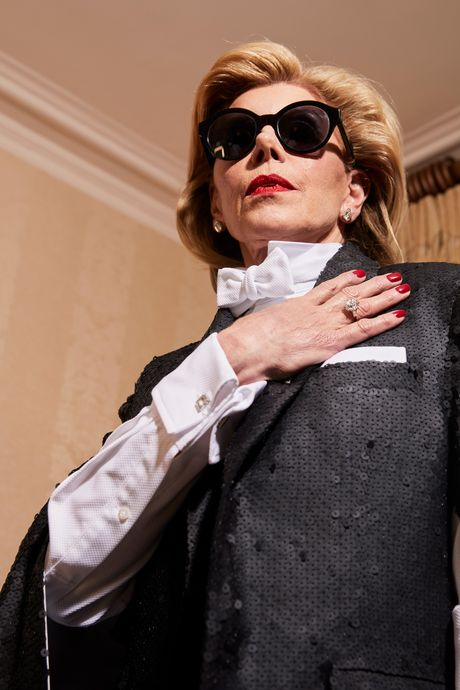 "Last Monday, I was shooting a scene for The Good Fight in which we were at a black-tie event, and I was in this silver, metallic Dolce minidress — which was so sexy and so Bond girl — but I looked around, and to me, the most captivating people in the room were all the men," she says. "I don't know what it is, but I've always envied men because they look so great in black tie. And although it's variations on a uniform, there's something uniformly handsome and elegant and not fussy about a man's black-tie look."
This "not fussy" look required over 250 hours of work from Browne's atelier, including hand-applying the sequins — specially developed for Baranski in Switzerland — to each vent, dart, and seam by hand. "The sequins … are unique," Browne says. "They are not masculine, not feminine … They are Christine." Who can argue with that?
"It's gilded glamour, so you can only imagine what's gonna go up those stairs," she says with that signature Baranski drawl that belies her Buffalo upbringing. "I'll probably be one of the more stately looks in that Thom Browne witty way. And I think that's exactly right for where I am. I don't want a big over-the-top gown to haul around all night. I do that already on The Gilded Age."
Before she is whisked off, I have one other pressing matter: the possibility of her joining Instagram. Despite her having no official account, she's omnipresent thanks to a devout fandom (actor Michael Sheen famously named his penis after her).
"I wanna be known for the roles that I play," Baranski says. "I don't really require that I be an influencer or that my opinions be out there or that I weigh in on this or that. I like a lot of my life to be mysterious so that when I do appear, when I play a role, people believe that I am the character that I am. I like retaining a certain mystery." But hope remains: "Maybe one of these days," she says. (I offered my pro bono services.)
Has the seven in the first digit of her age made her introspective at all? "I've been so busy, darling," Baranski says. She thinks. "I look back and absolutely marvel that I've been doing this for 50 years. What is astonishing, and what should give women and actors hope, is that at this age, I have never been more successful, more in the light, or more acknowledged than I am now. You hear such tales about actresses fearing turning 40, or it's over by 50, whatever. I have just kept going and going. It wasn't until my 60s when I was finally No. 1 on the call sheet, and now I'm No. 1 on two call sheets. It's going to be great to step out on the red carpet tonight and think, Damn, I'm not only still here — I'm busier than ever."