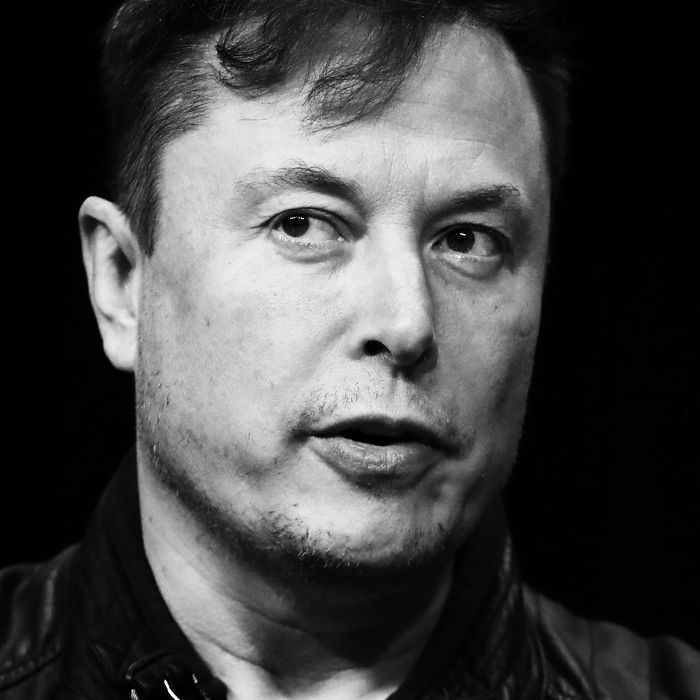 Photo: Win McNamee/Getty Images
According to a new report from Business Insider, Elon Musk, the founder of SpaceX and richest man in the world, reportedly paid a SpaceX flight attendant $250,000 in order to settle a 2018 sexual-harassment claim alleging Musk propositioned and exposed himself to her on his corporate jet. A friend of the flight attendant provided Business Insider with a legal declaration she made at the time that corroborated the flight attendant's claims. The flight attendant herself — who, according to the friend, reportedly signed a nondisclosure agreement as part of the settlement — declined to comment for Business Insider's story.
Business Insider reports that the alleged incident, which took place in 2016, involved the flight attendant initially being asking to give Musk a massage. According to the article, the attendant said she was encouraged to get a massage license after being hired by the company. Later, Musk allegedly exposed his genitalia to the attendant, touched her, and offered to buy her a horse if she would "do more."
When Business Insider reached out for comment, Musk reportedly said he needed more time to respond, saying there's "a lot more to this story." He added, "If I were inclined to engage in sexual harassment, this is unlikely to be the first time in my entire 30-year career that it comes to light" and referred to the article as a "politically motivated hit piece." He has since responded to the allegations in a statement posted to Twitter: "The attacks against me should be viewed through a political lens — this is their standard (despicable) playbook — but nothing will deter me from fighting for a good future and your right to free speech."
According to Business Insider, in November 2018, the attendant accepted a severance payment of $250,000 from SpaceX and agreed not to sue over the allegations. The agreement also included nondisclosure and non-disparagement clauses barring the attendant from discussing her severance payment or sharing any information about Musk and his companies.
Before Musk posted his full statment to Twitter, he quote-tweeted an old tweet of his joking that any future scandal of his should be referred to as "Elongate." "Finally, we get to use Elongate as scandal name. It's kinda perfect," he tweeted with a cry-laughing emoji, alluding to the name's double entendre. Musk responded to a handful of tweets defending him against the accusations. In one tweet, he again refers to the article as a "hit piece," saying "their only goal was … to interfere with the Twitter acquisition." (On April 25, Musk reached a deal to acquire Twitter. However, he has since halted the deal, saying he "cannot move forward" without more information from the company.) In another response to a since-deleted tweet, Musk added that the "wild accusations are utterly untrue." "I have a challenge to this liar who claims their friend saw me 'exposed' — describe just one thing, anything at all (scars, tattoos, …) that isn't known by the public," he continued. "She won't be able to do so, because it never happened."
While these are the first public claims of sexual misconduct against Musk, this is not the first time a SpaceX employee faced harassment allegations. In December 2021, four SpaceX employees said they were sexually harassed and face unwanted advances from male colleagues. Three of the women who spoke to the New York Times for the story were interns at the company. Another, who published an essay detailing the sexual misconduct she experienced, started as an intern but later became a full-time engineer. SpaceX did not respond to the Times for the story, but the company's chief operating officer later sent an email to employees saying SpaceX would conduct "internal and independent audits of its human resources department." It's unclear whether those audits took place and what they found.
The Cut has reached out to SpaceX for comment and will update when we hear back.