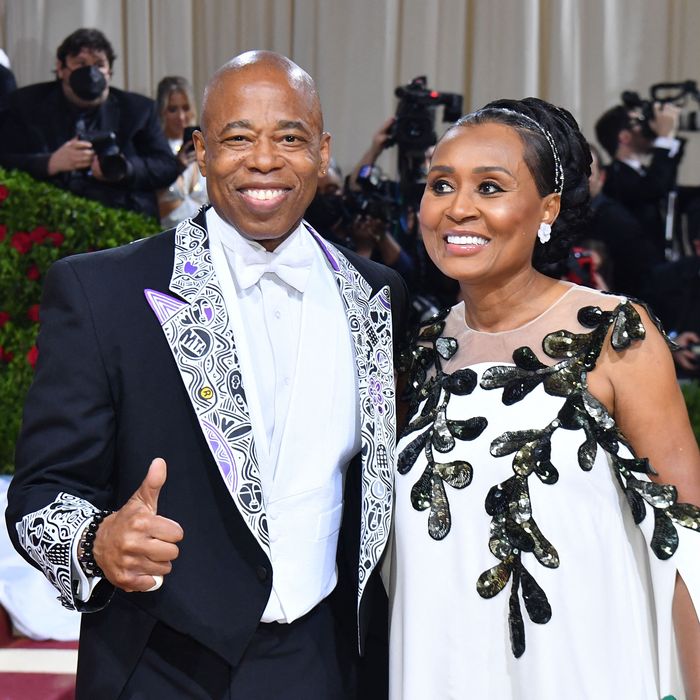 Photo: Angela Weiss/AFP via Getty Images
A few politicians always make their way onto the Met Gala invite list, and this year, those attendees appear to be Hillary Clinton and, predictably, New York's self-proclaimed "nightlife mayor," Eric Adams.
As has become custom, both showed up with prominent messages on their outfits — Clinton had historical women's names embroidered into a deep red gown, and Adams, who attended with his girlfriend, Tracey Collins, wore a suit jacket with an ornate panel on the back featuring the words "End Gun Violence." Which is certainly on theme for the Met Gala, in the sense that it is … more than a little oblivious, considering Adams's anti-gun-violence campaign has involved pushing to bring back a notoriously violent NYPD unit and insinuating that drill rappers are to blame for gun violence.
According to the New York Post, Adams had "been dying to go" to the Met Gala "for years," and the cohort of influencers and celebs he tends to party with made him pretty much a shoo-in for this year's events. He made sure to record his pre-gala primping, which apparently included a pedicure, though sadly, his well-groomed toes were nowhere to be seen.
Looking forward to more slogans on the Met Gala carpet!