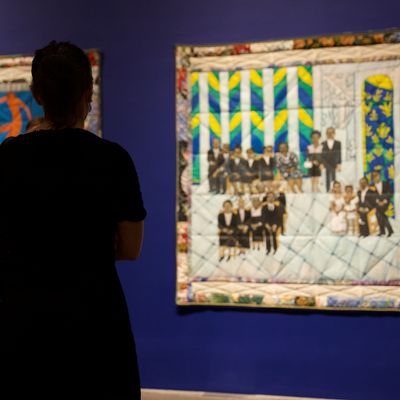 The Cut and the New Museum are partnering on a speaker series about the intersections of self, society, and contemporary art, drawing inspiration from the museum's upcoming exhibitions. This week's inaugural live panel, led by Rebecca Traister, featured Isolde Brielmaier, Paola Ramos, and Kimberly Drew. They discussed women, labor, and leadership.
Fittingly for a night dedicated to women and work, the conversation was based on artist Faith Ringgold's American People series, which is on display at the New Museum through June 5. Still active at 91 years old, Ringgold is a prolific artist whose career extends back to the 1960s, when she first broke onto the New York art scene, carving a space in a world that had excluded her. The current exhibit, co-curated by Gary Carrion-Murayari and Massimiliano Gioni, captures the personal and political contours of Ringgold's oeuvre: There are bleeding American flags, murals depicting racial violence, fabrics painted with images of Ringgold's daughters, and a self-portrait textile in which a naked, pregnant Ringgold wields an axe.
The exhibit also features the artist's multimedia work, including costumes and masks as well as her famed "Story Quilts," which pair tableaus with borders of handwritten narrative. Despite her decades spent contributing to and pioneering in American art, Ringgold's work was long overlooked, a testament to the ways in which Black women's labor — creative and otherwise — is systemically undervalued. "The topic of the talk is women and leadership," Brielmaier, deputy director of the New Museum, told me before the event, "and we wanted to look at Faith's work and tease out some of the themes: her leadership through activism and obviously her deep focus on women and creating space for women's work. She worked across all these mediums trying to make a space for herself."
In the museum's airy Sky Room, the crowd lined the terrace, taking in the panoramic view before assuming their seats. For one lively hour, New York Magazine writer-at-large Rebecca Traister spoke with three trailblazing women — Brielmaier, Vice News host Paola Ramos, and art writer and Pace Gallery associate director Kimberly Drew — about the relationship between professional life, power, and identity; navigating performative DEI interest; and the demand for perfectionism in workplaces and the toll it takes on women.
Keep reading for highlights from the evening's conversation.
Kimberly Drew on disenfranchisement and perfectionism at work:
"I feel so disenfranchised all the time in the arts. It is overwhelming, and I can't imagine having any less power than I do because it's so hard to manage, to go through every day and understand that you have to be absolutely perfect to get the things that you want to get done. It is so annoying. I would get so much more done if I wasn't invested in being perfect and masking at work all day … I'm trying so hard to be good and succeed in some way, but we're often denied a singular success."
About Drew:  Kimberly Drew is a curator, writer, and activist who formerly served as a social-media manager for the Metropolitan Museum of Art. She has authored two books, This Is What I Know About Art (2020) and Black Futures (2020), which she co-edited with Jenna Wortham. Recently, Drew joined Pace Gallery as an associate director. 
Paola Ramos on experiencing tokenization in your industry:
"[The media world] sees me in many ways as the token Latina. Suddenly, my responsibility becomes to be the person that tries to uncover the Latino vote during the election, the person that goes to the border who tries to understand the pain and desperation asylum seekers are going through. I became the person that then tries to decipher why this massive community suddenly shifted ten points to the right for Trump. It's a constant privilege, I feel, to be in that room and be put in that place, but the reality is I cannot do justice to those stories. That translates into an audience on Vice, on Telemundo, on MSNBC that also can't truly understand the dynamics of all these stories, which translates into a country that does not understand one of its most significant communities. I feel seen, but it's not enough."
About Ramos: Paola Ramos is a host on Vice News and a contributor to Telemundo and MSNBC. An Emmy-winning journalist, she is the author of the book Finding Latinx, and she served as deputy director of Hispanic press on Hillary Clinton's 2016 presidential campaign. A political appointee in the Obama administration, Ramos is currently a Hauser fellow at the Harvard Kennedy School. 
Isolde Brielmaier on knowing what your labor is worth:
"I don't do rescue missions. I don't do renovation projects unless it's on an apartment. That's just not what I do. Women of color, and in particular as Black women in the U.S. context, are often asked to come in and Oprah-fy everything. And I like Oprah, but I'm just saying — there's a sort of caricature that people have of us, that we're going to step in and make it all okay and appease people … I know what my labor is worth, and I know when I'm asked to do things that are corrective or representational, and I also know when I'm being asked to do those things for free … When we talk about this notion of a seat at the table, it still implies a certain sense of ownership, and we're talking about a table that was predicated on our absence. So actually, I don't want a seat at your table. I want my own seat and my own table."
About Brielmaier: Isolde Brielmaier is the deputy director of the New Museum and a guest curator at the International Center of Photography. Previously, she served as executive director and curator of arts, culture, and community at Westfield World Trade Center. She has worked at the Guggenheim Museum and the Bronx Museum of the Arts. Her latest book, Culture As Catalyst, was released in 2020, and her fourth book, I Am Sparkling, is forthcoming next week. Brielmaier serves on the boards of the Women's Prison Association and the sustainable fashion brand Another Tomorrow, and she is an advisor to Malaika, an all-girls school in the Democratic Republic of the Congo. She has a Ph.D. from Columbia University.