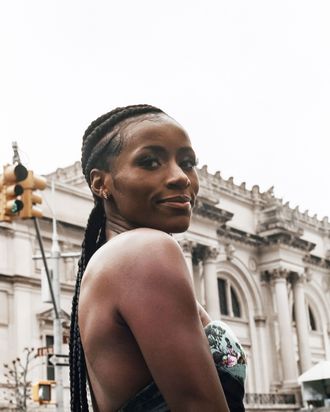 It's the morning after the Met Gala and Flo Ngala still has her makeup on from last night, her biggest moment of her career thus far, being the first Black woman to photograph the Met Gala.
Though it was her first time being invited by Vogue to shoot the Met Gala, the 26-year-old Harlem-bred photographer is no stranger to the gala's red carpet. In 2019, she shot Cardi B's burgundy Thom Browne gown, and she's worked with Cardi a few times — one of the celebrities who excitedly stopped her inside the gala. "That's my girl," she says on Cardi. She was one of the many celebrities Ngala got to turn her lens on last Monday night.
Ngala tells us all about what it was like, from her getting-ready process that was stressful but came together in perfect timing to what it was like inside the Met Gala. According to her, it was a lot like a high-school cafeteria with tables full of the "cool kids," and luckily for her, she got to turn her lens on those cool kids and even crash the bathroom for fun shots that she says was just like The Amanda Show's "The Girls' Room" sketch.
You're coming off one of the biggest nights of your career, which says a lot because you've done a lot! Did you ever envision not only photographing the Met Gala, but being the first Black woman to do so? 
I have a DM from six years ago asking someone at BFA about shooting the Met Gala. I sent them photos and I was like, "Hey, my name is Flo." I was really bold, but I knew in my heart that I was able to capture quality work and do a good job because I love what I do. It's just interesting how things work when you put your head down and just push through. I'm really hard on myself for not always doing things perfectly or the way I want to get them done, but for me to get this one in the bag is insane.
Tell me how one gets ready for the Met Gala. 
Sunday I called my mom because my hair was not done. She's a former professional hairstylist; she did hair for about 20 years. She used to do my hair growing up, but since I've gotten older, I don't ask her much. I asked for her to help point me in the right direction and she was like, "You don't have time to like, do box braids, you have to like either get a touch-up and clean it up or get a different hairstyle." I got to my family home the night before, my mom was here by about eight o'clock, and by 8:30 p.m. my braids were being taken out. It was like a quick change. My sister and my mom got on it and helped me decide how to do it and what to do.
The next element was my nails. I wore press-ons, which was improvisation. I haven't worn press-ons since middle school. Finally, my dress arrived a little after noon and my rings were arriving at 2:30 p.m., but that was my call time, so I had to Uber them to the Met.
Did you make sure you wore comfortable shoes?
I actually didn't! I ended up wearing these, like, little Jessica Simpson heels that I had my boyfriend get me from Macy's that morning.
I saw you wore Johnny Nelson rings with your mom and dad's faces on it; I loved that and it seemed really significant for you. Why was that detail so important for you on this big night?
I have a very deep connection to my relationship with my parents because I experienced the loss of a parent really young. My dad and I were very close and I'm the firstborn daughter. His passing when I was 13 definitely changed the scope of my life, and my mom had to persevere through raising four kids as a widow in Harlem. Those things just make me who I am, you know? When I look at photos of them, as a photographer, one, obviously I'm biased because I love images. But even looking at my parents' photos and who they were before they came to this country, photos of them first falling in love and first hanging out, I'm fascinated by it.
I really just think the idea of bringing your parents to the Met in that way is so interesting. That was purposeful, too. Having that representation, having that guild, you know what I'm saying? When I first heard the theme "Gilded Glamour," I kept thinking about how Africa is the originator of, like, gold and golden everything, so that was something that was on my heart from the beginning.
We all get to see the carpet, but no one really knows what it's like inside those doors. From your perspective, what was it like? 
You know when you would go to the cafeteria in school and see people sit together: the popular kids, these kids, and another group of kids? It felt like that.
When people were posing I kept saying, "Just give Breakfast Club," like the movie. I have a really interesting photo of Hailey Bieber, Kendall Jenner, Billie Eilish, and some other people in the bathroom, and they were all just talking and I went in to shoot and it was like "The Girls' Room," literally.
Who was the nicest person to you?
Cynthia Erivo was so nice. She just stopped me and said, "You're so beautiful." Kerry Washington and Erykah Badu both complimented me. Alicia Keys was really nice too; she's like Mother Earth.
Love all of them! Who was the meanest? 
Hmmm, no one was mean.
That's good. What about the Met Gala is the most surprising?
I saw Future walking into a bathroom. That was funny. I mean, what an interesting life that these people live because when you can do both — not just hip-hop, but also exclusive stuff like the Met, it's great.
Overall, is it a hard event to photograph? 
It was not hard to photograph. I was anxious, of course, because it was Vogue and it's so many people, but they were very chill.
Is there a celebrity that you've been dying to photograph that you finally got to turn your lens on last night? Who? Was it what you expected? 
Hillary Clinton, for sure. Naomi Campbell and Kate Moss at the table together was classic. Lenny Kravitz was a moment, too. I have a photo of him, Lori Harvey, Normani, Teyana Taylor, and Jack Harlow; it's such a cool shot. I didn't know exactly who was going to be there, so I was also a little shocked at some.
What was the first thing you did when you clocked out last night? First thing you did this morning when it all settled in?
Called an Uber home to come work. I looked through the photos with my sister and I went on Instagram Live. I didn't show the photos, but we just reviewed them so they could only see me and my sister's face. It was actually really funny. Then this morning the first thing I did was get up and charge my phone because it was dead.