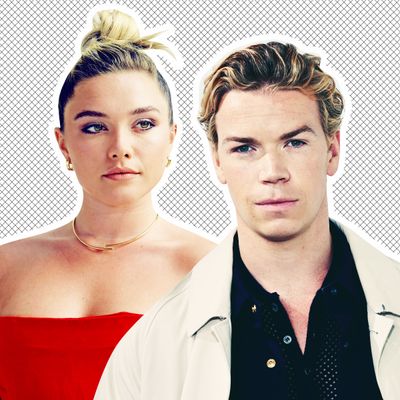 Photo-Illustration: by The Cut; Photos: Getty Images
Florence Pugh is on vacation, and so, it appears, is Will Poulter. The two were recently seen on a beach in Ibiza, where both of them are celebrating designer Harris Reed's birthday. Poulter, you may recall, starred in Midsommar with Pugh, and they apparently have been friends ever since — emphasis on friends. On Monday, Pugh and Poulter were photographed, um, "hanging" "out" at the beach.
You'd be forgiven if, upon viewing this flirty montage, you forgot that Pugh is in fact still dating Scrubs star Zach Braff, who the Daily Mail says is currently at their home in Los Angeles. Pugh and Braff have been together since 2019; Pugh has spent much of their relationship defending their age difference (she's 26, and Braff is 47).
It should be noted that there is no kissing or otherwise sexual contact happening here, even though one particular arresting angle makes it look a little like Poulter is motorboating Pugh. You know, just typical friend stuff. Anyway, Pugh and Braff are still together as far as I know, and regardless, she's free to rub sunscreen into whoever's back she likes. Perhaps they're just networking?