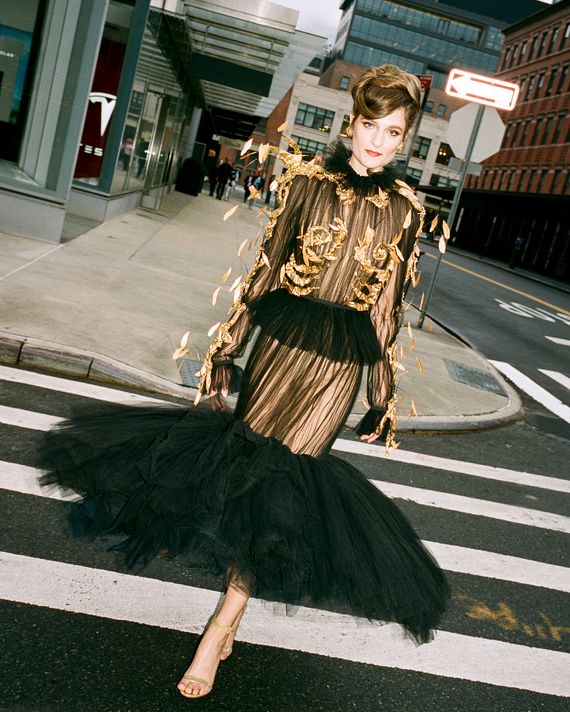 For Louisa Jacobson, a star of The Gilded Age on HBO, the 2022 Met Gala dress code of "gilded glamour" was a no-brainer. She'd already spent months immersing herself in the world of her character, Marian Brook, the wide-eyed niece of Agnes Van Rhijn (played by Christine Baranski) and Ada Brook (Cynthia Nixon) who moves to Manhattan in 1882 and finds herself in the middle of a battle between "new money" and "old money." She was all too familiar with what it felt like to wear a corset, a bustle, and a big hat for hours on end (not great). And she understood the less opulent side of the theme as well. But because Jacobson had spent so much time as Ms. Brook, she wanted to show up to the event as herself.
Once she officially received an invite to the gala — not an easy task even for someone so related to the theme — she sat down with her stylist, Edward Bowleg, and told him explicitly, "I want to do something so different from my character."
"We said, 'How can we approach this so that it's not necessarily what's expected?'" Bowleg explained. It was both of their Met Gala debuts, and they wanted to come out strong. "Because she's been in these costumes for the entirety of filming, we wanted to give a nod to the theme but still do something that was modern."
Unlike other attendees, Jacobson hoped to avoid a corset. "At this point, it's kind of a joke to me how many times I've complained about wearing corsets to the press, so to show up in one willingly in my off time would be really silly," she said with a laugh. At one point during filming, her corsets were so tight she couldn't sleep on her side because it made her ribs sore.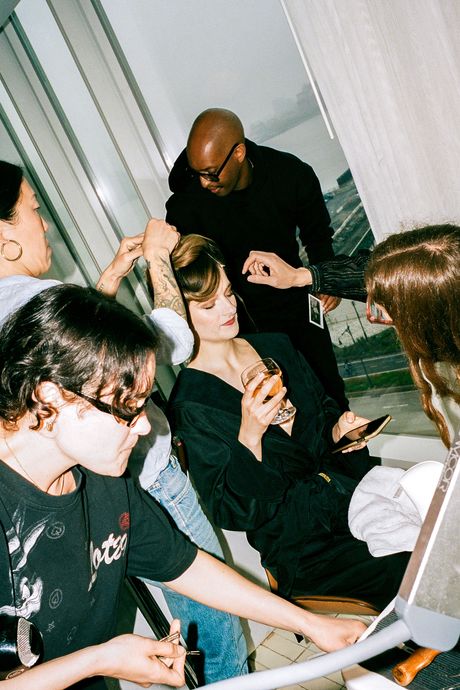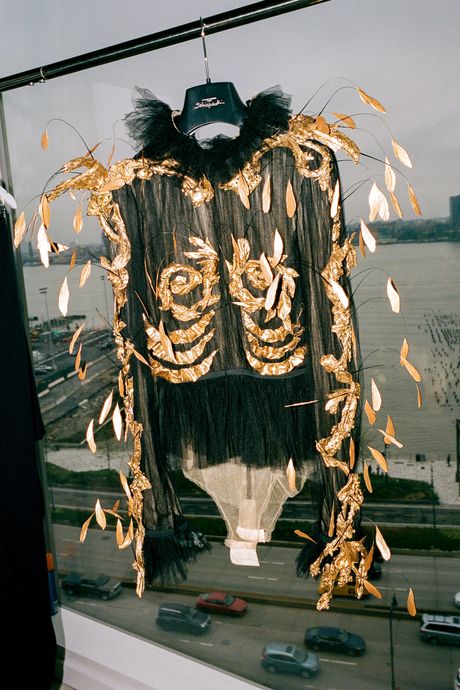 So no corset. But then what? Bowleg did his own research and sent Jacobson a mood board of various looks and references. When she saw Schiaparelli's recent spring haute couture collection, she was "blown away," she said, and thought it was perfect. One look in particular — No. 15 — caught her eye. "The trompe l'oeil, or the little trick of the eye, of the ribs and the spine of the dress puts an emphasis on the torso, so it's kind of like a corset, but I'm not wearing a corset," she explained. The large tulle skirt was also a fitting nod to the bustle, and the long sleeves gave the illusion of opera gloves.
"This silhouette was obviously such a defining aspect of that age, but it was also a time of rapid expansion and advancements in technology — people were really excited about electric light and buildings becoming higher and the future," Jacobson added. "That's why I thought that Schiaparelli was such a wonderful choice, because designer Daniel Roseberry's whole collection was very future focused, and the history of Schiaparelli is very futuristic as well."
Being an art-history buff, Jacobson was able to draw comparisons to works at the Met. The dress reminded her of one painting in particular by John Singer Sargent titled Lady With the Rose. The sitter, Charlotte Louise Burckhardt, was the 20-year-old daughter of a Swiss merchant and his American wife, and she bears an uncanny resemblance to Jacobson and her character on The Gilded Age in more ways than one.
In so many ways, the dress just felt right. The only question: Was it wrong not to wear an American designer when an overarching theme of the Costume Institute exhibit was American fashion? "The character of Bertha Russell from the show really leaned into cutting-edge fashion and accepting European dressmakers and designers as the gold standard," Jacobson explained. (Bertha, played by Carrie Coon, is based loosely on the real-life Gloria Vanderbilt.) "Bringing European designers to the New York City streets was a very fresh and exciting thing," she added. "So we thought, This is gilded glamour."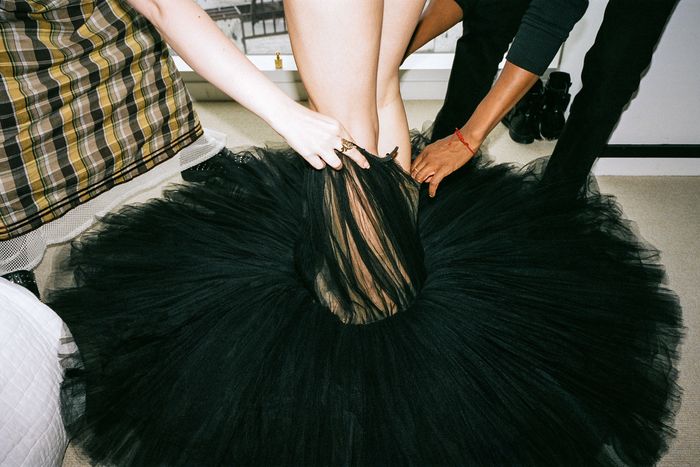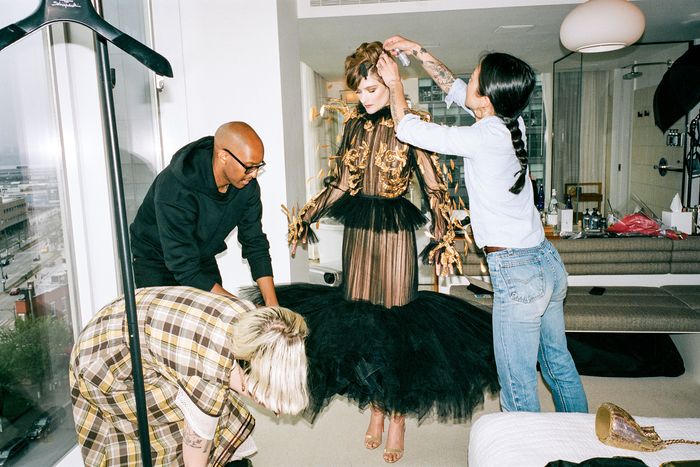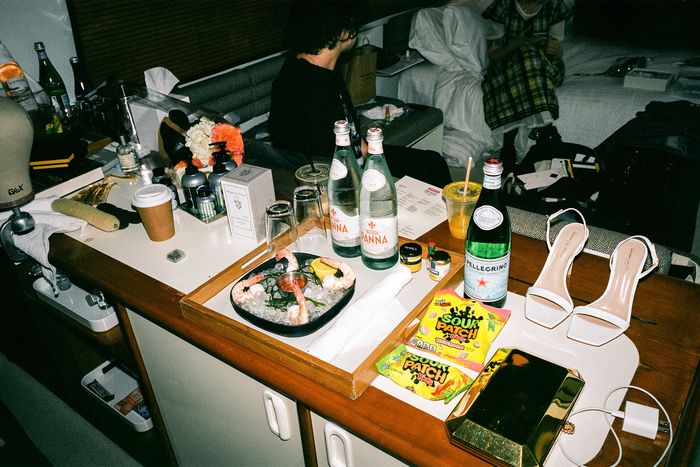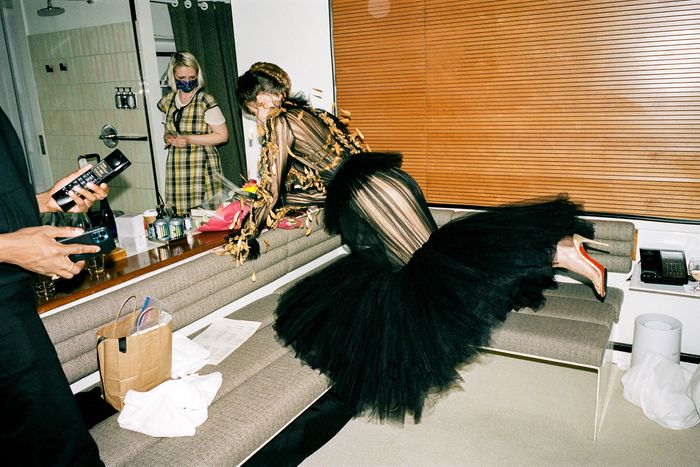 Once they had the the dress in hand, the next step was figuring out how Jacobson was going to wear it. "First, we practiced posing," Jacobson said of the fitting. "And then we practiced how I was going to sit in the van so that the tulle skirt didn't get crushed." (Legs up, perched at the edge of her seat, while she held herself up with her arms.) She was also concerned about being able to sit during the event, but in the heat of the moment, she decided to accept the fact that she was going to have to "squish the tulle tutu if I wanted to cut and eat my dinner."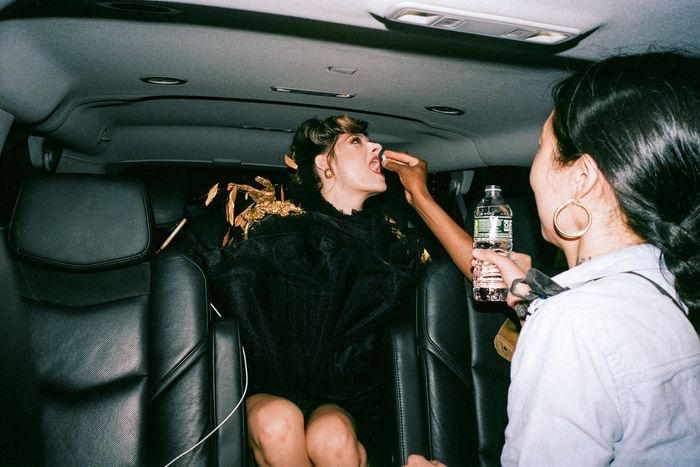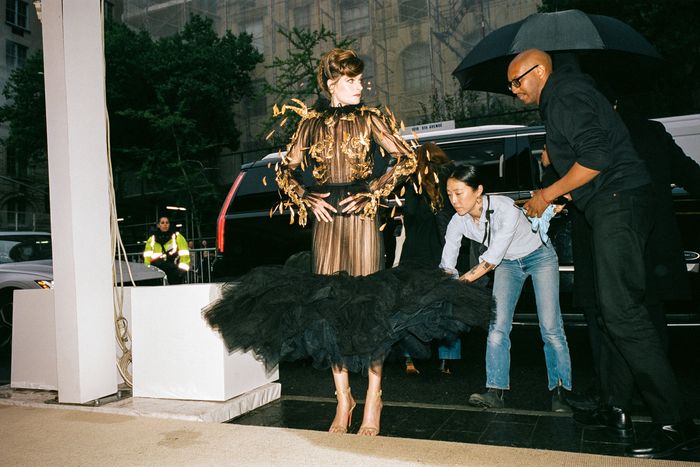 It was a long day. Jacobson started in the morning with a facial uptown (fittingly in the Astor Trust Company building, across the street from the New York Public Library — another Gilded Age landmark). Later that afternoon, she arrived at the Standard Hotel for hair and makeup, spending the next five-plus hours getting ready with the help of her team. Finally, she hit the carpet around 6:45 p.m., just as her co-star Denée Benton arrived. And when the event ended around 11 p.m., Jacobson shared a car home with Baranski, exactly as Marian would have done, before sneaking out to after-parties.
"I think it's important to keep in mind that fashion should be fun, and we should enjoy it," Bowleg said of the experience. "As serious as all of this is, it's also exciting; it's a celebration that raises money for a great cause. So it's stress, but a good stress."
After changing into her second Schiaparelli look of the night, an on-theme black tuxedo, Jacobson headed upstairs to the Boom Boom Room at the Standard, where Cardi B was hosting an after-party (and apparently handing out shots at the bar). Later, she stopped by Casa Cipriani and didn't get home until around 5 a.m. — way past Marian's curfew.