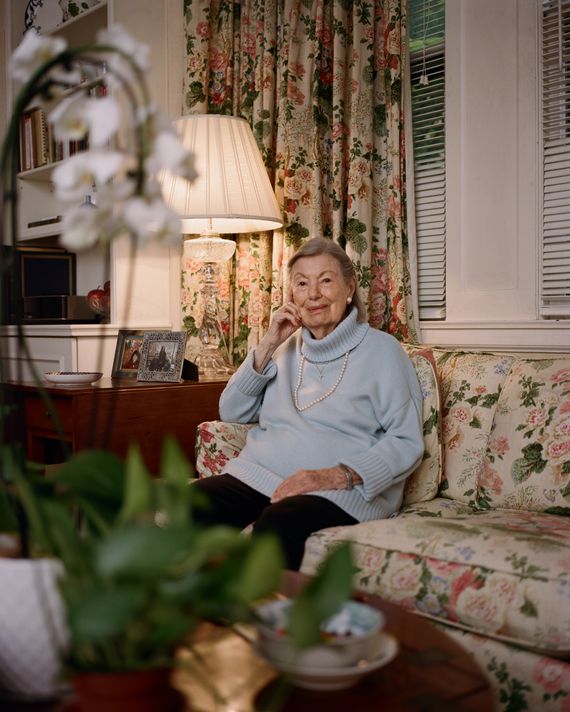 When we arrive at the Heights Casino, an old-school racquet club in Brooklyn, Grace Faison instructs me to carry her walker up the stairs. Small in stature, she is dressed in slacks and a gray cashmere sweater, her silver hair pulled back from her face in a barrette — her cute-little-old-lady appearance belies her steeliness. When I return, I take her black-leather-gloved hand in mine and help her up the stairs. Inside the Casino's quiet dining room, she settles comfortably at her corner table covered in a white table cloth, ready to hold court. She knows every person we see — at 97, Faison is the undisputed doyenne of Brooklyn Heights, where her family has resided for generations. The sort of beloved neighborhood fixture you call if you need a house cleaner, an apartment — or, once upon a time, an abortion.
While we wait for her usual — Caesar salad and French fries — we run into a friend from church (Plymouth Church, also in Brooklyn Heights). He points enthusiastically to the pearl-encrusted cross hanging from a gold chain around her neck. He gave it to her ten years ago to thank her for helping his wife conceive. His wife had asked her to pray for them. "I told her, 'Go home, have a glass of Champagne, and put on Frank Sinatra!'" says Faison. "They had twins!"
Anyone who knows Faison will tell you that she's not afraid to speak her mind. She went to high school at the stalwart Packer Collegiate Institute and over the decades accrued soft power in the schools, nonprofits, churches, and clubs that matter in this stodgy little corner of Brooklyn. In the 1960s, Faison was living on Willow Street in a lovely apartment with a leaky roof when her husband Jack got a letter about an inheritance. Later that day, the phone rang: A friend was calling to say that a spectacular apartment had just entered the market for the exact same amount. "It was much too big for us," Faison recalls. "But I thought, I'm going to lock this in." It was a sun-drenched classic 12 in one of the toniest doorman buildings in Brooklyn Heights, and every room had a view of the river or the Manhattan skyline.
By then, Faison's children were out of the house and she had a thriving career as a real-estate broker. (A broker told me there was a time when you could not buy an apartment in one of the Heights' three most desirable co-op buildings without passing muster with Grace Faison — or as Faison puts it, "I didn't get on your list, you had to get on my list. You had to be somebody I knew the board would approve.") Ensconced in that fabulous apartment and a weekend home in Bellport on Long Island, she and Jack busied themselves with civic duties — vetting new members at the Heights Casino, raising money for Plymouth Church and the Brooklyn Botanic Garden — and, for a few months in the late '60s, secretly offering up their two guest rooms to a stream of out-of-state women seeking abortions.
Faison only began sharing this secret history because of the looming Supreme Court decision in Dobbs v. Jackson Women's Health Organization, concerning a Mississippi law that would ban most abortions after 15 weeks of pregnancy — a direct challenge to the federal right to an abortion promised in Roe.
Like many women, her opinions about abortion have been shaped by her experience as a mother. Her first husband, a handsome Princetonian midshipman, drowned fighting in World War II in a typhoon off of Okinawa two weeks before she gave birth to her first child. She was only 20.
Still grieving her husband's death when her water broke, she went to the Brooklyn Hospital Center to labor for 23 hours, alone. "There were two other women in the ward, all of us screaming away. They moved me upstairs. I was in such grief. I didn't feel like nursing, and the doctor said, 'Look at this woman, she won't nurse,'" she recalls. "I felt … the word abandonment comes to mind."
She lived with her baby, Jeff, in a fourth-floor walk-up on Willow Street on a government stipend for war widows of $97.10 a month. The garbagemen would come up in the mornings to help her carry the baby carriage down the stairs; her deceased husband's Princeton friends brought ingredients for her to make meat loaf and bottles of booze.
"I've lived being flat-ass broke, and it isn't easy," she says in a low voice that is, at turns, imperious and playful.
Eventually, she married Jack Faison and had another baby, a daughter named Sandy. Never having gone to college, she worked a dull job at the Independence Savings Bank for 13 years. She got a break at a cocktail party when a famous broker offered her a chance at a lucrative job selling real estate.
As a working mother, Faison recalls the ever-present worry about getting pregnant. At the school drop-off, mothers talked about what they would do. "None of us were hedge-fund kids. It was just very much an issue in our lives," she says. Despite her economic privilege, like many New Yorkers, affording her life always felt precarious. She and Jack worked three jobs between them. "We wanted to have Bellport, we wanted to have vacations" she explains. "I knew that if I got pregnant, I would want an abortion."
Faison never got pregnant by accident, but she quietly took a few friends to get abortions at the Brooklyn Hospital Center and in Manhattan, where she had the name of a doctor who would do it. She traveled to Albany to protest New York's abortion ban and attended a talk in Bellport by Mary Childs Draper, an early founder of Planned Parenthood and a roommate of Faison's mother-in-law at Vassar.
In 1969, she got a chance to do something more to help women. By then, she'd struck up a close friendship with Plymouth's minister, Harry Kruener. They were an unlikely pair. She had a closet full of St. John. He wore thrift-store clothes. Faison listened to classical music. Kruener listened to jazz. "He dressed like a bag man," she tells me, "but he was one of the most interesting men you can imagine." Every Wednesday, they went to see a matinee and go for a hamburger.
Kruener brought Faison into a countercultural world of church activism. He took her to a service at Judson Memorial Church in Greenwich Village, where the activist minister, Howard Moody, was preaching about women's rights and humane treatment for drug addicts. Though Faison recalls feeling outside her comfort zone at Judson — "I mostly remember being appalled at how simple the church was, and it needed tidying," she says — the experience made an impression.
Moody recruited Kruener to join 21 rabbis and Protestant ministers in New York City, who formed the Clergyman's Consultation Service on Abortion, which would assist women seeking abortions through an answering service. The clergy had clout back then, and news of their announcement made the front page of the New York Times on May 22, 1967.
Moody, the spokesperson for the group, told the Times: "If a legal therapeutic abortion is not possible, but an abortion is indicated, we will try to get the woman the best possible medical advice to take care of her problem pregnancy. In some instances it is possible we would attempt to facilitate her getting an abortion in a country where it is legal."
In a 1973 memoir about the creation of the CCS, Abortion Counseling and Social Change, Moody and Arlene Carmen explain that the clergy were comfortable with what they saw as a minor form of civil disobedience because they knew that doctors and law enforcement were already happy to bend the law for wealthy women. They write, "Even in a state with a law as strict as New York, a woman who had "connections" (a doctor friend, a psychiatrist) and money, could, in a New York hospital, terminate the pregnancy under the guise of a 'therapeutic abortion.' It is important to understand the terminology that medical and legal persona invented to rationalize ignoring the law in certain cases … In fact it was only a term to describe the difference between rich and poor, white and black, the privileged and the underprivileged."
The CCS aimed to widen abortion access as much as possible. Using their moral and institutional power, the clergy vetted abortion providers and negotiated prices, ensuring that women would have safer, less expensive, and more dignified access to abortion care. They eventually grew to a national network of 1,400 clergy who helped an astonishing number of women — as many as half a million from 1967 to 1973, when Roe was decided.
After the Times story about their announcement, the CSS was met with "an absolute flood" of people calling to ask for their services, according to Gillian Frank, a historian of religion and sexuality at work on a book about the CCS. "It was triage in response to a public-health crisis," he says.
One day, Kruener called Faison and asked her to help. "He said, 'Grace, I know how much you care about this issue. Would you be willing to have several women each week for a short period while I counsel them?" Faison recalls. She agreed. "It was a chance for me to do something. Nobody knew. I was not to talk about it, and I didn't," she says. Plus, she had two guest rooms that "were always clean and ready, and they had a bathroom of their own."
For several months in late 1969 and into early 1970, after her daughter had left for college, Kruener called Faison each week to tell her how many women to expect — sometimes zero, sometimes two or three. He gave the women instructions. When they arrived, the doorman sent them up.
Faison did not ask the women for details about where they were from or what they were doing in New York. Kruener is dead, and what's not clear from Faison's account is whether the women were coming to New York to get abortions in the city or whether Kruener was meeting them for counseling and sending them elsewhere — according to Moody's memoir, the clergy deliberately sent women to doctors across state lines to make prosecution more difficult.
"There was nobody who arrived at my apartment looking tacky. They were clean. They were polite. You knew they came from homes where they couldn't tell their mothers," Faison tells me. "They were all very anxious, very anxious. Jack was so good. He was a raconteur, and he always had stories to tell. Dinners were always around this nice cherry hutch table in my kitchen. I liked food. I never had salad. I never had wine. Jack and I had a Scotch before dinner every night, and we sat and had cheese and crackers, and then I had a roast chicken or a leg of lamb or a beef stew or meat loaf. I always had food around. I believe in regular feedings."
While she nurtured them with food, Faison kept the conversation deliberately vague. "I wanted them to feel that they were passing through. I thought the less they have to remember about this, the better," she says. I asked her whether she was ever afraid of someone noticing the steady stream of young women staying with her. She shook her head: "Nobody questioned me. I was Grace Faison. My family lived in Brooklyn Heights. I had friends coming and going. We did a lot of entertaining in that apartment."
In April of 1970, New York became the first state to broadly legalize abortion for women who lived out of state, and hundreds of thousands of women traveled to New York to get legal abortions, no longer forced underground.
I ask Faison how she feels about seeing society go back to the way things were before Roe. "I feel very angry at the way men treat women and don't value them. It's getting worse," she says. "I hope we can do something. How many people do you know who've lived through two world wars and the World Trade Center attack? This is the worst thing outside of war that they are doing. They are diminishing the value of women."
The historians I consulted about the CCS didn't know of other examples of women staying in people's houses overnight. That said, it makes sense given that the clergy tried to reduce costs in any way they could. Perhaps Faison's situation was unique. It seems more likely, though, that those 1,400 mostly male clergy had a legion of church ladies like Faison behind them. As Frank put it to me: "Church ladies get shit done."
During one of our meetings, Faison said something that has stayed with me: "I've been involved in every organization you can around here — never head, always secretary or treasurer." It seemed important for her to tell me that she works behind the scenes. I think about the quiet way women have always made cracks in the systems designed to keep them down. Men announce their activism on the front page of the New York Times. Women just get on with it and keep it a secret for 50 years until someone from church invites them to tell their story.