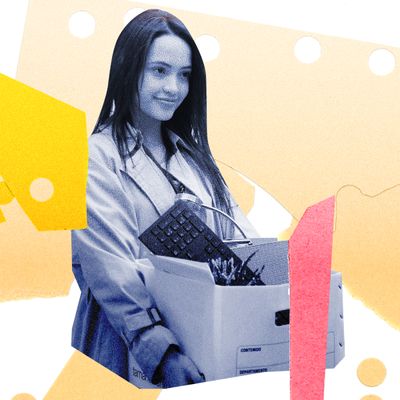 Photo-Illustration: by The Cut; Photos: Getty Images
As the story now goes, quitting as self-care empowered millions of employees to ditch their jobs to save their mental health last year. Around 4 million people quit each month in 2021 in what's come to be known as the Great Resignation. According to the Pew Research Center, the top reasons people left their jobs were low pay, no opportunities for advancement, and a feeling of disrespect in the workplace. Child-care issues, lack of flexibility, and lackluster benefits also factored highly in workers' decisions to leave. But did these resignations actually make anyone's lives better?
These five workers, all part of the Great Resignation, look back on their choice to walk away from their daily grinds and reveal the truth about what came afterward.
Jessica Chau, 24, freelance copywriter and strategist, Newark, Delaware
On why she quit: I decided to leave because I was being mistreated. During the pandemic, working retail was difficult. Seeing how people treated workers was an eye-opener. Being Asian American and working during the pandemic was not a good combo. I had a lot of customers actively avoiding me. I once had a mother pull her child away from walking in my direction while saying, "No sweetie, don't go near her — you'll get sick." A lot of other customers just acted entitled. Once I handed in my resignation letter, I felt so liberated.
On her relationships with family — and herself: Resigning has made me more confident in myself and my own self-worth. I was always a people pleaser. I was afraid to tell my mom I quit at first. My mom immigrated here from Vietnam, but we're Chinese. As an immigrant's daughter, I felt I was taking the easy way out and giving up. I didn't want her to feel like I wasn't doing my best or trying hard enough to make something of my life. But she ended up being super-supportive. She said she doesn't want me to go through that again.
On creative pursuits: Now I'm a freelance copywriter and strategist, but YouTube is my passion project where I document my life and talk about style. I currently don't make any money from YouTube, but it's a way for me to hopefully make others feel not so alone in this crazy world. When I was working full time, I would work 40-plus hours a week and come home and dedicate two hours to filming or editing. I was burning myself out. I wouldn't be able to pursue YouTube like I am now because my time was consumed elsewhere.
Jack Phoenix, 40, public-library collection-development manager and graphic-novel selector, Lakewood, Ohio
On why he quit: Due to the pandemic, I began to suffer from mental-health issues because of the constant stress and dread and not knowing what was going on. Oftentimes, it felt like leadership at the library wasn't taking staff safety very seriously. Then there were constant issues at work the leadership wasn't addressing. There was a patron who would harass staff, and a staff member looked up sensitive information about me and other staff members. I had a major mental-health decline and took almost three months off. When I got back to the library, I still felt underappreciated. We got the good news in December 2020 that my husband was getting a giant raise, which meant I would be able to quit my job and we could afford for me to not work.
On complicated feelings: This was the first time in my life I was ever unemployed. I had feelings of shame, like I should be ashamed to be "lazy," that I was an able-bodied person capable of working and choosing not to. I also felt shame wondering, Am I still even a librarian? I hadn't thought of the Great Resignation as a movement until after I quit and started finding solace from talking to other people and seeing articles giving it a name, and then I realized I was not alone. That's when some of the shame went away.
On returning to work: I stayed unemployed until June 2021. I started a new library position, which was part time and my dream job. I saw the listing and had to go for it. I was missing being in a library. This February, I took another part-time position. I am now back 40 hours a week. I wish I had this freedom sooner. Working these two part-time positions, I'd never been this happy in my work-life balance before.
Rosa Hernandez, 30, general manager for a convenience store, Laredo, Texas
On why she quit: I was working as a traveling sales rep for a mobile-communication company for about half a year. I don't know if it was the pressure of selling or the constant traveling out of my city, but it had a major impact on my mental health. Therapy wasn't working. I had to make the choice of quitting around mid-December without any jobs lined up. It was probably the best decision I ever made.
On why the struggle was worth it: I was unemployed for about a month and a half — absolutely no income. I tried doing Uber for a bit, and that brought a little bit of money in but not enough to sustain me and my daughter. We relied on my mom. She paid my bills for a month and a half while also paying her own. I was very blessed.
On feeling respected at work: This job I currently have, as a general manager for a convenience store, is one of the bigger jobs I've ever had. I had something to prove — that quitting wasn't because of what I can or can't do. For the first month, I overworked myself because I was trying to prove something to myself. My supervisor saw it, and he said, "I hired you for your résumé; I trust you." It was very nice to hear that they value that work-life balance and reassuring to know I made the right choice. People are starting to realize it's not all about the money, at least for me and the people I surround myself with. They're starting to look for employers who value them. When something doesn't align with someone's morals or values, that's an instant red flag and enough for people to quit.
Elizabeth Christopher, 51, freelancer and volunteer, Melrose, Massachusetts
On why she quit: I was a marketing writer for a tech firm, and the company sent an email offering a severance package to employees over 50. It was right before Christmas 2020, so it felt like I was being offered a Christmas gift. I had never not worked as an adult, even with three kids. I took maternity leave, and that was it. It felt like I was leaping off a cliff but trusting that everything would work out okay.
On how she spends her days: I still get up before the kids get up, probably 5:30 or 6 a.m., and I use that time for writing. During the day, I'm working on a freelance project or my fiction or a volunteer project — I'm on the board of a small arts organization in my town, and I help organize writing programs. I don't want to squander this time. I've always wished there was more room in our society for creative pursuits and volunteering. Working in an office full time demands so much of a person.
On the future: This is temporary. I have kids that are going off to college soon, and we certainly will have loans, tuition, and other costs to pay then. Being 50-plus, there's a sense of time running out. But I'm trying to cut myself some slack and realize that life moves in waves. Sometimes you're able to focus on your career and sometimes it needs to be family. I don't need to do all the things right now.
Jessica Leza, 39, music therapist, Denton, Texas
On why she quit: I was working in an inpatient behavioral-health facility for children and adolescents. Our patients were not being kept in safe environments. If there was adequate staffing, if we were given the supplies we needed to work, we could have prevented these issues. But because the management was so bad, the facility was not maintained, we didn't have supplies. A lot of people quit. After six weeks or so, a new clinical-services director was hired to be my boss. It took about five days to have a really bad interaction with her. She coerced me into hugging her. I kept saying, "No, I don't want to hug you." Finally, I realized, If I'm going to get out of this situation, I have to hug my boss. I'm a survivor of sexual abuse, and it was triggering to have that unwanted touch. I ended up writing seven pages to document everything that happened and went to HR, and they couldn't offer anything that I thought would make it a safe workplace, so I walked out.
On finding joy again at work: At the time that I quit, I was saying I don't even know if I want to be a therapist anymore. I thought, Let me try another therapy job for six months and see how it goes. I went to a mental-health clinic and proposed they start a music-therapy program. It's been so different from my last job. I get to have fun and help people use music to rediscover their joy and have artistic experiences.
On the Great Resignation: Laborers have been abused for so long. We're exploited, we get low wages, and it's getting worse and worse. We're working in unsafe environments. It's fantastic that workers are demanding better conditions for our lives because the people who are exploiting us are getting rich off our work, and that's not right. Quitting was 100 percent worth it, and the reality is, if I could, I would have my previous employer — that whole hospital — shut down.
Interviews have been edited and condensed for clarity.