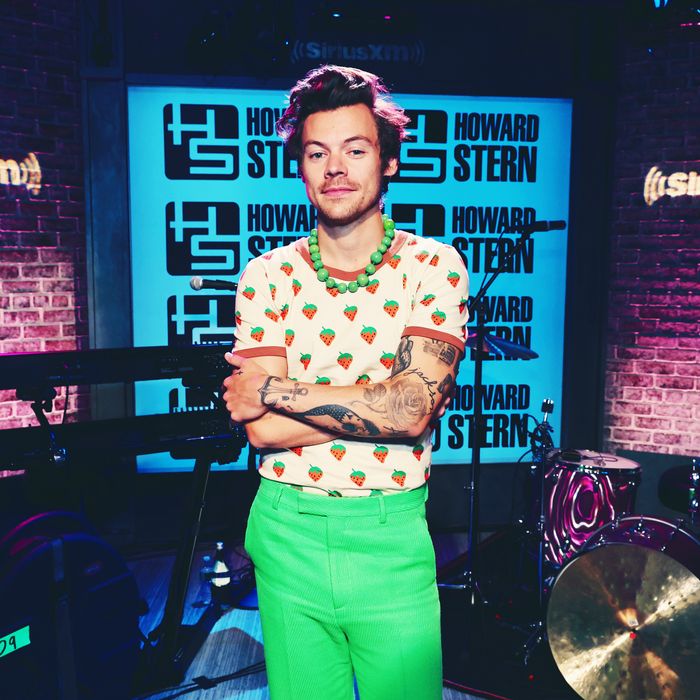 Photo: Cindy Ord/Getty Images for SiriusXM
Harry Styles and his gorgeous big toe were on The Howard Stern Show this week, speaking about his upcoming album Harry's House and whatever bits of his personal life Stern could squeeze from our beloved British boy.
As I'm sure you're well aware, Styles is currently dating Olivia Wilde. They met on the set of Don't Worry Darling, the forthcoming psychological thriller starring Styles and Florence Pugh and directed by Wilde. Though we've seen photos of the two of them attending a wedding together and making out on a yacht in Italy, Styles has been relatively private about his relationship with Wilde. This, of course, was no deterrent to Stern.
Stern asked Styles about one of his new songs, "Cinema," which includes the line, "If you're getting yourself wet for me, I guess you're all mine." Ha-ha, remember when Harry Styles thought he needed to clarify what "Watermelon Sugar" meant? Anyway, Stern tried, unsuccessfully, to get Styles to confirm whether the song is about Wilde. "When I write songs, they kind of start out just, I guess, mine," Styles said. "I think it's important to write from what you're going through at the time and trying to turn life into what you make." Hmmm, what I'm gathering is this horny line is … true to life?
Stern, always the subtle interviewer, asked Styles point blank, "You fell in love on a movie set?" To which Styles said, "I had a wonderful experience being directed by Olivia." Styles continued playing coy, adding, "Acting is kind of uncomfortable at times; you have to trust a lot. Being able to trust your director is a gift. That was very helpful. It meant for a really nice experience working on Don't Worry Darling."
So there you have it: Harry Styles trusts Olivia Wilde and found her "very helpful" on set. I suppose we will have to wait until Harry's House comes out Friday to hear the other ways in which their relationship has been … helpful.