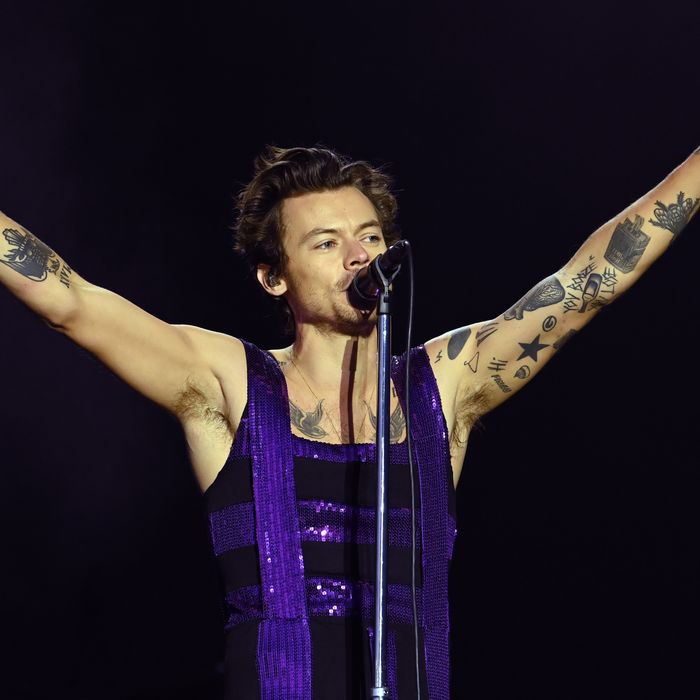 Photo: Dave J Hogan/Dave J Hogan/Getty Images
In the wake of the Buffalo mass shooting that killed ten and the Uvalde shooting that resulted in the deaths of 19 elementary-school children and two adult teachers, Harry Styles has decided to turn his North American tour into a fundraiser of sorts for Everytown, a gun-safety organization. On Saturday, May 28, it was reported that the pop star pledged $1 million of his current Love On Tour to the Everytown for Gun Safety Support Fund, with Live Nation matching the donation. The singer is set to play 42 sold-out shows in North America before the end of 2022.
"Along with all of you, I have been absolutely devastated by the recent string of mass shootings in America, culminating at Robb Elementary School in Texas," he wrote in a statement on Instagram. "On our North American Tour, we will be partnering with Everytown who work to end gun violence, donating to support their efforts, and sharing their suggested action items." It's unclear what this "sharing" of action items will look like, but Styles has already shared links to Everytown in his post, encouraging fans to join the movement to "end gun violence."
Styles has previously taken a stand against gun violence in America. During his 2018 tour, he made a point of sharing a close up of the "End Gun Violence" stickers on his guitar following a show in Dallas, Texas. He performed in June, less than a month after the Santa Fe High School shooting that left ten dead. Earlier that same year, he encouraged supporters to sign the March for Our Lives petition.
Meanwhile, Uvalde native Matthew McConaughey visited his hometown, meeting with the families of those that were killed. And President Joe Biden and First Lady Jill Biden arrived on Sunday to pay their respects at Robb Elementary School.