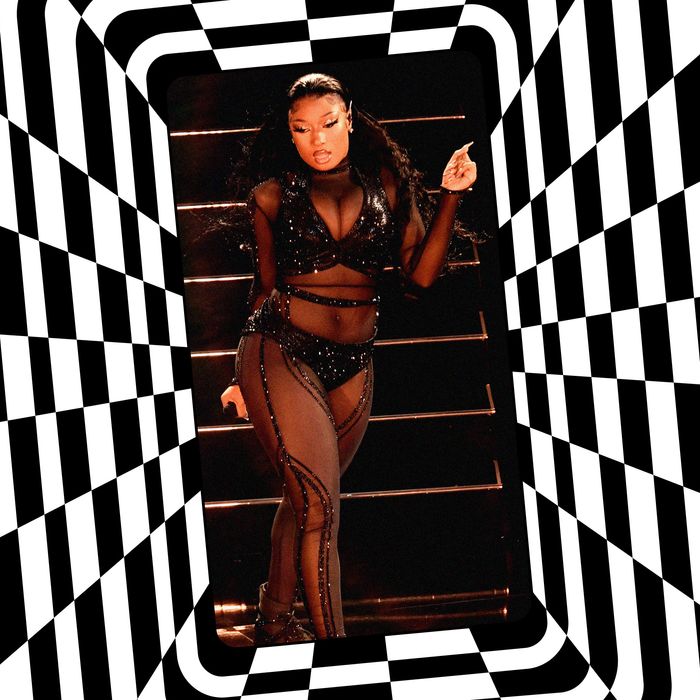 Megan Thee Stallion, patron saint of hot girls.
Photo-Illustration: by The Cut; Photos: Getty Images
Like a child with vegetables or my dog and her heartworm pills, I must trick myself into doing exercise. In this sense, the "hot-girl walk" was made for me. A hot-girl walk is … exactly what it sounds like — going on a walk and feeling hot — but I'm getting ahead of myself. Before we can hot-girl walk, we must hot-girl crawl. Here, your guide to one of TikTok's most beloved, least intimidating workouts.
What is a hot-girl walk?
Sometimes the hottest things are the simplest — a fitted white T-shirt, calling people babe in a platonic way. There is nothing complicated about a hot-girl walk. You merely take your hot-girl feet outside and start walking. However, in order for a regular walk to be a hot-girl walk, you can only ruminate on these three things:
- What you're grateful for.
- What you hope to achieve.
- How hot you are.
You may not make mental to-do lists. You may not fixate on whatever embarrassing memory your brain wants to fixate on. Hot-girl walks are not for fixating. They are for feeling proud of your accomplishments and admiring your own gorgeous ass.
Why hot-girl walk?
The hashtag #HotGirlWalk started popping up on TikTok early last year and it's maintained a steady momentum ever since. Now, as we approach summer, peak hot-girl time, we are reentering peak hot-girl-walk season. The benefits of walking, like the benefits of exercise as a whole, aren't new or surprising. It makes you feel happier. It's good for your heart. It's a brief respite from scrolling through Elon Musk's Twitter. However, TikToker Mia Lind, who takes credit for the term "hot-girl walk" and has a perfect first name, has said the hot-girl walk is as much a mental and emotional exercise as it is physical.
Though the hot-girl walk is inextricable from physical exercise, Lind insists that hot-girl walks are not about physical transformations. (Though one of Lind's videos explaining the hot-girl walk does begin with her own before-and-after photo.) Regardless of its origins and various interpretations, the hot-girl walk, at its core, is about moving your body a bit and feeling good about yourself — two things I, admittedly, need encouragement to do more.
How do you hot-girl walk?
Aside from focusing on gratitude and positivity, the only other essential for a hot-girl walk is some hot-girl music. (Or a hot-girl podcast.) Lind's "Hot Girl Walk" Spotify playlist has nearly 100,000 followers. Some of her most recent adds are "I AM WOMAN" by Emmy Meli and "All the Way Up" by Fat Joe, Remy Ma, French Montana, and InfraRed, which gives you a taste of the type of music best suited for hot-girl walks.
Some abide by Lind's four-mile hot-girl walks. Others focus on time rather than distance, taking 45-minute hot-girl walks. I chose to believe the hot-girl walk transcends time and space. It's not about how far you go or how long you walk; it's about how hot you feel along the way.