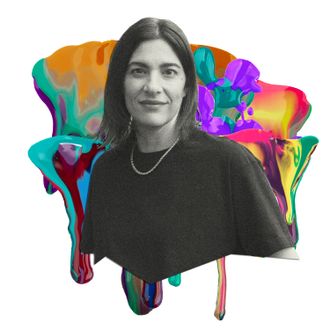 Photo-Illustration: The Cut; Photo: Ramsey Alderson
In November 2021, Christine Messineo was appointed director of Frieze Los Angeles and Frieze New York, making her the first person to oversee both art fairs. A former fashion stylist who once had ambitions of being a ballet dancer, Messineo has worked at the center of the art world for 15 years, having previously been a partner at Bortolami Gallery in New York and a director at Hannah Hoffman Gallery in Los Angeles. The mother of one is politically engaged too: In 2020, she established Plan Your Vote, a visual-arts initiative to encourage U.S. citizens to employ their right to vote. More than 200 artists and organizations got involved including Patti Smith, Michael Stipe, Sally Mann, and Dyani White Hawk.
Dividing her time between Manhattan and Connecticut with regular stints on the West Coast, the Cut caught up with Messineo from her home office in Connecticut as she prepares for the tenth-anniversary edition of Frieze New York, which runs May 18 to 22 at the Shed in Hudson Yards. Here's how she gets it done.
On her morning routine: 
I have a 2-year-old son, Enzo, so my mornings start as early as 5:30 with the wake-up alarm of "Let's play" or "I hungry." The layout of our house in New York is upside down, so we go upstairs to the kitchen and I pour myself a cup of coffee, which is when my day officially begins. As I make my son breakfast, I simultaneously open my laptop and read the blast of emails that have come in from the Frieze team in London; the time difference is one of the most challenging aspects of my job.
Other than that, my days don't have a consistent schedule except that my husband and I always sit down for dinner together — whether that's just the two of us or we're with friends or family. Even if we go back to work afterward, it is important for us to have this momentary pause. I'm very fortunate that the job I do involves looking at art and that that's something I can do with my family by visiting museums and galleries together.
On her bookshelf:
When I was in high school, I fell in love with writers like Ann Beattie and Joan Didion, and they have been central to my reading journey. I was the kid who hid under the covers with a flashlight reading late into the night. I even remember skipping classes because I got so involved in books at the library. I just finished reading Sandfuture, a book on the architect Minoru Yamasaki, who designed the World Trade Center. It is by the architect and visual artist Justin Beal, and it discusses the fact that so many of Yamasaki's buildings no longer exist because they have been destroyed. Next I am eager to read Ocean Vuong's new book of poetry, Time Is a Mother. When Vuong's On Earth We're Briefly Gorgeous came out, I went on holiday with six other people and took the book with me. We passed it around the group, and it became the mainstay of our conversation.
On her first foray into politics:
Six weeks after I had Enzo, the world went into lockdown, and I didn't know what to do with myself. As wonderful as it is having a baby, they don't talk to you and can't interact in a way that is an exchange. I needed a project, so I established Plan Your Vote ahead of the 2020 elections. It came out of looking at a lot of the images that vote.org was producing and thinking, How can we spice them up? How can their images on Instagram help spread the word like that of a celebrity or influencer? I offered to help by getting artists to create images, and it turned into this huge campaign, which involved more than 60 artists and 150 institutions across the U.S.
On transitioning from art to fashion and back again:
I studied art history and art-making when I was in college and worked as a fashion stylist after graduating. But I needed to take a pause from all the travel. I was fortunate that the transition back into art was easy. I had been able to save money while working in fashion so that, in my mid-20s, I could intern at an art gallery and nonprofit where I wasn't paid very much. And I never properly left fashion — I still love some good clothes: Merlette poplin blouses, Tibi, Dries Van Noten. Right now, I'm wearing an ancient double-breasted Sonia Rykiel blazer I found in a consignment store in Connecticut and have had in my closet for years. I'm a real sneaker person; I've given up on heels during art fairs.
On the importance of nurturing professional relationships:
I worked for Stefania Bortolami for seven years, starting off as a gallery director before moving into a partnership role. Stefania gave me the tools to work really closely with artists, bring new artists in, and organize exhibitions. I had room to grow both inside and outside the gallery. The experience instilled in me the importance of nurturing relationships with artists because that is the starting point, and everything else grows from there. If you don't have enthusiasm for the artists, how are you going to be able to talk about their work? How are you going to be able to sell their work?
On making art widely accessible:
We are working with Tom Burr on a special commission for this year's Frieze New York called Nine Renovations. It builds on an 1997 essay he published called "Eight Renovations: A Constellation of Sites Across Manhattan" in the periodical Opening, Periodico di Arte Contemporanea. In it, Tom mapped eight places in New York that are in transition and proposed symbolic renovations for each using construction-material greenboard. The "Eight Renovations" have been printed as eight posters that have been installed across different sites in Manhattan, such as Renwick Street, with a ninth at the Shed for Frieze. It is really important to me for Frieze to continue to be a crucially important organization for our galleries while acknowledging and having a presence throughout the city — whether that be through special projects like the one with Tom or working with nonprofits like Artists Space, the Laundromat Project, and Electronic Arts Intermix, which provide residencies and fellowships.
On finding joy in hosting: 
One of my favorite things to do outside work is host dinner parties; I find it just as easy to cook dinner for 20 as I do for two. I tend to make things you can just throw together like a huge piece of salmon or a big salad with a mustard-vinegar dressing. You can always roast vegetables really quickly and make them look beautiful, and I can't resist a cheese plate. The only thing I ask guests to help with is whipping the cream to go with the olive-oil cake I've baked for dessert, which I serve with berries. My husband is a masterful martini maker; he pours them in these little blue glass teacups we bought in Paris — the perfect size to get the evening off to a gleeful start.
We started a tradition about six years ago where we document our parties by passing around an old Polaroid camera and having each guest take a selfie. It began with a dinner we had for the artist Barbara Kasten. We were living in a Neutra house in Los Angeles at the time, so all the bookshelves, desks, dressers, and closets were built in. We pulled some folding chairs up to the built-in couch and used a folding table from Staples as a dining table. The tradition has continued over the years, and now we have a record of all the amazing people who have come through our homes — from the artist Mary Heilmann to the fashion photographer Paola Kudacki and the filmmaker Meredith Danluck.