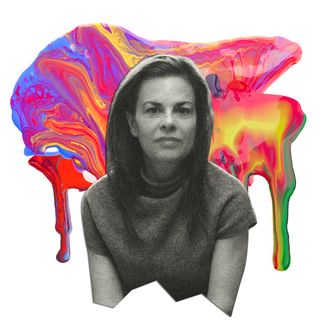 Photo-Illustration: by The Cut; Photo: Courtesy of SHOWTIME
As a clinical psychologist and psychoanalyst in New York City, Dr. Orna Guralnik, 56, is used to being the one asking the questions. "I had nowhere on my horizon ever being in the public eye," she tells the Cut. "That was never ever my plan." But plans change. Guralnik now stars in Showtime's Couples Therapy, a documentary series following the real-life psychotherapy sessions she holds with her patients currently airing its third season. (Think Esther Perel's Where Should We Begin?). It's an unscripted, intimate look at conversations between couples and how the therapy process unfolds. Guralnik, also a faculty member at NYU Postdoctoral Institute for Psychoanalysis — where she earned her degree — and at NIP (National Institute for the Psychotherapies), currently lives in Brooklyn with her family. Here's how she gets it done.
On her morning routine:
I wake up early. Always too early. I never have to put on an alarm clock, sadly. If I'm lucky, I can wake up before other people and meditate for 15 minutes. But I'm not always lucky. My son has this, like, sixth sense of when I'm up, and he just wants to talk.
Then there's a pretty intensive morning routine of getting him ready for school. Once he's on the bus, I meet friends for coffee at a cafe down the block — it's kind of an excited 20 minutes of prepping for the day together. I often meet my closest friend, Betsy, there. Our daughters have been best friends since kindergarten, and we became super-tight. I don't have breakfast, I just have really strong coffee: two double espressos by 9:30 a.m. Betsy and I and two other friends have been doing yoga together for years. Through the pandemic, we've done it on Zoom, mostly through a studio called Kula, two, three mornings a week.
Around 10 A.M., the day gets super intense. I have my patients. I have stuff that has to do with filming for the show. I have to take care of my kids in various ways. My daughter is graduating from college, but there's an essay of hers to edit. And once in a while, there is a crisis in my practice that I deal with.
On juggling her practice and filming:
I have long-term patients in psychoanalysis who I see twice or three times a week. On average, it's about 28 to 30 hours of practice a week. I'm not one of those analysts that sees like 40 hours a week — I couldn't do that. But during the 20 weeks of filming, it's very, very demanding.
In addition to that, I have a pretty intense academic practice. When I stop filming, I then go back to my academic work. So in between filming seasons, I have time to write, prepare papers.
I have an amazing assistant, Christina, who works for me a few hours a week. I've been working with her for four years. We do some of the work in person and some of the work remotely, but she helps me with scheduling, collecting information that I need when my kid is applying to a school or other research. She's a mom herself, so she totally gets what it's like to be a working mother.
On choosing her path:
I had questions along the way. Is this the right field for me? It's a very serious commitment to be a psychologist, and especially to be an analyst. I wasn't sure if I wanted that. I was interested in the arts, and creating. And I wasn't sure if I wanted to take the role of a healer, or if I wanted to focus more on my own stuff. Those were my dilemmas earlier in life, like in my twenties, and even at some point in my thirties.
On filming real, unpredictable sessions: 
Psychoanalysts are always listening for the unconscious. So in a certain way, we want the unexpected; people need me to help them listen to what is unknown, unexpected, surprising — a different way of thinking about what's going on. So every time there's something unexpected that surprises me or surprises my clients, I'm happy, because that means something is moving, something's changing. If I'm too comfortable, if I know what's going on, it's not the real work.
In doing the show, I've committed to the same thing. And that's where documentary filmmaking and psychoanalysis really meet. There's a meeting of minds — documentarians are kind of in the same place, where they're waiting for the unexpected to happen. We're there waiting for surprises all the time.
On the limits of analysis:
Some of the issues that people come in suffering with are not solvable. Whether it's the absoluteness of death and loss, to certain physical or mental illnesses. If someone has a deeply-seated, biological, psychotic process going on, that's not going to go away. A person might learn to live with it differently and reorganize differently. There are limits. So it's kind of built into the work that there's a certain kind of existential limit.
A lot of my work has to do with the relationship my patients and I have with reality. The many ways that we internally, unconsciously negotiate with reality. And sometimes the negotiation is a good negotiation, meaning we're coming to terms with what we can and cannot change about reality. And some of the negotiations are faulty or problematic, all sorts of lies that we pile on — whether we lie to ourselves or lie to the world around us or lie by way of defenses and pretending things are not the way they are. I think my work is about developing a certain kind of more raw and immediate relationship with reality.
On her lower priorities:
If it wasn't for my kids, I don't know if I would even have dinner. I would probably eat something quickly to get it done with. I make sure that healthy ingredients make their way into his body one way or another, but we're not big foodies. Somehow we miss out on that part of life.
On winding down:
I sadly do not watch TV, believe it or not. I read, I read probably a few pages. I have a pile of unfinished novels. There's a name in Japanese for that pile: tsundoku. The pile of unfinished books by your bed.
I really love Helen Macdonald, who writes all of these books about birds like H is for Hawk. She's my favorite author right now. I've been reading W.G. Sebald. And I've been listening to Audible — Oh my God, there's an incredible rendition of Mrs. Dalloway by Annette Bening, with a soft velvety voice. It's just amazing. These have been my go-tos to wind down in the evenings.