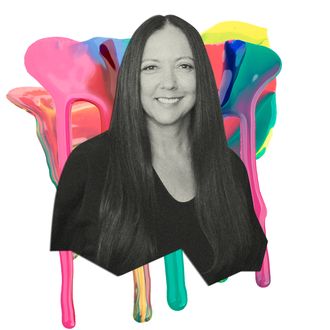 Photo-Illustration: by The Cut; Photo: Nicole Franzen
Robin Standefer is one half of Roman and Williams — the design firm behind some of the city's buzziest spaces. She and Stephen Alesch, her partner in both business and life, met designing sets for movies like Practical Magic and Zoolander. The stars they worked with (Ben Stiller, Gwyneth Paltrow, Kate Hudson) liked their work so much that they started asking the couple to design their homes. Now, Standefer and Alesch handle a roster of A-list clients while dreaming up lush, covetable spots like Ace Hotel, the Boom Boom Room at the Standard, Le Coucou, two Goop stores, and the Metropolitan Museum of Art's British Galleries. In 2017, they opened Roman and Williams Guild, a brick-and-mortar furniture store in Soho and home to the restaurant La Mercerie, before adding an art gallery two doors down last year. "I'm ambitious, but I'm also curious," Standefer says. "I like the idea of redefining innovation." Roman and Williams is celebrating its 20th anniversary this year and is currently at work on both its largest and smallest projects to date: the 53,000-square-foot Tin Building (Jean-Georges's massive food hall at the South Street Seaport) and a birdhouse that will be on view at the Brooklyn Botanic Garden this spring.
Standefer and Alesch split their time between New York and Montauk — where, as Standefer puts it, "It's just Stephen and me and a lot of plants." Here's how she gets it done.
On becoming a coffee convert:
My day always starts with coffee. It used to be tea until we opened the Guild. I had two businesses, and I was like, Okay, I'm switching to coffee. Stephen is a breakfast guy, and he's always trying to feed me breakfast, but I just do black coffee in the morning. I like to make it myself in my little clever dripper. I don't get too hyped, and it sets me on my day. I have to stay pretty focused and activated all week long.
On a typical workday: 
I'm very careful with how I set up my schedule — so I can be in either public or private mode. If I start at the store styling and resetting the floor, or if I'm on an install at a big residential job or at a restaurant, that's physical work, and that's intense and compressed. Doing creative work with Stephen is meticulous, focused, quiet, and serious. Then there's the bossy mode of presenting to big clients and getting people onboard with our narrative. My week has all of those. I try to fill a day with more of one attitude — so I'm not switching back and forth all the time.
Managing that schedule is everything. Right now, we're starting a hotel project and Stephen needs a lot of time to work on a plan, which means there are days when he's not in any meetings. That's complicated. Georgina Shea, who's the president of our company, stays in the game with me — making the calendar every week. It's like war games. We sit there for two to three hours and just move pieces around. It's like a vision for how to achieve our goals — knocking down the tasks we need to do that are gonna add up to closure on a major project.
On working with her husband:
Stephen and I met working in film, and we worked together for about two years before we got together. Collaboration and creativity were the basis of our relationship. There's not really a juicy story — we're a mom-and-pop shop that loves to make things.
Even if we get there slightly differently, Stephen and I care about the same ends. Sometimes there's tension about an issue at work, but we're comfortable with that dialogue. We see that as working toward the best solution. We struggle when we have different ideas of what the goal is. You have to trust that you both share the vision for where you're trying to go.
The biggest challenge for us is not working. We really have to make an effort. We recently expanded our property in Montauk to have a space for work and a space for creating. Roman and Williams started in our apartment on 4th Street, and it helped to designate a space for creating something that's not personal. You need a bit of that church-and-state separation to give you space to be together as a couple not as business partners.
On unwinding:
We're not that good at setting boundaries between work and home, but we really do try — especially for dinner. We're old-fashioned. We cook and sit at the table. There's a bit of formality to it. Not picking at something. Because we work together all day, we need time to decompress and focus on something other than work. That needs to be something that fully engages and motivates us.
Stephen is an incredible chef, I'm his sous-chef, and we have this dialogue about the food taking us to a certain country. We had a moment when we were really into Aleppo pepper, because we had brought all these spices back from Turkey. Right now, we're doing a job in Korea and are super into Korean cooking. We ordered all these varieties of seaweed from somewhere in Maine. For us, cooking is about engaging and making something together at the end of the day.
On (having and not having) money:
Stephen and I grew up with no money, but we always found ways to live like we did. When we met, if we had $100, we spent $75 on dinner and ate potatoes and took the bus for the rest of the week. We were always interested in experiencing different lifestyles and ways of living. That has influenced our relationship with money. At our house in Montauk, we spent money on planting a huge field of daffodils before finishing our ceiling.
On honoring big moments:
I handle sadness and achievement pretty much the same way. I try not to let those things stunt me. When we have achievements like opening the Guild or finishing the Met galleries, Stephen and I like to celebrate around food — cooking for everyone on the project or doing a big dinner at our house in Montauk to acknowledge that achievement before we move on. The next day, we get back to work. I was raised to be humble about milestones and never let them get you too pleased with yourself. I like to put my head down and say, "Okay, what's the next thing?" It's the same with failure. You have to say, "This feels bad," analyze how you could have done better, and shed it and go on.
On learning to trust her instincts:
Early in my career, a lot of my professional challenges centered around being a woman. I was raised to question authority and believe I could do anything, and, as I became more ambitious in my career, there were moments when people didn't see me in a leadership position. It put me in this defensive posture, and I felt like I had a lot to prove. Being questioned. Not being taken seriously. I remember walking into rooms and guys getting up and walking out or talking to each other right over me. I had a lot of self-doubt. I had to learn to trust myself — to trust my eye and my voice and stand my ground.
On the advice she offers young people:
Be very suspicious of professional advice. It can be useful, and you want to be responsible, but, in creative fields, you've gotta swim against the tide. I've always been fascinated by the idea of cross-pollination. Roman and Williams is a design business, the Guild is a furniture business, and we work with artists at the gallery. Everyone said, "No, you can't put a restaurant in the front of a furniture store. It won't work." "You can't open a design firm that also does decoration. It doesn't work like that." "Oh my God, you can't open a gallery connected to a furniture store. People won't take you seriously." That's just not true. I don't come into meetings saying I'm gonna fly to the moon in a teacup. It's not absurd. It's thoughtful and researched, but it questions the status quo. That's what gets me up in the morning. Innovation is not always just a bit of shiny technology. You've gotta say, "Why is this not possible?" Every great idea has come from that approach.
This interview has been edited and condensed for length and clarity.