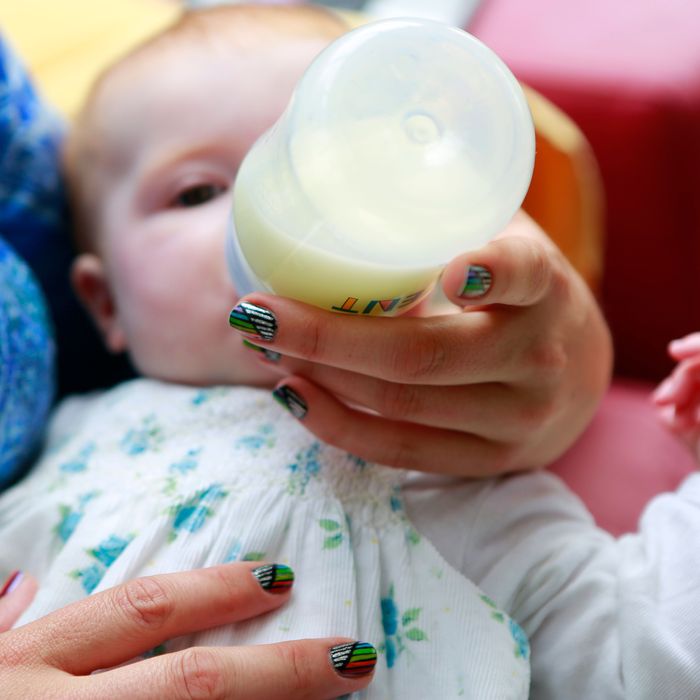 Photo: Owen Franken/Getty Images
For months, a nationwide baby-formula shortage has left parents desperate to figure out how they will feed their children. Now, because of supply-chain issues and recent recalls, over 40 percent of baby formula is out of stock, and many parents faced with empty shelves find themselves unsure where to turn next.
Last week, the White House announced steps to expedite formula production, but it could still be months until the situation improves. For advice on how parents should navigate the shortage, we spoke to Morgan Howard, a clinical-nutrition coordinator at Mount Sinai Kravis Children's Hospital. Above all, she advises caregivers who are stressed about finding formula to talk to their doctors, who can help determine the safest options. Here are some of her other recommendations as well as what you can do to help caregivers in need of baby food.
Call your doctors and tap into community resources.
It might be obvious, but if you're having trouble finding the formula your baby typically eats, call your doctor. "Many doctors have relationships with the bigger formula companies, in terms of keeping them in the loop about what's available and when they're getting certain things in," says Howard.
If your baby doesn't have health complications, you don't need to worry about switching formula brands. "The main ingredients in standard formulas are very similar, and infants should be okay switching between them," says Howard, noting that store-brand formulas are also a good option. Howard adds that unless your baby has medical complications, you should save the hypoallergenic and other medical infant formulas for the babies that need them.
To avoid hoarding, the American Academy of Pediatrics recommends having no more than a two-week supply of formula on hand. If the shelves at Walgreens or Target are empty, try checking smaller retailers or local drug stores. When buying formula online, be wary of scams. You can also check out your community resources: The U.S. Department of Health & Human Services recommends contacting your local Community Action Agency, which can provide you with formula or connect you to local agencies that have it. United Way's 211 helpline and Feeding America can also help you find local food pantries and charitable organizations.
The AAP advises against homemade and watered-down formulas, both of which can be unsafe. While cow's milk isn't typically recommended for children under the age of 1, new guidance from the AAP says that babies over 6 months without medical complications can be given whole cow's milk "for a brief period of time" amid the shortage. "A few days should be okay if necessary," says Howard. "Be sure to follow up with your pediatrician, who may recommend a multivitamin or iron supplementation to meet nutritional requirements."
Press your manufacturers.
If you need formula, the U.S. Department of Health & Human Services encourages you to call manufacturers' consumer hotlines and to ask your doctors to submit urgent requests for specialty formulas to Abbott's product request line. "They can overnight formula to hospitals or directly to patients' homes," says Howard. You can also call MyGerber Baby Expert to connect with a certified nutrition or lactation consultant by phone, 24/7.
Check out social-media groups.
Many caregivers are turning to regional support groups on Facebook, where you can share where you've found formula and tips about how to find it. While online communities can be great resources, Howard advises exercising caution when purchasing formula from someone you don't know. "You want to make sure it's not a recalled product and that it's not expired," she says.
Turn to a milk bank.
While breastfeeding isn't the answer to the formula shortage, and breast milk isn't always a viable alternative to formula — especially if your baby has special needs — you may be able to receive breast milk through one of the Human Milk Bank Association's 31 national member milk banks. HMBANA prioritizes NICU and medically fragile babies first, but what's left over is available on a first-come, first-serve basis for public consumption. "Up to 40 ounces can be given to healthy term babies," says Lindsay Groff, HMBANA's executive director, noting that larger amounts require a doctor's prescription. Groff says each local bank makes decisions about pricing; according to the Washington Post, if insurance doesn't cover the cost of breast milk, it's generally around $4.50 per ounce.
Certified milk banks rigorously screen donors, so "as long as it's from a milk bank, that does cover you in terms of making sure the milk is tested and pasteurized and safe," says Howard. "Donor milk can be great — we use it in the NICU — but the downside is that occasionally babies don't grow as well on donor milk, so make sure you follow up with your pediatrician to make sure your baby is hitting milestones." The AAP advises against informal breast-milk swaps, which can expose your baby to bacteria and viruses.
I'm not a caregiver. How can I help?
Don't buy formula unless you or someone you know actually needs it. Report fraudulent sellers online and price gouging to your local authorities when possible. If you have unopened and unexpired formula that you don't need, contact a children's doctor's office or a food bank to donate it. If you are currently lactating and have extra time and milk to spare, consider donating to a milk bank. Requirements vary from bank to bank, but you'll likely undergo health-history screenings and blood tests to qualify. "The more donors that step up to donate, the more supply we'll be able to distribute beyond the medically fragile," says Groff.