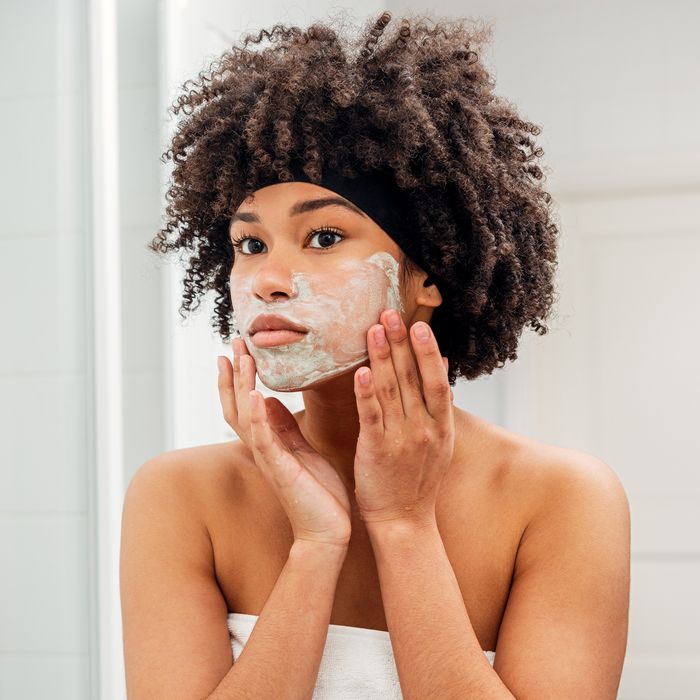 Photo: Artem Varnitsin / EyeEm/Getty Images
I recently spent 30 minutes attempting to stuff a refill of a product into a metal case, a brand's attempt at reducing the use of plastic. And while it was hard for me to figure out in practice, I was happy to know that it's a growing practice in the beauty industry to try and become more sustainable.
For most people with full-time jobs who don't have the time to make their own soap and toothpaste, having zero waste is nearly impossible. TikTok sustainability expert Chelsy Christina prefers the term "low waste," since it's simpler for consumers to focus on progress over perfection. Christina advises to first use what you already have before running out to buy new sustainable alternatives.
There are brands that have established themselves as sustainable before it became trendy or urgent to do so because of climate-change crisis. Osea, a vegan skin-care and body-care brand, was one of them. Founder Jenefer Palmer tells us taking small steps first is essential: "Whether it's removing excess packaging, finding more sustainable partners on the supply and manufacturing side, or becoming Climate Neutral Certified, all are good and worthy actions," she advises. (Climate Neutral is a nonprofit organization on a mission to eliminate carbon emissions by making climate neutrality something that all businesses do by 2050.)
Esthetician and Dior's skin-care expert, Sean Garrette, admits that it can be tough trying to stay sustainable while still enjoying skin care and beauty. He's aware of the role he plays in the waste: "It's inevitable that I'll contribute to some waste because of the amount of products to receive and test." That doesn't stop him from taking the time out to do things like research what ingredients are nontoxic and less wasteful.
There are small steps we can take to be more conscious of our routines that do not include scraping your entire skin-care shelf. It also doesn't mean we have to cut out the luxury and ritual that beauty adds to our lives. It just means we're taking extra time to respond to this ever-changing world. It's the least we can do, whether we're tired of it or not.
Bar Soap Is Back (and It's Chic)
Long gone are the days of Dove soap, which for a lot of us was our first introduction to having a beauty routine. The bar soaps of today have gotten a makeover. There are now shampoo and conditioner bars (but they aren't promising for every hair texture). Not only do bars use way less packaging, but they're also produced with a lot less water. Take this Mutha one, for example: It's 100 percent biodegradable and made with cupuacu seed butter and jojoba oil. (Christina tells us that bar soaps are her best friend because they are the lowest-waste option for both skin and body care.)
Stop Buying Single-Use Sheet Masks
Seriously. They are wasteful and do nothing more than if you just lather your face in product. In fact, you can apply most products, like toner, directly to your skin, forgoing the cotton pads altogether. Garrette also advises that even if the packaging is recyclable, most people don't think to recycle that type of packaging. We're programmed to constantly use and waste; it's a cycle. Packaged multiuse masks are a smarter and less wasteful way to get the same results, whether it's a sheet mask for skin or a single-packaged hair mask. Both Christina and Garrette are keen on using tools that are reusable: Reusable cotton pads are an environmentally friendly alternative when cleansing and toning the skin, while loofahs are a great option for the body.
Try to Cut Down on the Packaging
We all love unboxings, but they're not really ideal for the environment: the amount of plastic used, the shipment boxes, and more. Christina adds that packaging waste can take decades or, in some cases, centuries to decompose. So paying attention to packaging can make a tremendous difference. Look for recyclable brands: Korres products, for example, are 90 to 100 percent recyclable. Fenty Beauty also recently released a sustainable eyeliner, a wooden pencil that can be sharpened down to the last drop — a more sustainable approach than the brand's first released eyeliner.
Use Multiuse Products
Brands like Charlotte Tilbury and Ilia have recently debuted products that are multiuse (meaning they can be used on your lips, cheeks, and eyes). Buying less means throwing out less.
Look at the Ingredients List
Research beauty companies' websites and look for products that are made of naturally harvested ingredients. Some key words to look for are "natural oils" and "agricultural plants." Some companies go into more detail on their websites, like in the case of Dior's foaming cleanser La Mousse, which was formulated with naturally derived ingredients like water lilies from the Latour-Marliac Dior Garden, where they are harvested in a way that allows the plant to recover.
Palmer of Osea says the product-development process takes years because the brand is looking to "all corners of the earth for ingredients that fit their needs." Its latest launch is an overnight serum blended with AHA and natural ingredients like spirulina and kappaphycus alvarezii seaweed. From seaweed to different species of algae, Palmer believes that "the earth has given us the ingredients we need to nourish and enhance our skin." Natural and earth-derived ingredients don't equate to less results or lack of luxury; using them simply means we're caring and more aware.
Try a Refill Store
Refill shops are where you can buy shampoo, body lotion, dish soap, and many other health and beauty products by weight and refill them in your own reusable containers. My colleague Vivian Chuang started going to them in 2014 after watching videos of Lauren Singer, known as "zero-waste girl." Chuang says, "The shops also offer zero-waste products like reusable baking sheets, beeswax wrap, bar soaps, and much more."
In New York City, her go-to is A Sustainable Village in the East Village. There are a few around New York City, including La Nature in Park Slope if you are Brooklyn-based. (You can Google search to find one near you.) Chuang has even found her favorite products: "Jaclyn and Em at A Sustainable Village stock a rosemary vanilla mint lotion that I'm obsessed with."
Chuang added, "Although I never quite made it to zero-waste living, I believe any effort to incorporate some of these practices and products helps the overall mission and doesn't have to be a scary, fully committal life change. As someone in their 20s focused on building a career, balancing work and play, and without disposable income, I've found really easy ways to reduce waste, especially plastic waste, through switching my lotion, shampoo, face wash, and dish soap to the ones offered at these refill stores. What I love is that I can test out new products to include in my routine and if it doesn't work with my lifestyle, I can try a different one next time. I've noticed that my products usually last longer too, since I can choose my own containers, and I end up spending less by only paying for the product inside and not necessarily the packaging or the branding." Win, win!