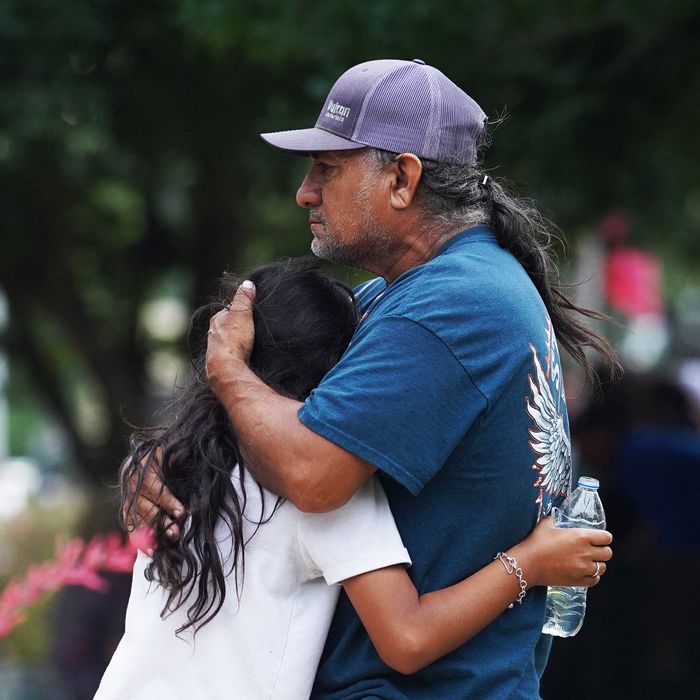 Photo: ALLISON DINNER/AFP via Getty Images
On Tuesday, an 18-year-old gunman opened fire at Robb Elementary School in Uvalde, Texas, killing at least 19 children and two adults and wounding several others. The shooting, which targeted a community that is largely working class and Latinx, is the deadliest school shooting since a gunman killed 27 people, many of them children, in the Sandy Hook massacre in 2012.
The Uvalde attack, which comes less than two weeks after a gunman killed ten people in a racist attack at a Buffalo supermarket, is the 27th school shooting this year. The city is in mourning, with some families still awaiting news about the condition of their loved ones. If you're able, here are ways you can help support the Uvalde community and press for gun-control legislation.
Donate to fundraisers for the victims and their families.
Make sure you're donating to a verified fundraiser — GoFundMe has compiled a list of them here. VictimsFirst, a network of surviving victims of mass-casualty crime, has organized this fundraiser for victims and their families and says 100 percent of donations will go directly to the victim base via cash payments. Los Verdes Supporter Group has also created a fundraiser for victims' families.
Donate to a funeral fund.
Two local funeral homes have said they won't charge victims' family members for funeral services. Donations are being collected for the funeral funds of the students who were killed, including Xavier Lopez, Jayce Luevanos, Jailah Silguero, Tess Marie Mata, Alithia Ramirez, Makenna Lee Elrod, Ellie Garcia, Layla Salazar, Alexandria Rubio, Rogelio Torres, and Nevaeh Bravo. You can donate to the funeral fund of Eva Mireles, a fourth-grade teacher who taught at Robb Elementary and leaves behind a husband and a daughter, and the funeral fund for Irma Garcia, another fourth-grade teacher who taught at Robb for 23 years. On Thursday, Garcia's husband, Joe, reportedly suffered a fatal heart attack; you can donate to a separate fund for the Garcia family here, organized by one of Irma's cousins. "I truly believe Joe died of a broken heart and losing the love of his life of more than 30 years was just too much to bear," the cousin wrote.
Donate to the survivors.
The families of surviving students are seeking financial assistance to cover the costs of medical care and mental-health support. Donate to fundraisers for Miah Cerrillo, Noah Orona, and Kendall Olivarez here.
Contact your senators.
Wherever you are, call your senators and press them to pass HR8, legislation that would tighten background checks on gun sales, and to oppose permitless carry in states that allow it. Here's a sample script from podcaster Jamie Golden. You can also donate to nonprofits that advocate for gun control like Everytown for Gun Safety and the Coalition to Stop Gun Violence.
Protest for stricter gun legislation.
March for Our Lives, an organization founded by survivors of the Parkland shooting in 2018, is organizing a protest for stricter gun legislation, including universal background checks, on June 11 in Washington, D.C., and other locations nationwide. RSVP here to join the march. The organization is also calling on young people to go to the Capitol from June 7 to 10 to meet with elected officials and lobby for gun control. No prior experience is necessary, and you can sign up here.
Press the NRA to cancel its upcoming convention in Houston.
The National Rifle Association is scheduled to hold its annual convention in Houston beginning Friday. Contact David Mincberg, the chairman of the board who owns the convention center hosting the event, and press him to cancel it. If you're near Houston, March for Our Lives is organizing a protest at the convention on Friday, May 27, at 1 p.m.; you can sign up here.
Donate blood.
If you're local, consider donating blood to one of the emergency blood drives that have been set up to support the shooting victims. University Health System in San Antonio has donor appointments available all week; you can schedule yours online. South Texas Blood & Tissue encourages community members to continue scheduling donor appointments over Memorial Day weekend and into next week.
Volunteer your legal services.
The San Antonio Legal Services Association is calling for volunteers to help Uvalde's victims and families with their legal needs. If you're an attorney in Texas and are able to provide pro bono assistance, email your June availability and area of practice to uvalderesponse@sa-lsa.org.