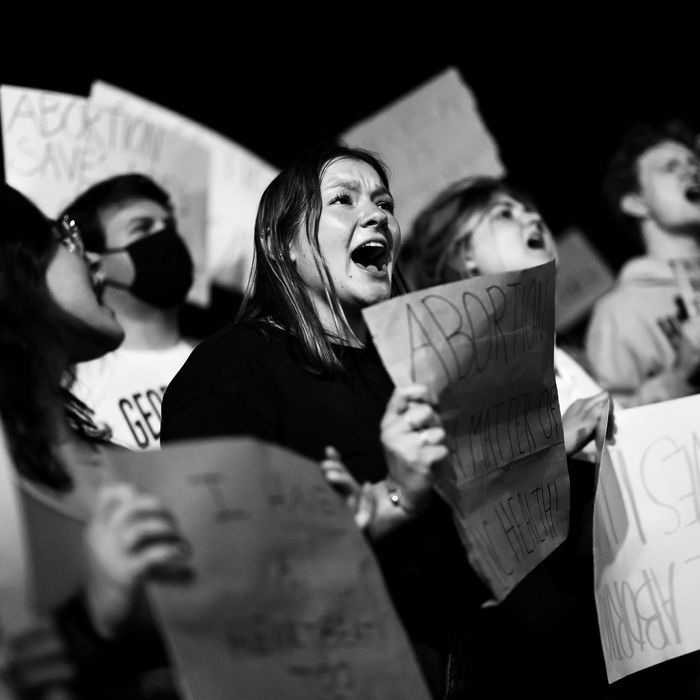 Photo: Ting Shen/Bloomberg via Getty Images
On Monday night, news broke that the Supreme Court had privately voted to overturn Roe v. Wade, according to a leaked draft opinion obtained by Politico. While the official ruling is not expected until June, the presumed outcome would have a devastating impact on abortion access across the country. Following the news, pro-choice protesters swarmed outside the Supreme Court, where they gathered well into Tuesday morning.
More national protests for abortion rights are under way in the coming weeks, with a nationwide day of action planned for Saturday, May 14. Here's how to join the events:
Socialist Alternative public discussion: May 7, Noon ET, New York City
The New York chapter of Social Alternative is holding a public discussion this Saturday to talk about collective action that can be taken to protect abortion rights. Boston's chapter is also in the process of planning a May 13 school walkout as a contingent to the May 14 mass protests, with specific details yet to come.
Party for Socialism and Liberation protests: May 6, 7, and 8, various cities
The socialist organization is putting together national protests happening across the country this weekend, in cities such as Austin, Denver, Houston, Tampa, and Springfield, Missouri.
"Bans Off Our Bodies" day of action: May 14, various cities
In addition to Rise Up 4 Abortion Rights' May 14 protests, "Bans Off Our Bodies" demonstrations will take place across the country, organized by groups including Planned Parenthood, Women's March, UltraViolet, and MoveOn. There will be four "anchor" marches in New York City, Washington, D.C., Chicago, and Los Angeles. You can search for a local abortion rights rally on Planned Parenthood's website.
The Jewish Rally for Abortion Justice: May 17, 9 a.m. ET, Washington, D.C.
As many Jewish leaders have noted, some branches of Judaism support abortion rights, putting the Supreme Court's leaked opinion at odds with religious freedom. The National Council of Jewish Women has organized a rally for abortion rights at our nation's capital — exact location details are shared upon registration, per the website. "For too long, the American narrative about religion and abortion has ignored Jewish voices," the site states, "and it's past time for that to end."
This post has been updated with additional information.