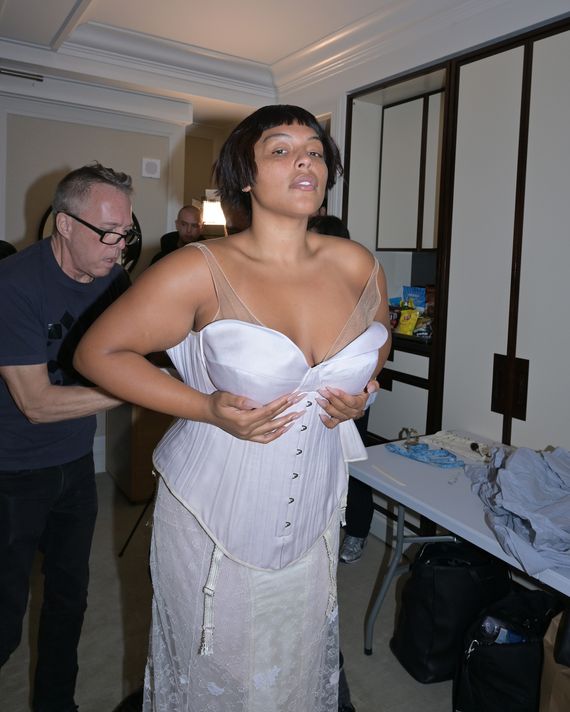 While many celebrities foundered with the Met Gala theme of "Gilded Glamour," Paloma Elsesser understood the assignment. Showing off a sleek corset and a sharp bob, the model wore custom Coach. Designer Stuart Vevers described the look as exploring "the tension between glamour and ease." He continued to say that the look "layers vintage references to tell a new story about American fashion and the way inspiring individuals like Paloma are redefining it today." Ahead of the gala, we chatted with Elsesser about her inspiration from the 1800s and why she loves to wear a corset (and take it off).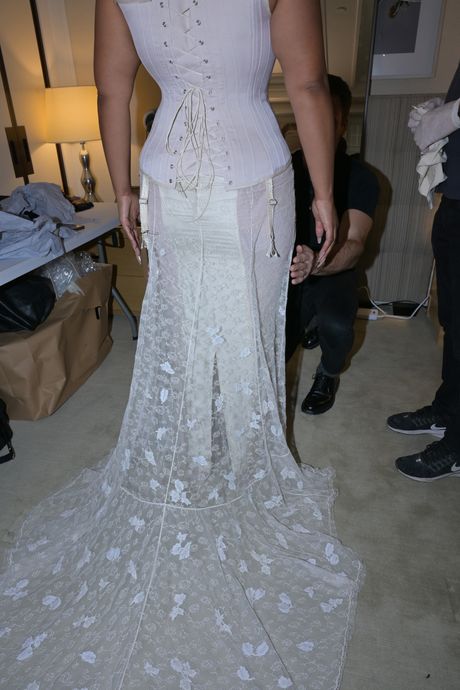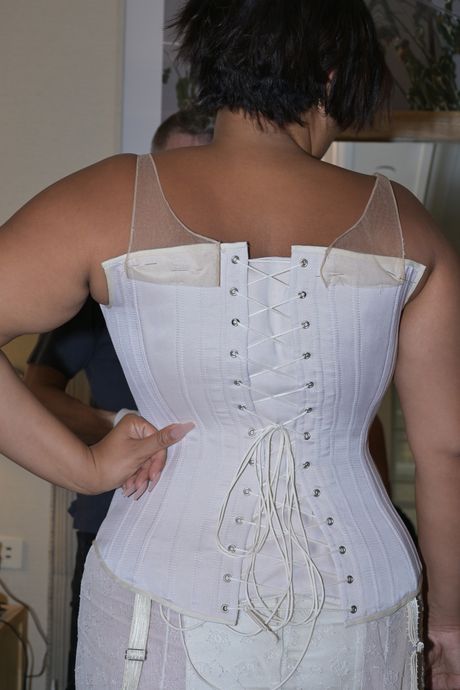 Tell me about what inspired this look.
There were different iterations, but what ended up inspiring the look was a conversation between undergarments and the Gilded Age: how integral they were to the outfits — from the corsetry to the slips, to the bustles and the boning. That's where we started, and we wanted to play into this sexiness but stay historical. We looked at predominantly Edwardian corsets for inspiration, and that's how we got here.
What reference photos were you looking at?
I started more contemporary, like the '90s, but then I ended up in the 1800s. I think it's important to really honor the integrity and authenticity of the corsets themselves, especially if they're the root of inspiration. Much of the dress was sourced vintage, the lace is French lace, and different components that covered the garter were sourced vintage.
I love that you're wearing a corset. What do you like about the way corsets look, and why was it important to include one? 
I love wearing corsets. The female silhouette (or however you identify), the hourglass silhouette, I really like playing with because it honors and contours my body. I love the drama and how extreme it can make you look. It's almost this weird mutation of your own body that you've never seen before. It's not the most comfortable, but I have plenty of time to wear sweatpants. I think it's important for this look specifically because it is tied together on top of all the elements, and executing the perfectly tailored silhouette is really important and also important to that time.
What does the theme mean to you, and how does this look portray the idea of "Gilded Glamour"?
To me, the theme is this time in New York when everything was at its maximum. There are not-nice elements of that era, but there's also glamour, fun, and drama. I like that the theme embodies that. I thought to myself, How do I bring that to now, in a way that feels honest and authentic to me and the theme and isn't too on the nose?
I love the short bob. How did you decide on that, and what did it take to get it?
The short bob was immediately arrived at, actually. I knew I wanted to add a more contemporary referential flair to the dress. I felt if we went long or too on the nose with an updo, it wouldn't feel as modern. So I carved through different references and found a bunch of photos of Linda Evangelista in her cropped-chop-hair era. I really wanted to work with a wig maestro, so we landed on Ursula Stephen, who I know from work with Rihanna and a very extensive list. It has a bit of nuance and texture, but it feels really amazing to collaborate on it to arrive at this very new kind of hair for me.
What inspired your makeup? Did the makeup look come first, or the dress? Or did they come together? 
The look came first — my amazing makeup artist, Fara Homidi, and I always collaborate in these ways. We referred to '90s supermodel makeup and started off with something that felt very angular. It's nice to work with someone who knows when to pull back and when to lean in. We're dancing into these things, like a cut crease, that we wouldn't go into in our other work life, and it's good to know it's going to be executed perfectly.
What's your favorite part about the Met Gala? 
My favorite part about the Met Gala is taking my corset off.