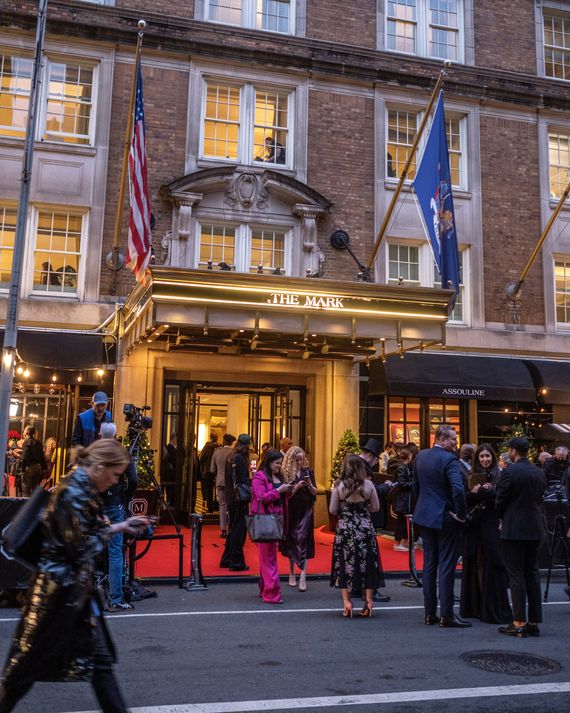 It's half past three on the day of the Met Gala, and there's a feeling of impending mayhem in the lobby of the Mark Hotel. Stylists are rushing about, refrigerator-sized suitcases in tow, while publicists shove through throngs of gawking guests. The celebrities will leave soon, more or less in order of fame, and hordes of screaming fans can already be heard outside.
It begins at 4:05 p.m. with Chloë Grace Moretz in a Louis Vuitton tailcoat, followed by a string of American heiresses including a Hearst and a Rockefeller (the theme is "Gilded Glamour," after all). At 4:15 p.m., the elevators open to various members of the Bridgerton cast, including Phoebe Dynevor in the kind of dress one wears when they're about to run into their ex. People finally stop asking "Who is that?" around 4:22 p.m., when Joe Jonas and Sophie Turner make their way through the lobby. "I'm hungry," grumbles a very pregnant Sophie before they duck out the doors and into their car.
At 5:20 p.m., there's a commotion near the elevators. A hush falls over the crowd. "Any minute now!" yells a security guard, and for one wild moment, I wonder if Rihanna has sneaked in through the back. But suddenly, there she is, beatific in a tiara and no sunglasses, blinking around at us all like a benevolent prom queen: Anna Wintour.
I go to the bathroom. Newlyweds Brooklyn Beckham and Nicola Peltz come in after me, and a photographer begins taking photos of them in the mirror. "More lips, Nicola. More chest, Brooklyn," she says. "Good, good." It's clever: As the photographer snaps away, Nicola holds up her phone so it looks as if she's responsible for the photos. I open the stall door slightly. "Stay in the stall!" yells the photographer as I ruin one of the fake mirror pictures. "No!" I wash my hands and get the hell out of there.
Back in the lobby, things have become unruly. The plastered E! team is spilling out from the Mark bar and into the hall, where two bulldogs in Moschino collars are copulating (they are Megan Thee Stallion's and "are always trying to fuck," says one of her entourage).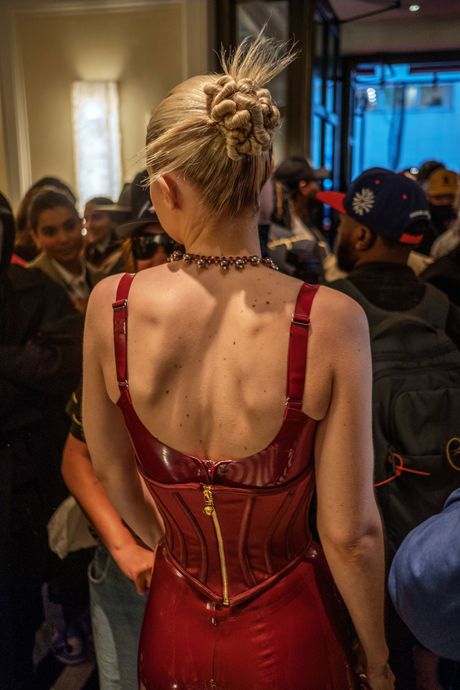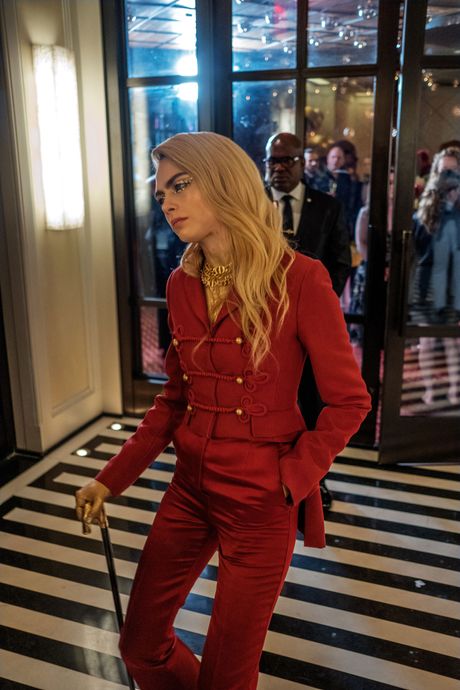 By 5:50 p.m., the foyer is packed. Everything smells like weed and Champagne, and I can barely move. Phoebe Bridgers lingers near reception with some guy who isn't Paul Mescal (and without an engagement ring, to put that rumor to rest). A few feet away, Sebastian Stan, head to toe in Post-it pink, is drinking an Aperol spritz and holding court in a circle of publicists. "A lot has changed in the ten years I've been going to the Met Gala," he says.
Nearby, Sabrina Carpenter, who is wearing Paco Rabanne, practices saying the designer's name: "Paca Rabonne … Paco Robone …" Her publicist looks frazzled when she doesn't get it a third time. I hear a scream and, turning to the elevator, I see Jack Harlow emerging. Someone explains him as "Gen-Z Post Malone," and I ask him what he's most excited for. "I dunno, just tell them something good about me," he says, and then makes a bunch of mystifying gang signs with his hands.
At 7:00 p.m. on the dot, the crowd heaves and I am crushed against the wall as a throng of stars make their exits. They swarm towards SZA, whose giant witch hat is knocking over cameras; Janelle Monáe, posing in a bedazzled headpiece; and Teyana Taylor, who looks like an ethereal fembot in a purple Iris van Herpen gown. They're followed by Odell Beckham Jr., who wears $500,000 of jewel-encrusted necklaces and a green suede sweatsuit he said was inspired by "a cactus."
Behind him, Bella Hadid fixes her makeup. "Is our car outside?" she asks, along with everyone else. The elevator she's using as a mirror opens to reveal Emily Ratajkowski, and the models' squealed greetings mingle with the shouts of assistants, who are still tucking, blushing, and hair-spraying their bosses within an inch of their lives. The hottest man in the world, who turns out to be a K-pop idol named Johnny NCT, swans through this sweating, shouting mob looking supremely bored by it all.
By 7:45 p.m., the lobby empties as the celebrities do whatever they do at the Met Gala 0.3 miles away. The Mark is already preparing for their return and rolls out its Jean-Georges hot-dog cart as the NYPD removes lurkers from the lobby. One who gets missed, a TikToker in a blonde wig and balaclava, sneaked in using fake Getty credentials. "You have to be street-smart," she tells me, tapping her nose, and I notice "Fuck 12" tattooed between her fingers. She's really pissed that "billionaires like Elon Musk" are invited to the Met Gala and is here to ask "my girl Anna Wintour" some pointed questions about protesters and general racism.
At around 11:27 p.m, Megan Thee Stallion reenters the lobby, twerking enthusiastically in response to questions about her evening. At 11:31, Sebastian Stan slouches in after her ("Yeah, it was all right," he grumbles, when asked if he had a nice time). Four minutes later, they're followed by a surprising trio: Phoebe Bridgers, this time with Paul Mescal, followed by his Normal People girlfriend, Daisy Edgar-Jones. Ever the gentleman, Mescal is holding both women's shoes and gives me a sheepish nod as if to say, Ah yes, you've seen me naked. 
Most people return drunk enough to accept the fries and hot dogs offered to them, and as they wait for the elevators, Karlie Kloss, Bella Hadid, and Rosalía are frozen, briefly, in a kind of Dutch merry-company painting, corsets loose, heels off, and French fries stuffed in their mouths. At midnight, Michael Bloomberg, looking as though it's far past his bedtime, kills the vibe when he enters with a posse of besuited men. "Fuck you, Bloomberg!" shouts the anarchist TikToker. He doesn't notice and proceeds to a round of handshakes in the Mark bar.
A bit later, Anderson .Paak, wearing Gucci and a mushroom-cut wig, dances his way out of the lobby and into the night. Gabrielle Union, in a Fendi dress held together by giant safety pins, turns back briefly. "You guys ready to hit the streets?" she says to the lobby at large. A cheer and then all that's left of the night are errant feathers, plastic camera covers, and the lingering smell of hot dogs.