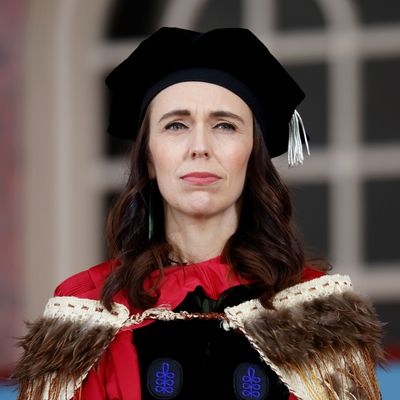 Photo: Mary Schwalm/AP/Shutterstock
This week, New Zealand prime minister Jacinda Ardern delivered a commencement speech to Harvard University's 2022 graduating class. She focused her talk on the "scourge of disinformation" online, mentioning the role it played in the 2019 terrorist attack on two mosques in Christchurch, New Zealand, which killed 51 people and injured at least 40.
Ardern noted that the attack was livestreamed on social media, and the investigation that followed found the perpetrator had been radicalized online. Speaking to the action Parliament took after the attack, Ardern said, "We knew we needed significant gun reform, and so that is what we did." She received a standing ovation after noting New Zealand's ban on "military semi-automatics and assault rifles." She also mentioned other progressive legislation they'd recently passed, including prohibiting conversion therapy and decriminalizing abortion.
Her message felt especially timely in the wake of Tuesday's elementary-school shooting in Uvalde, Texas, which killed 19 children and two teachers. The attack has reignited the public call for gun reform in the U.S. with people such as NBA coach Steve Kerr asking why the Senate has yet to pass a bill requiring more extensive background checks. (The Senate just adjourned for a ten-day recess, returning June 6.)
Ardern delivered a similar message on New Zealand's response to gun violence during a recent appearance on The Late Show With Stephen Colbert. "We have a legitimate need for guns in our country for things like pest control and to protect our biodiversity," she said, noting that New Zealand has not banned all firearms. However, she added, "You don't need a military-style semi-automatic weapon to do that. And so we got rid of them."
During her Harvard commencement speech, Ardern said, "The issues we navigate as a society will only intensify. The disinformation will only increase. The pull into the comfort of our tribes will be magnified. But we have it within us to ensure that this doesn't mean we fracture." In addition to mentioning government action, she called out the responsibility of social-media companies "to recognize their power and act on it." "What we do as individuals in these spaces matters, too," she continued. "We are the richer for our difference and poorer for our division."
"There are some things in this life that make the world feel small and connected," she ended. "Let kindness be one of them."