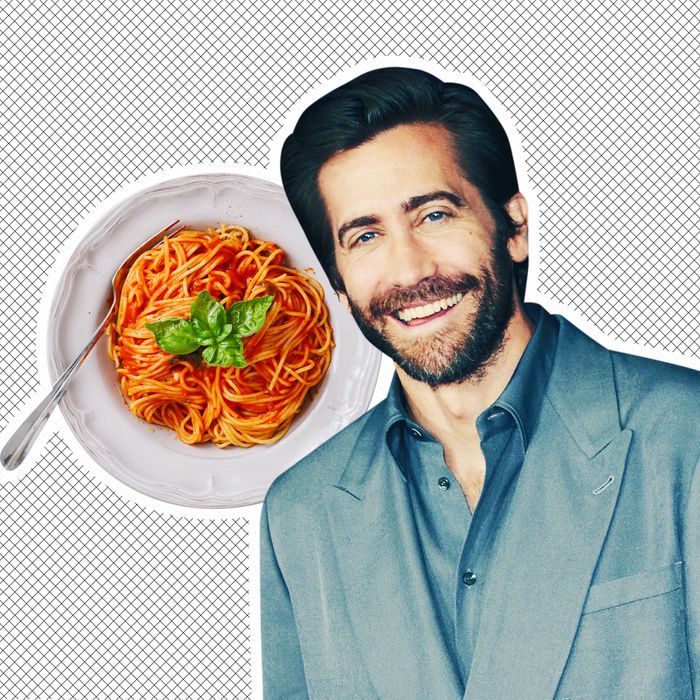 Photo-Illustration: by The Cut; Photos: Getty Images
Zoom interviews are almost never sensual. You can see and hear the person in front of you, but you can't touch them, nor do you have any idea what their surroundings smell like. They could be cooking beets and you'd be none the wiser. And if they were eating beets, they couldn't be like, Here, have a bite. In other words, they're where senses go to die. So you'd imagine my surprise and delight last week when I hopped on a video call with actor Jake Gyllenhaal and he spent the entirety of our 15-minute interaction doing his best to evoke different smells for me. As the face of Prada's Luna Rossa Ocean scent for men, this is his job, but maybe because he's an actor, he was actually pretty good at it. In fact, I could talk to him about honeysuckle and pasta pomodoro all day long. Below, our conversation.
What's your earliest scent memory?
I remember the smell of grass being cut and the sound of it at the same time. That's a general memory. I also really remember this honeysuckle bush that grew over our — I guess you could call it a carport. I remember that smell so much in the springtime. It was around a lot of the year; in California, you feel a general sense of seasons. But I remember when it would bloom, the smell of that honeysuckle and then also pulling the stem and tasting it. When I say it now it sounds pretty idyllic. Like, Oh, the old honeysuckle bush at my parents' house. But it was really just over a carport.
That brings me to my next question, which is: What does home smell like to you? Maybe a more recent home. 
Home to me smells like pasta pomodoro. Since I live in New York and it's almost summertime, I would say it probably smells like garbage — in the best sense. But I really think pomodoro.
Are you making this pomodoro, or is someone else? 
Yes, I'm making it. It's every stage of the pomodoro; not just the final version. It's the initial olive-oil-and-garlic stage. And then there are other stages, depending on how you make your pomodoro. If I had to choose, though, it would be the final version of the pomodoro. And no matter where I am in the world, that smell [makes me feel at home]. I guess I could do with the smell and not being able to eat it, but I really prefer to eat it.
Is that a dish that you've always cooked? Did someone teach you how to make it? How did we arrive at pomodoro? 
Over the years, I've discovered what I gravitate toward. Home is about comfort and about warmth, hopefully. That's more figuratively speaking, but there are also the literal smells of home. Like going back to your first question, I remember the smell of our couch. But I've always cooked, and pomodoro always seems to find its way back into my life. Very recently, it's been perfected by a dear friend who is a chef, who taught me how to do it even more simply. She really changed everything for me.
Well, now I need to know. What's the secret sauce?
She would be so upset with me. The thing I love about pomodoro is the simplicity of it and how difficult it is to do it right. I think it takes patience. If you want to get into it, tomatoes are acidic, but they're also very sugary, so it's about finding that balance when you decide to finish cooking it.
Got it. Okay. I mean—
And also there's the chemistry of how much pasta versus how much sauce, which is definitely part of the experience. I'm not saying home isn't a complex thing, but ultimately it's getting it as simple as possible.
We could talk about this forever, but we should probably move on. 
[Laughs] Am I making you hungry?
You mentioned New York. The city is definitely entering its more fragrant period. What are your favorite New York smells? I know that you're a fan of Russ & Daughters bagels. 
There's the smell of baking bagels, specifically the smell of an everything bagel, which is, you know, everything. Let's see. I think there's just this smell of New York, you know, like in a subway, it's filled with complexities. It's molecular. It's like why bread is so fantastic in Paris; they all have their own feelings. In New York, when spring finally comes, it's an experience. And yes, it's fragrant — good and bad — but that's what makes New York so wonderful, right?
What are smells that you really hate? 
Um, I really don't like rotten milk. It's not in my wheelhouse of smell.
Yeah, I would say that's a solid gross smell. What did your last vacation smell like? 
Like the ocean; the mist of a wave of the ocean. And that is a perfect transition into Prada Rossa, right?
Yes, well done. Tell me about the scent. 
There's the bergamot and the pink pepper … One of the things I love about the scent is that it's a real mixture of the technological as well as the free spirit. There's the specificity of the science and the ideas behind the Prada brand, which I love, and then just free creativity. That's what the commercial was about: There's this beautiful [Prada racing] boat that's a work of art, but also one of extraordinary technical prowess that harnesses the power of Mother Nature. That's what the scent should evoke, as they say.
Well, thank you for your time and for telling me all about pomodoro.