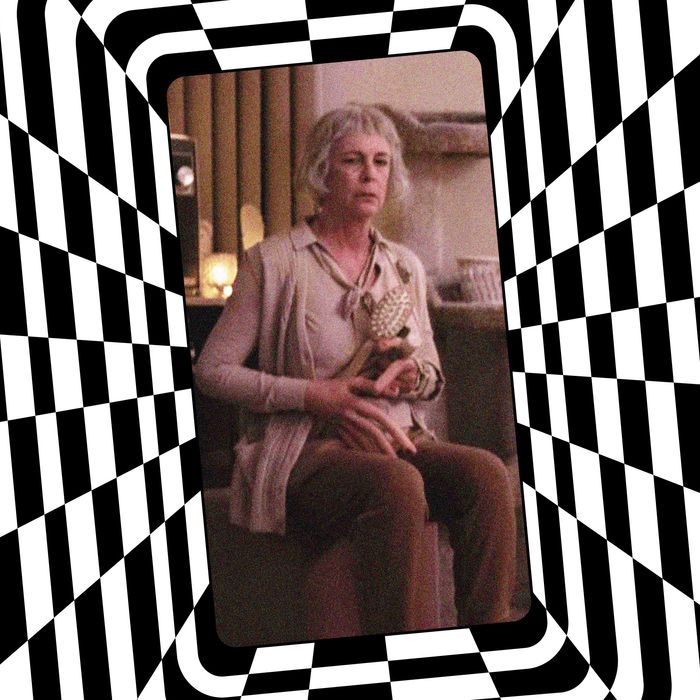 Jamie Lee Curtis as Deirdre Beaubeirdra, a woman with a perfect name and hot-dog hands.
Photo-Illustration: by The Cut; Photo: Shutterstock
I don't know if I've ever loved anything the way Jamie Lee Curtis loves Everything Everywhere All at Once. If you aren't familiar, the movie follows Evelyn Wang (Michelle Yeoh), a Chinese American woman who is trying to protect her laundromat, which is being audited by the IRS, when she discovers she must also help save the multiverse. Jamie Lee Curtis plays Deirdre Beaubeirdra, an IRS inspector assigned to the Wangs' case. Since the film's success has been widely attributed to word of mouth, it may not seem strange that Curtis has been obsessively talking about the movie on Instagram. But, for context, Zoë Kravitz made one post about The Batman on the day it came out, March 5. Jamie Lee Curtis has made well over a dozen posts about Everything Everything All at Once in the last week. The movie premiered on March 25.
Among Curtis's favorite topics for these Instagram posts is shit-talking Marvel movies. She'll start subtle, making a Marvel pun that's likely about Doctor Strange. (Doctor Strange in the Multiverse of Madness, a movie also exploring multiple dimensions, premiered earlier this month.) Then, Curtis will often run tired of the subtlety and go straight for the throat. In one post, she calls Everything Everywhere All at Once a "TRULY MARVELOUS" movie before saying it "out marvels any Marvel movie they put out there." She concluded, "All I'll say is we would SLAY in a family feud contest with the Doctor Strange strangers."
The movie's relatively small budget is another favorite topic of hers. In a post beginning with a "TRUTH ALERT" bookended by two siren emojis, Curtis jokes that the film "cost less than the entire craft service budget on Dr. Strange and/or any other Marvel movie." (It's probably not that far of a stretch. Everything Everywhere All at Once had a budget of $25 million. The new Doctor Strange movie's budget was $200 million.) If you dare call Curtis's commentary "COMPETITIVE," she will respond with a resounding, "Fuck YES," adding, "I wasn't head cheerleader in high school for nothing." She concludes this particular caption with a postscript: "And P.S. our movie has a dynamic dildo fight scene as well as a very erotic hotdog hand mating dance." She includes the gorgeous and perfect hashtag "#IGuessIWillNeverBeCastInAMarvelMovie."
An Instagram caption can be a letter! It can be a poem! It can be a time machine back to 2011 when we #StillWroteHyperSpecificAndUnnecessarilyLongHashtags! I love when celebrities write social-media posts that sound like an email from my grandma. Some WORDS? You've got to CAPITALIZE for no REASON.
Curtis's Instagram has also become a space for her to fan-girl over her castmates. Rightfully so. The movie stars Michelle Yeoh, Stephanie Hsu, Ke Huy Quan, and James Hong, all of whom I would also like on my Family Feud team. In a post praising Yeoh's stunt work, Curtis says, "I THINK SHE PROBABLY SHE [sic] CAN DO ANYTHING." This is true; Michelle Yeoh can do anything. Another post shows a few behind-the-scenes shots of Hsu, which is really just a good rule of thumb for everyone's Instagram account. We should all be dedicating one (1) Instagram post to Stephanie Hsu every few days as good practice. In one of my favorite posts, Curtis shares some movie fan art. The caption is 690 characters long and includes the words, "It's HUMP day."
If you've seen Everything Everywhere All at Once, you know Curtis's obsession with the film is completely understandable. I can't overstate how much I loved this movie. It's been described as an "absurdist comedy-drama," which feels both accurate and insufficient. I have never gasped, giggled, and cried so much in a movie theater. It's silly and sincere, gross and beautiful. It has completely changed the way I look at an everything bagel.
If you haven't seen Everything Everywhere All at Once, you absolutely should. As Curtis herself said, "I promise you will be texting me after saying 'thank you.'"