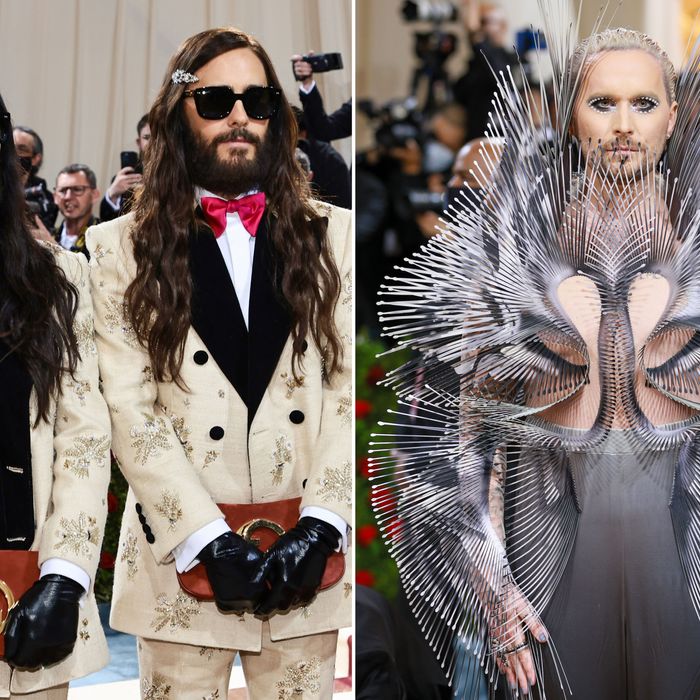 Photo-Illustration: by The Cut; Photos: Getty Images
Did you spend roughly 20 minutes tonight believing that Jared Leto wore an aquatic metal getup to the Met Gala? Well, you were wrong! Contrary to popular belief, that outfit was on the body of a rising Swedish fashion star named Fredrik Robertsson, who actually does bear some resemblance to Leto even when he's not dressed up as the fish man from The Shape of Water. Robertsson caused some confusion earlier in the evening when multiple outlets, including the New York Times and Vulture, mistakenly reported that he was Leto, which was pretty easy to believe.
Whatever Robertsson is doing with this Iris Van Herpen outfit, he is not alone. To make things even more confusing, when the real (?) Leto did show up at the Met Gala, he did it in a matching outfit with Gucci's creative director, Alessandro Michele. Not only are their suits, leather gloves, and suede clutches the same, they also managed to grow identical facial hair and long, luscious tresses pinned back with exactly the same kind of barrette.
Which of these men is Jared Leto? Is any of these men even Jared Leto? Is one of them Jared Leto's disembodied wax head? Please, Vogue, give these people name tags. I'm exhausted.