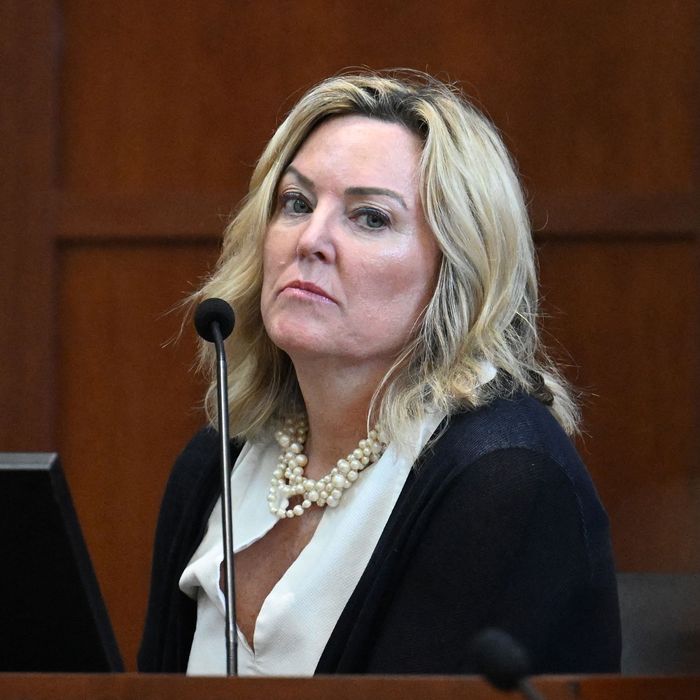 Photo: Jim Watson/POOL/AFP via Getty Images
The Johnny Depp and Amber Heard trial has reached a new low on social media. Ever since the defamation trial started on April 12, Depp stans have been aggressively hyping him up on social media. There have been fancams, incessant tweets, and even the hashtag "#MenToo." But this week, they took things a step further, attacking a court psychologist who testified on Heard's behalf Tuesday, May 3.
Dr. Dawn Hughes, a clinical psychologist who performed a forensic evaluation of Heard over a series of sessions culminating in over 20 hours, was the first witness called on behalf of Heard's defense. She testified that, per her time with the actor, Heard had been a victim of intimate partner violence and also suffered PTSD as a result. "Ms. Heard's report of intimate partner violence and the records I reviewed is consistent with what we know  in the field about intimate partner violence, characterized by physical violence, psychological aggression, sexual violence, coercive control and surveillance behavior," she told the court, per Deadline. She detailed allegations of forced oral sex and obsessive behavior. Most notably, she disagreed with clinical psychologist Shannon Curry, who previously testified that, after spending 12 hours with the actor, she felt Heard had histrionic personality disorder and borderline personality disorder.
As Hughes was testifying, fans on Twitter immediately attempted to discredit her. Many painted her testimony as biased, accusing her of implying that men could not be survivors of domestic abuse (something she directly denied on the stand), and even accusing her of being "the reason men get abused and women get away with it." And the attacks didn't stop there. According to NBC News, people watching the trial flooded Hughes' WebMD profile with negative reviews, often echoing the Twitter talking points. "Doesn't believe men can be victims of abuse," a since-deleted review read. "Extreme biased. Guess she'll discredit victims just for money." The negative reviews have since been taken off the page, but the negative tweets kept coming on Wednesday, May 4, as Hughes sat for cross examination.
This is a public trial, so it's not surprising that fans and spectators are weighing in, but leaving negative reviews on the professional page of a woman you've never met cannot be the best way to do it. Tweet if you must, but let's maybe not try to destroy a woman's career in the process.