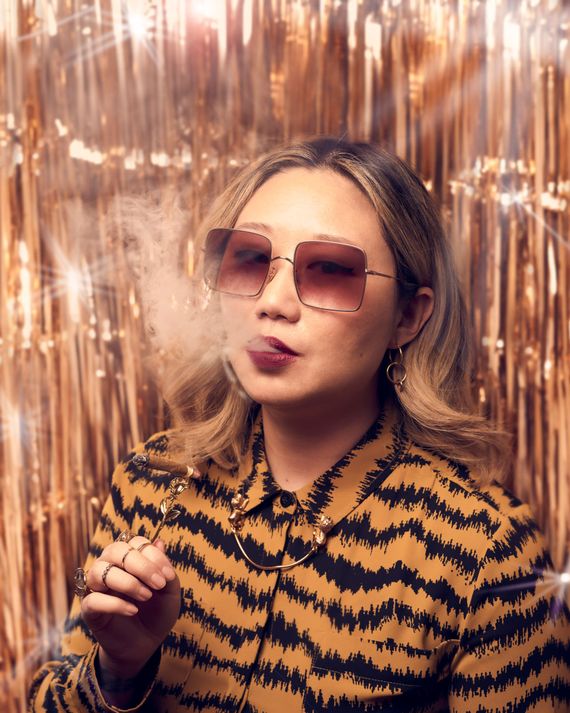 In 2008, 21-year-old Kari Ferrell left Salt Lake City — and a few open arrest warrants for $60,000 in check fraud — for Brooklyn. She faked credentials to land a job at Vice as an administrative assistant, but was fired a week later, after a co-worker Googled her and found the warrants. What comes next is the stuff of scammer lore. In Brooklyn, she made marks out of men with beards and extra funds. Her lies ranged from little to large: She worked in music media; the ATM wasn't working; she'd pay you back; the pregnancy test was positive; she had terminal lung cancer. By the following spring, her antics were chronicled in a damning story for the Observer that dubbed her "the Hipster Grifter."
The New York blogosphere ate it up, churning out frenzied content trying to identify her. Vice dedicated a blog to sightings of Ferrell, and men submitted tips about the Hipster Grifter trying to worm her "felonious, manipulative fingers" into them. "This bitch is rapidly turning into a Brooklynian Where's Waldo meets Nessie," the site wrote.
Ferrell was arrested six months later and extradited to Utah, where she pleaded guilty to felony forgery and identity fraud and served several months in jail for her pre-Brooklyn crimes. Back then, she spoke remorsefully and promised never to scam again. Still, she's remained a perennial obsession. Viewers noticed a startling similarity between her life and a 2016 story line on High Maintenance, and two years later, fans became convinced of her return when someone named Kari Ensor — Ferrell's married name — tried scamming her way into New York Fashion Week by fronting as a Refinery29 writer. (She claims this wasn't her.) An actual Refinery29 editor, Connie Wang, tweeted out her admiration: "May we all one day be as committed to anything as Kari is to scamming," Wang wrote. "I think I love her."
Now, after spending the last 13 years trying to "fade into obscurity," the unwitting prototype to the era of the female scammer is ready to return to the public eye. Ferrell is working with Mindy Kaling on a TV series she's producing about her life and is pursuing her own book deal. While the timing of her comeback — during a time of peak scammer content — is a little too convenient, why shouldn't Ferrell get to tell her story? After all, she's as savvy at spinning a narrative as the rest of them — if not better.
"I've basically been in Williamsburg this entire time," Ferrell tells me, fighting back a full smile. "Just like, low key." We meet at the Bushwick pizza place Roberta's — which opened up around the time she arrived in New York — on a cold and bright Monday afternoon. The family lunch rush has cleared out, and we nearly have the place to ourselves. Now 35, Ferrell's once-dark hair is bobbed and blonde, and she's in white jeans, black snakeskin boots, and a blouse that reveals the iconic phoenix chest tattoo that was once her calling card. It gets loud again, and Ferrell leans over my recorder: "This is going to be very fun to listen to."
As we talk, I start to understand what made her so good at persuading those men to lend her funds. She's charming, and kind, and speaks in irreverent subtext. "I like to bite," she tells me as we eat spicy pizza. "I like to hurt a little bit. I don't know what that says about me."
Bite aside, Ferrell seems to be living a fairly normal life. She's been married to a Navy veteran for ten years; is devoted to Gertrude, her rescue dog; works in marketing at an insurance company; and has an Instagram full of twerking videos and one very special selfie with Bill Nye, a clear indication of a Millennial Who Is Doing Good. "I want to be responsible for my actions, and I think I have been," she says, switching into the reflexive upspeak of a Shark Tank pitch.
She credits her reformation to her support network, which includes years of therapy, friends (including, spectacularly, former Gawker interns, at least two of whom used to blog about her), and family members, who she says refused to define her by her worst decisions. Chris Dignes, a former Gawker intern who now works for the New York Fire Department, told me he remembers befriending Ferrell at a rooftop party: "People were whispering like she was a leper, but she was just really nice the whole time," Dignes said over email. "She asked for my phone number and I thought to myself, I guess worse things have happened to me."
So why court public attention now? "I realized people need to go on this journey with me from the very beginning." She can't say much about the TV show yet, but says she's working with a "pretty prestigious literary agent" on her memoir, which started off as essays but, as her agent pointed out, also contained some fiction. She's found the writing process "cathartic," a way to give herself the fair shake that the aughts media reporting didn't. Or kind of didn't: "I don't want to make it sound like everything that was reported was inaccurate, because a lot of things were accurate," she says.
Still, starting a new life hasn't always been easy. Ferrell's past follows her, occasionally toppling the Jenga reputation she's trying to rebuild. She tells me she's lost friends because of Google searches and claims she was let go from a job over her criminal record, a choice she kind of gets: "It's a financial institution, and to have someone who was incarcerated for financial crimes," she sighs. "… Yeah." Several times in our conversation, Ferrell gets fired up talking about recidivism, and how people expect those who were formerly incarcerated to commit the same crime again and again. She's become interested in the prison abolition movement and says she's volunteered with organizations like Books Through Bars, which sends books to incarcerated people around the country.
But it might be Ferrell's online shaming that haunts her more than her time behind bars. Recalling the "real-time smear campaign," Ferrell says she struggled with viral punishment. "Twitter hadn't been used like that before," Ferrell explains. "I deserved a lot of what was happening, but did I deserve — does anyone deserve — not to rectify their mistakes and become better people?"
Then and now, Ferrell says she doesn't totally understand people's fascination with her specifically. She attributes some of it to fetishization: "It was very much like, Oh, look, subservient-looking Asian girl, goes crazy, because she's sexually forward," Ferrell says. Sure, she passed out horny bar notes, but she wasn't "sleeping her way through Williamsburg" like the internet proclaimed. Revisiting some of the coverage is genuinely shocking: Gothamist wondered whether Ferrell would turn to porn, and a 2009 Philadelphia Inquirer interview included a link to "NSFW topless photos of the ex-con," photos Ferrell says were private and publicly disseminated without her consent.
"I know too well what it's like to be stripped of your personhood and reduced to an 'exotic' sex object," Ferrell texts me a few days after our interview, citing a link between fetishization and a recent surge of crimes against Asian American women. "Which sucks because I really like to be talked down to in bed and it makes it super complicated lol JK." Minutes later, she texts me a video from her dance class that shows her doing a routine to Sean Paul's "(When You Gonna) Give It Up to Me," in case I want to tell readers about her "athletic prowess." It's an abrupt juxtaposition, but one I've come to expect. Anytime the conversation turns too serious, Ferrell knows how to loosen it up. "Humping the floor for positive mental health," she texts.
But all of this reflection glosses over the central question: Why did she scam? Ferrell has a few theories, which she's bandied about in therapy and rehashes for me over our pizza. Maybe it was because of the mindfuck of growing up Mormon and bisexual, or her participation in Utah's straight-edge subculture, where young people coped with the conservative environment by reveling in petty retail theft. Or maybe it was the trauma of her transracial, transnational adoption in the '80s. While doing research for her book, she came across Lisa Wool-Rim Sjöblom's graphic memoir, Palimpsest: Documents From a Korean Adoption, and grew interested in Sjöblom's ideas about how adoption isn't always a humanitarian act and birth parents can be grifted into thinking an American life is better for their babies. "Of course, I don't know if that's the case for me, and it doesn't reflect how I feel about my adopted family," says Ferrell. Still, she wonders. "It's quite possible that my entire life was a scam," she says. "Which is a very full-circle moment."
Sitting across from her, I want to believe in her version of the story. I also can't help but think of how much she sounds like Anna Delvey, saying she wishes she could move on with her life but continuing to rehash her story in public. While she was in jail, Ferrell tells me, everyone wanted to talk to her: kind strangers, rude strangers, journalists — even an "intense Asian fetishist." But when she was free and trying to live a regular life, no one followed up.
She hopes that's about to change — starting with this profile — because she's got a compelling angle this time: We deserve scammer stories centering people of color, she says, not just white women. "Stories that showcase, in layman's terms, that people who look like me, and people who look like you —" she points to me — "can also get in trouble. In the name of equality, you have to talk about the bad things too." It's such a good pitch, I almost don't care if she means it.