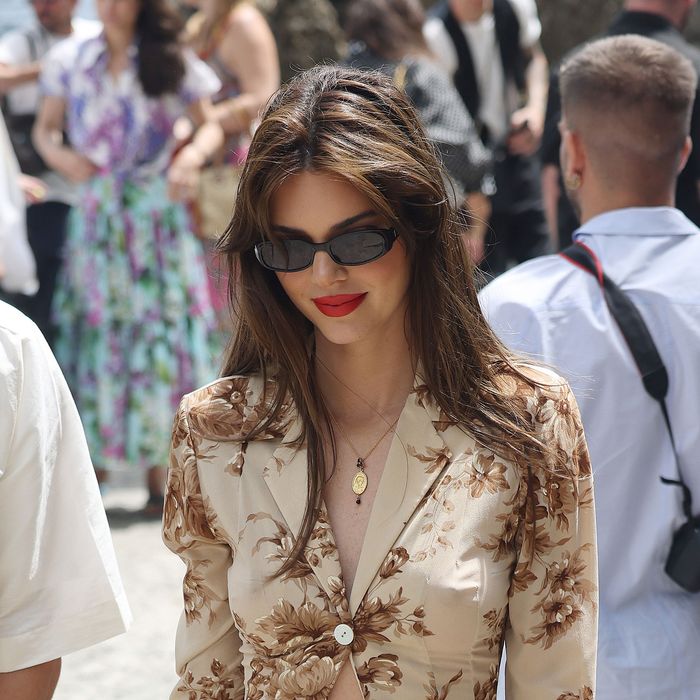 Today's installment of "Kendall Jenner Attempting Everyday Tasks" comes courtesy of her sister Kylie. As I'm sure you are well aware, Kourtney Kardashian and Travis Barker had their third wedding this weekend in Portofino, Italy. It was an extravagant goth affair apparently sponsored by Dolce & Gabbana. Megan Fox, Machine Gun Kelly, and Mark Hoppus were all there. Andrea Bocelli and his son Mateo sang songs including "Can't Help Falling in Love." However, my favorite performance of the evening was from Kendall Jenner, who struggled to walk up the stairs to her sister's ceremony.
Kendall's dress, while pretty and presumably provided by Dolce & Gabbana, was restrictive on her legs, making it difficult for her to walk. A social-media creator of the people, Kylie documented the moment Kendall was ascending the stairs, sharing it via her Instagram Stories. Here, I present to you Kendall Jenner attempting to walk up some stairs:
"Oh, shit. These stairs are crazy," you can hear Kendall say in the video, taking slow, awkward steps in her Birkenstocks (at least her feet were comfy?). She looks like a dog trying to get socks off its feet. Or like the Little Mermaid mid-transition from fish to woman. I love it.
As you'll recall, last week we were all witness Kendall trying to cut a cucumber. It looked dangerous and confusing. Ever the supportive sister, Kylie hearkened back to that moment at the wedding, posting a TikTok of the two of them with the caption, "Me and cucumber girl."
If it's any consolation to Kucumber Kendall and her restrictive dress, things could be worse — at least her outfit didn't squeak when she walked.