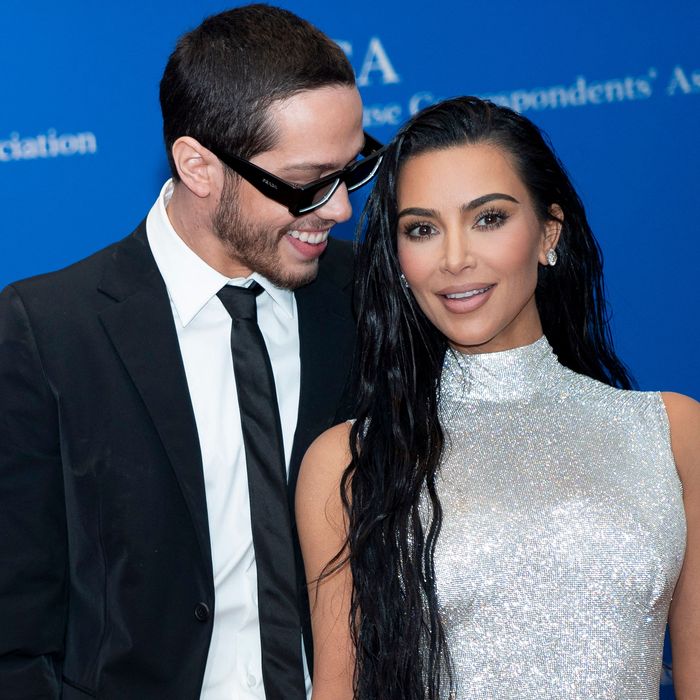 Photo: Stefani Reynolds/AFP via Getty Images
Thoughts and prayers to those who bet that Kim Kardashian and Pete Davidson would make their red-carpet debut as a couple at the Met Gala on Monday, because now is the time to pay up. Instead of waiting for fashion's big night, Kim and Pete decided to appear together at the 2022 White House Correspondents' Dinner (sometimes known as "Nerd Prom"). And no one was happier than fellow attendee and Pete Davidson superfan Martha Stewart.
Davidson and Kardashian went all out for their first public appearance as a couple, with Kardashian wearing a Balenciaga gown and Davidson in a Prada suit and sunglasses. They posed for photos but did not speak to the press. Unless, of course, you count Stewart. Like the world at large, the queen of home décor herself was, apparently, happy to see Davidson and Kardashian together at their very first joint event appearance. She was so happy, in fact, that she took a photo with them before the dinner and posted it to her personal Instagram before the night was even over. "Kim and Pete and I said our hellos while we await the president of the United States," Stewart wrote in her caption.
Clearly, based on the image, Stewart has a fondness for Pete — note the way she is clutching his right hand in both of hers. And the next morning, Stewart confirmed her fondness for the Saturday Night Live star, sharing a video he filmed backstage at the Justin Bieber Roast on Comedy Central seven years prior, when they first met. "Now that same Pete is all grown up, squiring gorgeous women around and appearing everywhere," she wrote. I'm sure he would agree.
Stewart has ties to both Davidson and the Kardashian family. She previously posted about running into the comedian in January, calling him a "cute guy with painted fingernails." And in March, she posted about visiting Kris Jenner's home. Maybe she could join Kim and Pete the next time they double date with Jeff Bezos. That would be chaos I would absolutely love to see.