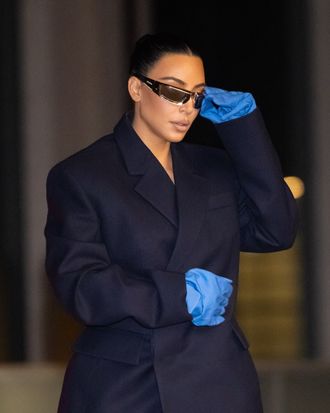 Photo: Arnold Jerocki/Getty Images
Summer body this. Swimsuit season that. It seems no one wants to talk about the real star of every beach outfit: very long gloves. Fortunately, Kim Kardashian is doing the work, trying desperately to make wearing gloves while swimming a global trend. The most recent place she has been spotted wearing said gloves? The cover of the 2022 Sports Illustrated "Swimsuit" issue.
For the very first time, Kardashian appeared on the front of the magazine, wearing a nude bikini (Skims, of course) and nude gloves that extend nearly all the way up to her shoulders — beach gloves, if you will. Do they seem to serve any particular function? No, but they're also so close to her skin color that it almost appears as though she is molting. Fashion can be anything, really.
This is far from the first time Kardashian has worn gloves in water. In January, she posted a photo of herself on the beach wearing a long-sleeved black top and motorcycle gloves. The next month, she shared a picture of herself wearing tiny leather gloves while swimming in a pool. Nude opera gloves paired with a Skims bikini was the obvious next step.
I am convinced Kardashian is simply working her way through her junk drawer, attempting to replicate each item she finds with an outfit. She has been photographed looking like a Werther's Original in a latex Balmain suit. She has worn Balenciaga packing tape that squeaked when she walked. And now we have Kardashian as a sexy Band-Aid. I anxiously await the inevitable paper-clip-inspired outfit. There better be very long gloves to match.