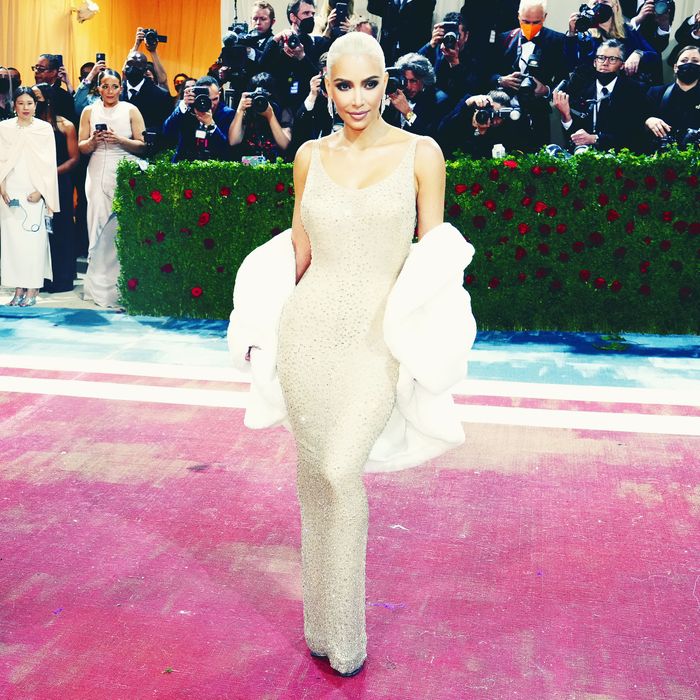 Photo: Jeff Kravitz/FilmMagic
A lot has happened since Monday night's Met Gala, so you may have forgotten that, you know, it actually happened. Actor Lili Reinhart didn't. She took to her Instagram Stories on Tuesday to speak out against … someone who talked at length about losing weight to fit into her dress during her red-carpet interview.
"To walk on a red carpet and do an interview where you say how starving you are … because you haven't eaten carbs in the last month … all to fit in a fucking dress?" Reinhart wrote. "So wrong. So fucked on 100s of levels."
She continued:
To openly admit to starving yourself for the sake of the Met Gala. When you know very well that millions of young men and women are looking up to you and listening to your every word.
Hmmm, who do you think she's talking about? Perhaps it was the woman who made the most dramatic entrance of the night and proceeded to enthusiastically discuss how little she ate to fit into her dress?
While Reinhart didn't name Kim Kardashian specifically — and, for what it's worth, a handful of other attendees quipped about dieting to fit into their Met Gala outfits, among them Venus Williams — she did use specific enough details to arguably imply exactly who she was talking about.
Kardashian wore the 60-year-old formfitting dress Monroe once wore to sing "Happy Birthday" to John F. Kennedy, which was archival and therefore couldn't be altered. "I tried it on, and it didn't fit me," Kim told La La Anthony on the red carpet. "I said, 'Give me like three weeks.' And I had to lose 16 pounds down today to be able to fit this. It was such a challenge. It was like a role. I was determined to fit it." She added, "Since I haven't eaten carbs or sugar in about three weeks, we're eating a pizza and donut party back at the hotel." She provided even more detail about her speedy weight loss in a longer interview for Vogue's website, saying, "I would wear a sauna suit twice a day, run on the treadmill, completely cut out all sugar and all carbs, and just eat the cleanest veggies and protein. I didn't starve myself, but I was so strict."
Kim has a mixed history with body positivity — while her maddeningly good shapewear brand, Skims, makes an unusually wide range of sizes, she also recently released a sleeve to make your arm look thinner and has been known to promote waist trainers and appetite suppressants on Instagram. It was more than a little disappointing to see her continue this red-carpet trend, especially because she's describing what essentially amounts to a three-week crash diet. The only thing that might make it worse is watching her do the diet on reality TV.