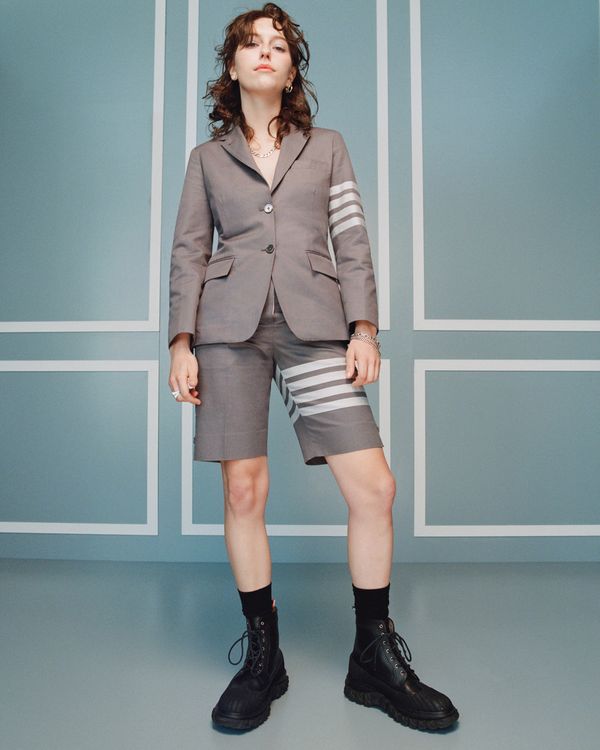 Photo: Courtesy of Thom Browne
King Princess knows how to wear a suit well. So well, in fact, she doesn't have to wear anything else with one. The 23-year-old, Brooklyn-born musician pulled a Timothée Chalamet on Friday, showing up to the fall 2022 Thom Browne show at the Javits Center wearing a gray short suit by the brand and nothing underneath. "When I saw this look, I was like, Wow, it's giving Angus Young," she told the Cut, referring to the AC/DC guitarist.
When she isn't going topless, King Princess — née Mikaela Mullaney Straus — is actually very good at wearing tops, specifically tank tops, which have become her sort-of uniform. Below, we asked where she buys hers and how she gets her self-proclaimed "gorgeous mullet" so gorgeous.
If you could be any Thom Browne animal bag, which would it be?
The dog with the corset. Teyana Taylor is carrying it around right now, and I saw it and I was like, This is so revolutionary. A dog with a corset? He's Thom's dog, and his name is Hector. I have a dog named Raz — short for "Raspberry Beret." Raz Wilson-Straus, after my girlfriend, Quinn Whitney Wilson. She's a Border collie. Very skinny. Gorge. She is naturally corseted. I feed her a lot, but she just decided to be that way. She's only been on this planet for two years, but she's an old soul.
You're really good at tank tops. Any advice for where to get them?
Go to Target, Walmart, maybe even a CVS, and get a Hanes youth small. Or medium. But get the kids sizes, because the crop is right. And you can bust out of it. If it's too tight sometimes, like if my boobies are too big that day, or whatever, I just — [Hulk move] — and it rips the right way. I wear a compression bra underneath. But don't spend too much money on tank tops. I buy them in packs. And I keep one in my bag at all times. In my corseted dog bag. [Laughs.]
What do we call your haircut and how do we get it?
I make sure that they give me "gorgeous mullet" on the top. I don't want it to be heavy, and I don't style it; I just want to make it look messy and cute. I try not to wash it too much. Like, I just use conditioner or whatever Quinn has lying around. And I put a lot of oil in it, too.
What's in your tour rider?
A framed photo of Cate Blanchett.
What's your love language?
I need compliments. Compliment me, please!
Those were five great answers.
Thank you. Thank you so much.
Below, a video of King Princess getting ready directed by Michael Seater.