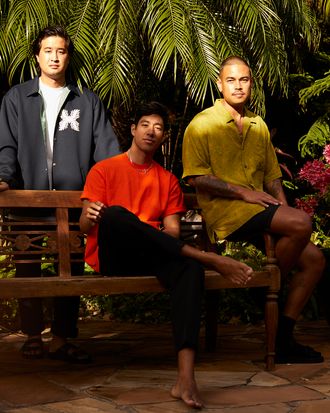 Photo: Joey Trisolini/Courtesy of KOA
Hawaii is currently facing an over-tourism problem. From water shortages that impact and displace natives to the desecration of sacred sites, some might pinpoint these growing complications to the post-pandemic travel boom. However, it goes beyond that.
"Hawaii is constantly taken from and commodified. Tourists come to Hawaii but don't understand that this is a culture rooted in tradition that has been wiped out by colonizers just to have their paradise," says Kapono Chung, co-founder of Koa. "Everyone who visits Hawaii should find a way to give back to the land and the culture."
Launched in 2019 by Hiro Shinn, Ty McLaren, and Chung, Koa is a beauty-and-lifestyle brand born in Hawaii with a Hawaiian name. The company is making it a priority to share the culture of Hawaii with the world.
"The desire to share the culture of Hawaii drove the brand name of Koa, which in Hawaiian means "brave" or "bold," say the founders. After meeting while working together in New York City, the trio connected over their shared roots and overall vision to launch a brand built on their skin-care knowledge and experiences in Hawaii.
They currently have a roster of six products — a mineral sunscreen, facial cleanser, facial hydrator, toner, body cleanser, and body hydrator — that highlight ingredients found on the archipelago. Below, we spoke to the founders.
What does skin care mean to you, and what role did it play in your lives growing up?
Hiro Shinn and Ty McLaren: Living in Hawaii, you're always interacting with the natural world around you. But the downside is that it can be really rough on skin. A lot of our first experiences with skin care were at the intersection of struggling with acne and skin issues, while also constantly being outside and in the sun, and learning to manage that. Spoiler alert: Wear sunscreen every day!
Kapono Chung: Growing up, I went to bath houses in Korea with my father and brothers. My father taught us how to be clean and what it meant to be decent men. Being clean and caring for your skin is a big part of care and self-love.
At the beginning, it looked like the brand was marketed as men's skin care, but now it has a more gender-inclusive approach. Was that intentional or was it misinterpretation?
HS: We originally built Koa thinking about the products we wished existed for us. We never wanted to lean super heavy into masculine branding or messaging, but we initially believed our main audience would be guys like us. We shifted to being a genderless brand when we realized that the products we developed were resonating with all genders, not just men.
TM: I think the most interesting part of the journey has been seeing the response in the transition to a fully genderless brand. Going into this, we had some preconceived notions that guys wouldn't want to buy skin care from a genderless brand, and that they wanted masculine branding and messaging, but the results have really shown this isn't the case for our customers at all.
What started as a selection of SPFs, a cleanser, a moisturizer, and a toner has now grown to include body cleansers and lotions. What was the thought process behind expanding your roster of products, while still being very mindful of sustainability and overconsumption?
HS: The beauty industry is probably only second to the fast-fashion industry in terms of overconsumption and industrial waste, so we think long and hard about any new products we launch, and don't just want to launch a new product for its own sake. We initially started with products we felt covered all the bases of facial skin care and provided the full routine, and didn't really feel like our customers needed more products there. We only want to launch products we feel will be a meaningful addition to our customers' routines.
KC: We put a lot of thought into creating new products and if they're needed. Once we figure out if we want to produce them, we then make the packaging as sustainable as possible. And sometimes we have to sacrifice aesthetics or timing. We've been thinking about the body products for two years now and just figured out how to create the proper packaging that uses post-consumer plastic. We are still on our journey just as everyone else is and constantly aiming to reduce our carbon footprint in any way possible.
I love that a percentage of proceeds goes to the preservation of our oceans and the focus on community, and celebration of Hawaiian culture that the brand has. Why is this so important to the Koa team?

TM, HS, and KC: The culture of stewardship is a defining characteristic of Hawaii and we wanted to make sure we carried that forward into the brand. Native Hawaiian culture has always had such deep respect for the land; they really understand the importance of taking care of the environment because it takes care of us.
TM: Hawaii has a wealth of unique botanical ingredients that were used for centuries by the native culture. Plants like kukui, noni, and seaweed have been used for everything from food to medicine. We saw that a lot of these niche botanicals found in Hawaii were going unnoticed by the industry, but they have so many benefits for a modern skin-care routine!
HS: We initially focused on ocean preservation because of the plastic waste issue our industry is partially responsible for, but we've broadened our gaze to include other issues we believe are important, including reforestation and cultural preservation. Since the culture of Hawaii is so important to our brand, we believe it's our responsibility to give back to it as much as we can.
What are the brand's best sellers?
Koa team: The Mineral Sunscreen has been our breakout hit. It's made with 100 percent non-nano zinc oxide, which is the safest UV filter for both people and the planet. We are incredibly proud of the sunscreen; so many customers have said it's the only mineral sunscreen they can use daily, and feedback like that really is the best part of the job. The Yuzu Facial Cleanser and Kukui Nut Facial Hydrator have also been hits with customers. We designed both to work with a wide range of skin types, and the reviews have been overwhelming.
This interview has been edited and condensed for clarity.