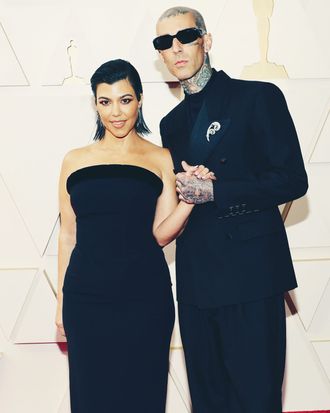 Mrs. and Mr. Kravis.
Photo: Mike Coppola/Getty Images
Kourtney Kardashian and Travis Barker got married. Again. According to People and TMZ, the two officially tied the knot in Santa Barbara, California, on May 15. Unlike the "practice wedding" the couple had in Las Vegas early last month, this most recent marriage is legally binding. He wore all black. She wore a white minidress and was shrouded in a white veil. Now they are Mr. and Mrs. Kravis in the eyes of the law.
Kourtney and Travis shared a few photos from the wedding on Instagram. There's one picture of them walking out of the courthouse. There's another of the two of them with Travis's dad and Kourtney's maternal grandma. And, of course, there's a picture of Kourtney and Travis, mouths agape, making out in the front seat of a convertible with a "Just Married" sign hanging from the bumper. Both Kourtney and Travis captioned their photos, "Till death do us part."
If you thought this would mark the end of Kravis wedding season, you are sorely mistaken. An unnamed source tells People that the couple — who got engaged last October after dating for less than a year — had to get legally married before their "big Italian wedding," which TMZ reports is happening this weekend at a castle in Portofino. People's source added that the whole family is "very excited" about the nuptials, which seems pointed, given the recent news that Penelope Disick, Kourtney's 9-year-old daughter with Scott Disick, broke down in tears when she found out they'd gotten engaged. (Travis's three kids, who are older than Kourtney's three kids, were present for the engagement, but Kourtney's were not.) According to TMZ, the whole family does not include Scott Disick, who did not get an invite to the big fat Italian wedding.
There are few details about what exactly this big Italian wedding will entail. Likely some emo-chic fashion. Hopefully, a fully repaired engagement ring, since Kourtney broke hers by accidentally stepping on it. Perhaps a series of leather wedding gowns, a ceremonial finger sucking, and a garter toss, which will obviously be caught by Machine Gun Kelly and/or Megan Fox. I'm assuming the evening will end with a shared open-mouth kiss between all present parties. That's some Kravis-flavored amore!
But wait, there's more! The four-day Italian wedding will allegedly be followed by yet another big celebration in L.A. for the couple's more distant friends "in the near future." I don't know what plans you had for November, but I'd put a pin in them if I were you — we'll be celebrating Kravis's nuptials well into 2023.
This post has been updated with more information.