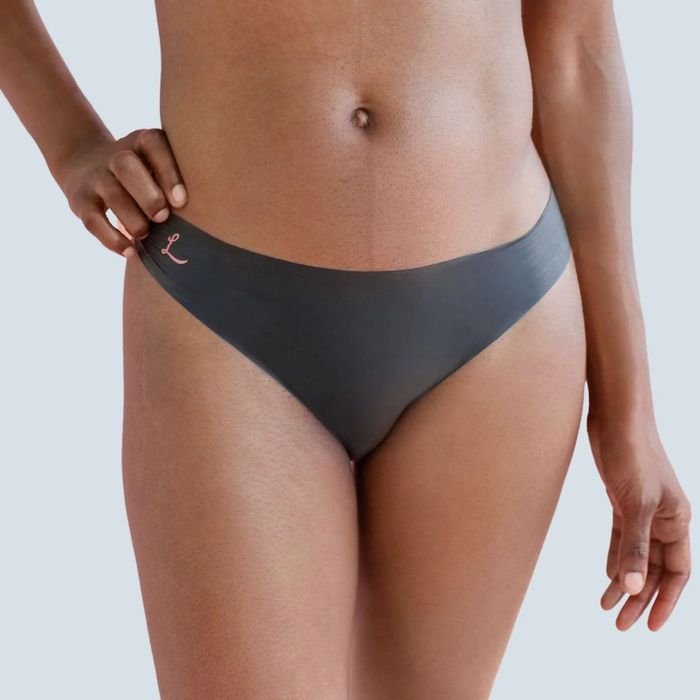 Meet Lorals, the underwear that can protect you from STIs.
Photo: Retailer
Have you ever used a dental dam? Do you know anyone who's used a dental dam? Can you even say with confidence what exactly a dental dam is and how it works? If not, you are likely among a large percentage of people who don't use protection during oral sex. Of course, oral sex doesn't come — wink — without risks. Syphilis, gonorrhea, HPV, and herpes can all be transmitted through oral sex. (HIV has a low-risk of transmission through vaginal oral sex.) So, what's a person who is sexually active but wants to practice safe sex to do?
Well, allow me to introduce you to Lorals, the thin, stretchy, vanilla-flavored underwear that is now FDA-cleared for protection against STIs from oral sex. Lorals are made of latex and form a seal with your inner thigh to keep fluids in/out. They're currently available in an opaque black bikini cut or "shorties," but Lorals creator, Melanie Cristol, tells the New York Times they're also working a sheer version. There are three categories of Lorals underwear: those for pleasure, those for protection, and those for comfort, with the protection-style underwear being FDA-cleared. While Lorals have not been tested in clinical trials, according to the Times the company was required to provide "extensive documentation" about the underwear, including its thickness, strength, and elasticity, in order to get FDA clearance.
Lorals is only the second product that has been authorized for protection during oral sex. The first is the aforementioned dental dam, which is a thin latex or polyurethane sheet you have to hold in place with your hands to create a barrier between the mouth and genitals during oral sex. "They're extremely unpopular," Dr. Jeanne Marrazzo, the directors of infectious diseases at the University of Alabama at Birmingham, told the Times. "I mean, honestly, could there be anything less sexy than a dental dam?"
Cristol said she wanted to create a product that "was made with my body and actual sex in mind." (Dental dams were reinvented from a rubber dam doctors used to create a barrier between a person's teeth and saliva during dental surgery.) Thus, Lorals were born.
However, as Lorals' website states, there are plenty of other purposes for underwear designed for oral sex. They can provide an added level of comfort for those who have experienced past trauma and want more coverage during intimacy. They can be worn by during one's period. They can even be used when partner has a particularly scratchy beard.
But do they feel good, uh, in practice? As one couple told the Times, the texture of Lorals resembles skin and the taste was "like you're eating a cookie." To which I say … bon appétit!
This article has been updated with more information.