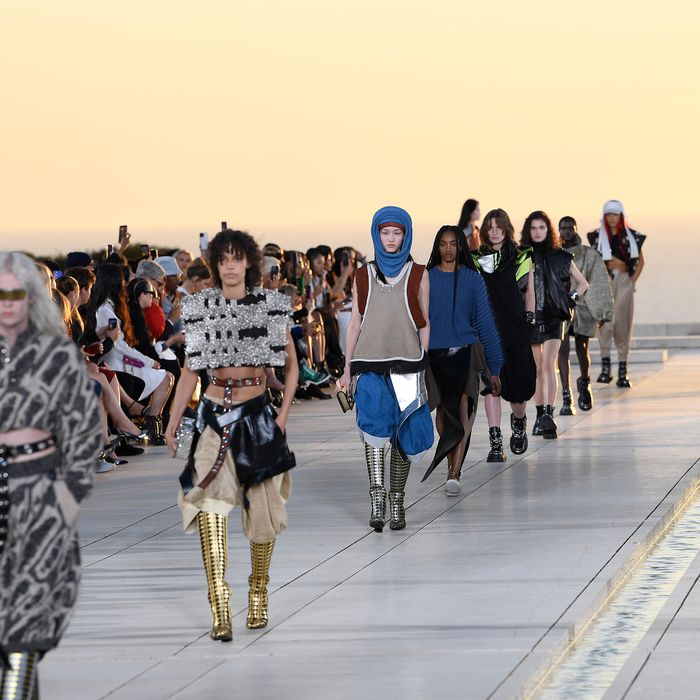 The first look of Louis Vuitton's cruise 2023 collection came out just as the sun was dipping below the Pacific Ocean at the Salk Institute in San Diego on May 12. Fashion shows tend to start late, but this one kicking off at exactly 7:06 p.m. was intentional. The idea was to be in "dialogue with the sunset," according to the show notes. And it was. The sunbeams shone through the interior of Louis Kahn's brutalist construction into a plaza with a long water feature that models walked alongside. Seated on either side of the plaza, the guests included Léa Seydoux, Ana de Armas, Ava DuVernay, Deepika Padukone, Gemma Chan, Emma Roberts, and Leslie Mann with her daughters, Maude and Iris Apatow — all were decked out in Louis Vuitton.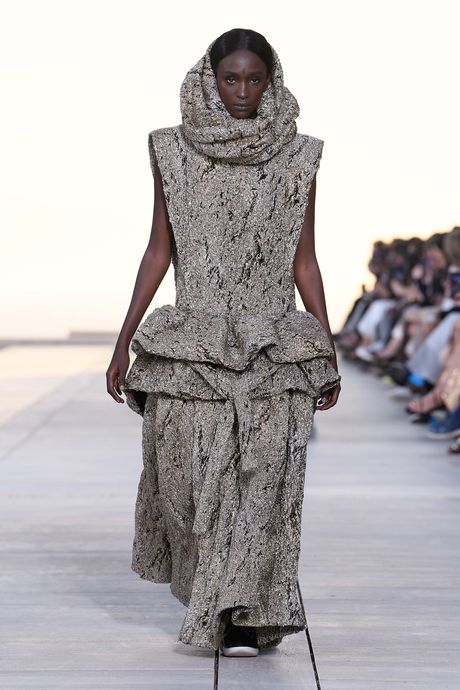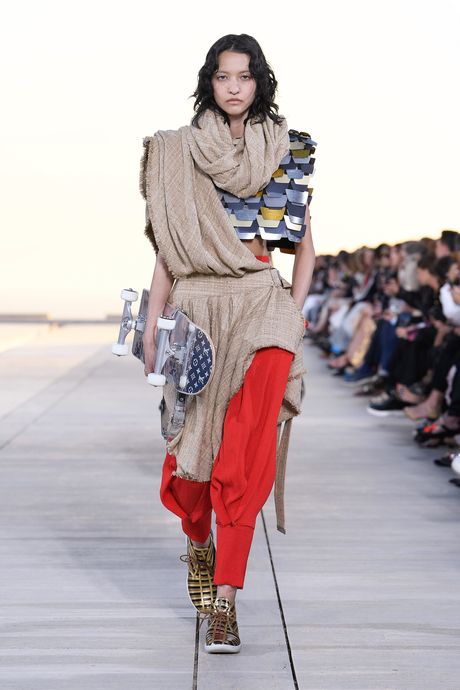 This is the latest National Register landmark setting for creative director Nicolas Ghesquière, who has also shown collections at the TWA terminal in NYC, the Bob Hope estate in Palm Springs, and the Miho Museum outside Kyoto.
A billowing metallic dress with a high neckline was a natural starting point for the silhouettes that followed: boxy, oversize, and sculptural in natural materials such as linen, jacquard, silk, and tweed. Skateboards served accessories alongside futuristic designs that looked as if they might have been inspired by what Zendaya wore in Dune. There were chunky boots covered in chains and studs, oversize visor hats, belts paired with crop tops. Shiny jackets and skirts, as well as duffle bags wrapped in a metallic exterior, mirrored the setting.
As the sun sank over Black's Beach, the apocalyptic designs made more and more sense. Later that night, Grimes DJ-ed. Fitting.