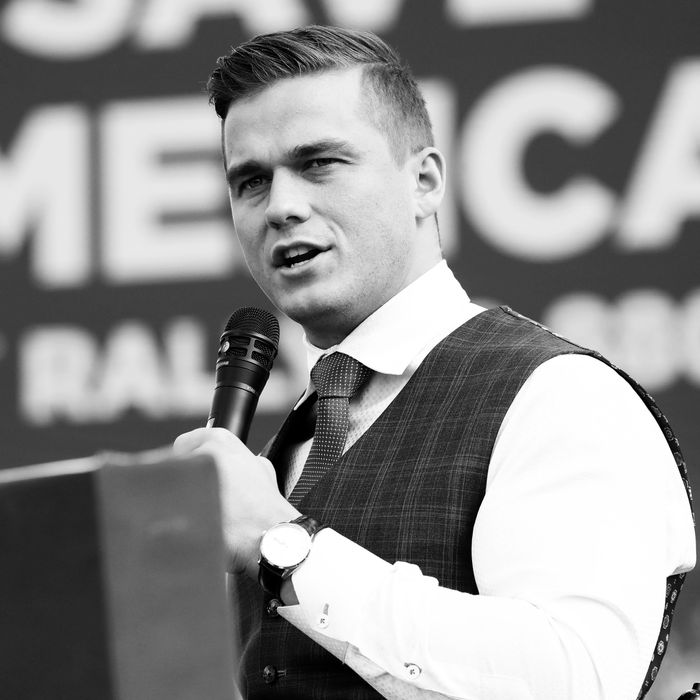 North Carolina representative Madison Cawthorn has responded to a leaked video appearing to show him nude and simulating a sex act.
Photo: Chris Seward/AP/Shutterstock
Wednesday night, a video of Madison Cawthorn began circulating on social media that appeared to show the North Carolina representative naked and making a thrusting motion in a man's face. "A new hit against me just dropped," Cawthorn tweeted in response, seeming to confirm that the video does indeed show him. "Years ago, in this video, I was being crass with a friend, trying to be funny. We were acting foolish, and joking. That's it. I'm NOT backing down."
The video was posted by American Muckrakers PAC, the political group that runs the website Fire Madison Cawthorn. The PAC claims it was sent the video by an anonymous "former supporter and big donor" of the Republican, adding that it had no further details about when the video was taken or who the other participants are. "I told you there would be a drip drip campaign," Cawthorn wrote in his tweet. "Blackmail won't win. We will."
As Cawthorn alluded, this isn't the first time he has been embroiled in scandal. In March, he said he had been invited to an "orgy" by fellow representatives, a claim that was widely disputed by his colleagues. In April, Politico published photos of Cawthorn wearing lingerie, which many saw as hypocritical given Cawthorn's staunch opposition to trans rights. Days later, Cawthorn was briefly detained by airport security in North Carolina after trying to bring a loaded gun on his flight. It was the second time in a little over a year that he had tried to do so.
Last year, CNN, the Washington Post, and Buzzfeed News each published a series of sexual-misconduct allegations against Cawthorn. More than 30 women, many of them former classmates, came forward to accuse him of making unwanted advances and derogatory remarks about them. Later, over 150 former students from Patrick Henry College, Cawthorn's alma mater, signed a letter saying that the representative was notorious for predatory behavior on campus.
Cawthorn is currently running for reelection in North Carolina, which a group of attorneys in the state had tried to prevent given his support of the January 6 insurrection. Less than a week after the insurrection, Cawthorn suggested that Trump supporters call their representatives and "lightly threaten them" in the name of "election integrity." Shortly after Cawthorn made that comment, he stated that he does not believe the 2020 election was conducted fraudulently. Last month, a judge ruled that Cawthorn's comments didn't violate the Constitution, clearing the way for him to run again.