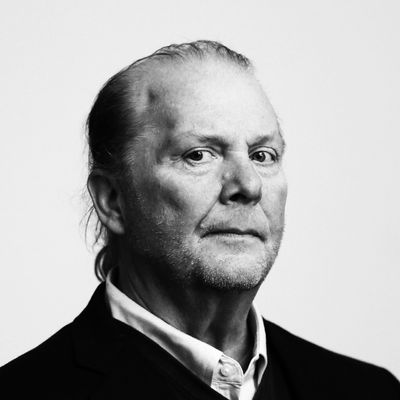 Photo: David L. Ryan/Boston Globe via Getty Images
Mario Batali had a victory in court on Tuesday, May 10, when a judge declared him not guilty of allegedly groping a woman in a Boston restaurant in 2017. The once-beloved celebrity chef, known for his pasta sauces and orange Crocs, is still facing civic charges stemming from the same allegation, not to mention all the other allegations of misconduct that have been leveled against him in the past five years.
Mario Batali was acquitted of allegedly groping a customer in 2017.
Batali's recent court victory stems from a 2019 charge of indecent assault and battery for allegedly groping a woman and forcibly kissing her at a Boston restaurant in 2017. At the time, Batali pleaded not guilty, and, via his attorney, Anthony Fuller, maintained his innocence. "He intends to fight the allegations vigorously and we expect the outcome to fully vindicate Mr. Batali," Fuller said in a statement, per the Associated Press. Three years later, the case has finally come to a close, with Judge James Stanton declaring Batali not guilty of the charges.
According to reports, Batali did not testify at his hearing, but Natali Tene, the woman accusing him, did. She claimed that he groped her while they were taking a photo together. "His right hand is all over my breasts, all over my rear end, all between my legs," she told the court. "I've never been grabbed like that before." She claimed he was "squeezing my vagina and pulling me closer to him. As if that's a normal way to pull someone in." The judge was not convinced, citing "significant credibility issues" as a reason behind his not guilty verdict.
According to Batali's attorneys, photo and video from the interaction didn't support her version of events, and the judge ruled that a previous attempt to dodge a $200 gym membership fee allegedly using fake legal documents also hurt the plaintiff, saying it seemed to "support the defendant's contention that her motive was financial gain." Tene denied this claim.
Tene's civil suit against Batali is still ongoing. She is reportedly seeking over $50,000 in damages.
Batali still faces many more allegations of misconduct, spanning decades.
Rumors of Mario Batali's inappropriate behavior with staff and fans have been circulating for years. In 2017, an exposé published by Eater recounted many past accusations of inappropriate behavior in the workplace, and cited four women who accused the chef of inappropriate touching. The allegations in the piece ranged from claims of bra-snapping in the kitchen at his '90s restaurant, to groping, to using sexual innuendo and inappropriate language in the workplace.
One woman, a chef, alleged that Batali "began rubbing her breasts with his bare hands" after she spilled wine on herself at a wine auction event. Another claimed she was working with him in a small space when he blocked her exit, forcing her to straddle him so she could leave. Other women claimed he would grab them from behind in the kitchen at work or in other professional settings. The article also described an alleged pattern of misconduct at his first restaurant, Pó, which involved a lot of "hugging from behind," according to Lee McGrath, a chef who took over after Batali left and claimed he heard stories from the staff.
The article also noted that Batali had recently been ordered to attend special training after a formal complaint was filed against him by an employee of his Batali & Bastianich Hospitality Group, through which he co-owned 16 restaurants.
Batali admitted to "the behavior described" by women accusing him of sexual harassment and unwanted touching.
When the article was published in November of 2017, Batali did not deny the claims. "I apologize to the people I have mistreated and hurt," he told Eater in a statement. He further admitted that, though he could not explicitly corroborate the instances described in the article, "much of the behavior described does, in fact, match up with ways I have acted." He went on, saying, "That behavior was wrong and there are no excuses. I take full responsibility and am deeply sorry for any pain, humiliation or discomfort I have caused to my peers, employees, customers, friends and family." Batali immediately stepped down from B & B Hospitality, but remained a co-owner of many restaurants. (His partner Joe Bastianich told Grub Street in 2018 that he banned Batali from entering any of their restaurants soon after the Eater article was released and has long denied knowing anything about Batali's alleged behavior or any complaints made by staff.)
After the Eater article, other allegations became public. An investigation into the Spotted Pig, a restaurant Batali frequented, by the New York Times included allegations that Batali had a habit of hanging out on the private third floor of the restaurant, which had been nicknamed the "rape room." A former server who spoke to the Times said Batali was known among the female staff of the Spotted Pig as "the Red Menace," and claimed, "He tried to touch my breasts and told me that they were beautiful. He wanted to wrestle. As I was serving drinks to his table, he told me I should sit on his friend's face." Batali responded to the allegations with a statement acknowledging that he had "behaved terribly," though he, again, did not confirm the behavior described.
The articles sparked a handful of investigations into Batali's behavior, including one by the New York City Police Department, which looked into allegations by three women who claimed that he had sexually assaulted them while they were intoxicated. One claimed that he had raped her at the Spotted Pig around 2011, though the exact date was unknown. The investigations were closed when prosecutors determined they didn't have enough evidence to move forward.
The cinnamon-roll apology disaster.
As the allegations against him piled up, Batali decided to attempt to redirect the conversation to the thing that made him famous: his cooking. Unfortunately, tacking on a cinnamon-roll recipe to an apology for alleged sexual misconduct is not, it turns out, the best PR move. In a newsletter sent to his fans in December of 2017, Batali apologized for his actions. "I have made many mistakes and I am so sorry that I have disappointed my friends, my family, my fans, and my team. My behavior was wrong and there are no excuses. I take full responsibility," he wrote. The letter ended with this stunning statement: "ps. In case you're searching for a holiday-inspired breakfast, these Pizza Dough Cinnamon Rolls are a fan favorite."
Mario Batali was bought out of his restaurant empire in 2019.
It would be almost two years after the release of the Eater article before Batali was officially bought out of his many businesses. In March of 2019, the Los Angeles Times reported that the chef was no longer a co-owner or an investor in any of the 16 restaurants he had previously held stake in, with Bastianich buying him out.
Mario Batali and his business partners paid $600,000 to settle a sexual-harassment and discrimination case brought by New York State attorney general Letitia James.
Attorney General Letitia James reached a $600,000 settlement with Batali, Bastianich, and their former company in 2021, after a years-long investigation into Batali & Bastianich Hospitality Group (now known as RSC Management Services). According to the investigation, the company was found to have fostered a misogynistic work environment where women were frequently passed over for promotions and demeaned by their male colleagues. "Batali and Bastianich permitted an intolerable work environment and allowed shameful behavior that is inappropriate in any setting," James said at a press conference announcing the settlement in July of 2021, per the New York Times. The investigation found a culture of harassment, with allegations of sexual harassment against Batali and other staff members, including a general manager and executive chef at Del Posto. And as part of the settlement, Bastianich was required to make changes to his company's sexual harassment training and procedures.
What's next for Mario Batali?
It's unclear what the future holds for the disgraced celebrity chef. He hasn't posted on social media since 2017, and he's kept a low profile ever since. Eater reported that his website hinted at an attempted comeback in 2019, but it seems that never materialized.