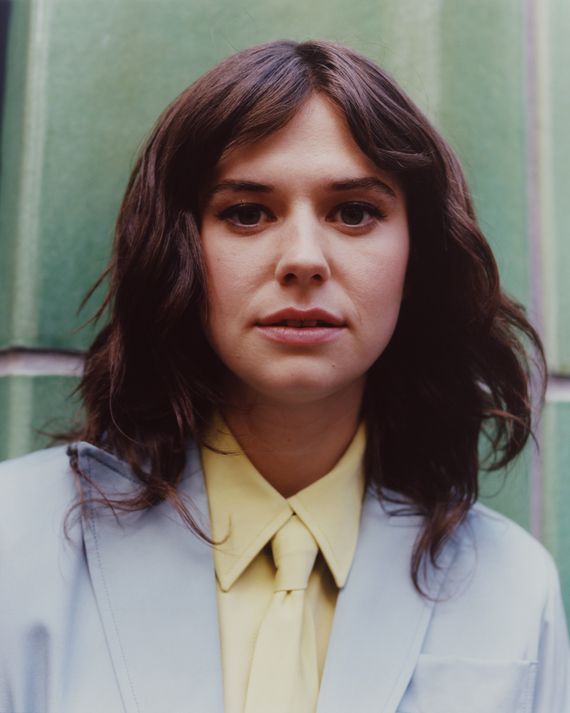 After some swift rescheduling, Alison Oliver sits down next to me on the banquette of a between-service London hotel restaurant. The 23-year-old Irish newcomer plays the lead in the BBC and Hulu adaptation of Sally Rooney's debut novel, Conversations With Friends. Now, with the show set to air after much speculation and anticipation, hers is the whirlwind schedule you might expect of someone on the brink of stardom. "I've just come back from the BBC," she hurriedly tells me of her appearance on the stalwart breakfast show.
Cozying in on the seat between us, Oliver has an air of the Phoebe Philo school of chic about her, wearing loose black pants, Reebok sneakers, and an oversize polo-necked sweater, with her hair tucked into a perfectly imperfect bun at the nape of her neck.
Having spent the better part of two days binge-watching press screeners of the generous 12 episodes of Conversations With Friends, I feel like I already know Oliver's face thanks to long, lingering shots of its characters' wanton lust. But where her character, Frances, is somewhat aloof and reserved, Oliver is warm, chatty, and speaks with softness and a natural charm.
Normal People, Rooney's first to-camera outing, starring the now-megafamous Daisy Edgar-Jones and Paul Mescal as will-they, won't-they lovestruck teens, followed a familiar love story. Conversations With Friends is a more complex narrative, centering on Frances and Bobbi (Sasha Lane) and their ménage à quatre with an older artsy couple: Melissa (Jemima Kirke) and Nick (Joe Alwyn). What deftly separates Conversations With Friends from Normal People is the characters' likability and the linear thread of whom you're rooting for. The storytelling is impartial, presenting this polyamorous setup more as reportage than a convincing lifestyle choice.
Once cast, Oliver reached out to Rooney. "It was probably the most nervous I've ever been when waiting for the 'Sally Rooney has entered the Zoom' notification," Oliver says. "She was so generous and trusting, saying that she couldn't wait to see how we did it." As to be expected, the adaptation differs slightly from the book, but much of Rooney's original manuscript remains.
"A lot of the reason people gravitate toward Sally's writing is because of how raw, honest, and fearless it is in its fruitfulness," Oliver says, a fan long before her casting call. "She's unafraid to put on the page these really overwhelming thoughts and feelings you can have at a certain age, experiencing heartbreak, losing your sense of self, or not being sure of who you are in the world."
Raised in Cork, Ireland's second city on the southwest coast with a population of just under 200,000 people, Oliver is the youngest of three daughters born to a social-worker mother and a father who worked in the automotive industry. Her sisters — twins, once what felt like a "massive" six years older — now work as a drinks brand manager and a radiographer turned sustainable-activewear entrepreneur. Finding acting, Oliver says, was a relief from academia, which never came easy and simultaneously prioritized a singular strand of intelligence: "I learned that there are so many different forms of intelligence, and I felt like I found mine in acting. Once you find that thing, I think you just kind of hold on to it." Eventually, she landed at the Lir Academy, Ireland's premier but relatively newly formed drama school.
When Conversations With Friends began filming, it was the actress's first time on a set and a world away from her theater-heavy drama-school program. Not that you'd know. Oliver's turn has seen early reviews singling out her "standout" performance for carrying the series.
The audition process, set in the midst of another wave of lockdowns in the summer of 2020, initially took place via Zoom before moving in person. "The sort of conversations I was having with my parents at the time was that it was a brilliant opportunity for me to just be in front of the team in case anything else might come up," she says, giggling with equal parts delight and hindsight. "You never think you're going to get it."
This production has called on much of the same crew as Normal People, including director Lenny Abrahamson and intimacy coordinator Ita O'Brien, whose work on Normal People brought a new focus to the need for such an expert on sets.
Oliver — like Edgar-Jones and Mescal before her — is given a fair few sex scenes alongside Alwyn. Together, the pair make for captivating viewing, though the most interesting exchanges between them don't come with words but instead take place in the most intimate moments. "A lot is done through intimacy," Oliver says, "and that is how they do their communicating."
Once on set, the conditions and O'Brien's guidance eased any nervousness: "We just knew we were in such safe hands, and Ita has really brilliant systems. Like, she will get on the floor and show you how to do it and take all of the embarrassment. Then, Lenny is so funny. He lets you have the giggles and kind of address the weirdness of it all."
Starting her postcollege career here, the "What's next?" question is inevitably swarming Oliver. Currently filming Best Interests — a BBC drama also starring Michael Sheen and Sharon Horgan that revolves around a family with an agonizing decision over end-of-life care for their youngest daughter — Oliver would also love to try her hand at a stint on a West End stage.
Though Frances is a little younger than Oliver, there were correlations between the experience of the actress and that of her character: "I was in a little bit of a similar place to Frances in that transition from leaving university to adulthood and wondering, How do I navigate that?" Yet Oliver is quick to explain that she never wanted her own experience to directly infiltrate her work.
"I always think it's so important to have distance between myself and the character," she says, "even if I really, really relate to them. Because the minute it starts getting personal, I feel like I'm not acting anymore."
Juxtapose this, then, with the fact that of late, Oliver has been taken on a somewhat forced journey of self-discovery: "When you're doing press, you're being asked 'What's your style?,' 'Who are you into?,' and 'What's your taste?'" she says, laughing, perhaps anticipating my next run of questions. "For one of the first things I did, I was like, I don't know what my favorite song is. And I said something, and I don't even like it. It's a very strange thing, because on a daily basis, you aren't usually asked these things."
Oliver seems quite content with fame's arrival, neither enthused nor intimidated by what might soon come if Edgar-Jones and Mescal's ascent are anything to go by. "It comes with such loveliness and joy, but you can't prepare for it," she says earnestly. "And it's a funny almost subplot that's happening alongside what you're doing, which is acting. I don't even feel like I've experienced any of that yet, but that's how I kind of see it, I guess."