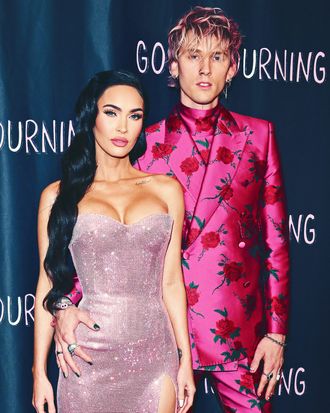 Photo: Axelle/Bauer-Griffin/FilmMagic
Ever since I heard about Machine Gun Kelly's bruised coccyx, I have not known peace. He and his fiancée, Megan Fox, love oversharing so much that I have learned, against my will, about their vomit-y ayahuasca experience, their pet names for each other, and exactly how much of each other's blood they drink. The newest addition to this wealth of unwanted knowledge is a tidbit from their weekend getaway to Las Vegas, where they apparently cut a hole in Fox's expensive jumpsuit in order to have sex.
According to Fox's Instagram post, these chaos agents spent a weekend in Las Vegas crying in the shower, but at some point decided to stop crying and have sex through a jumpsuit. Instead of, I don't know, taking it off, Fox informed her stylist via text that they "cut a hole in the crotch so we could have sex" before including a screenshot of that exchange in her public Instagram post about their weekend. I can think of few things more perilous than bringing scissors near the nether regions of a jumpsuit, but then again, these two are not known for their sense of caution.
At some point, they did engage in some more professional activities, arriving at Sunday night's Billboard Music Awards with bangs and a spiky black diamond manicure. MGK performed the song "Twin Flame" during the show, where he made a bunch of confusing suggestions about his relationship. He introduced the song with the words "I wrote this song for my wife." News to me, considering they got engaged in January with a blood-drinking ritual but have yet to share anything about their goth wedding plans. MGK raised even more questions during one part of "Twin Flame" that features the sound of a heartbeat, when he spoke over the song to say, "This is for our unborn child."
Personally I'm too stuck on the idea of these two cutting a glory hole into a Cher-style jumpsuit to focus on their possible wedding or pregnancy, but I really wouldn't mind if they got married and didn't tell anyone. Maybe they wanted to beat Kravis to it?