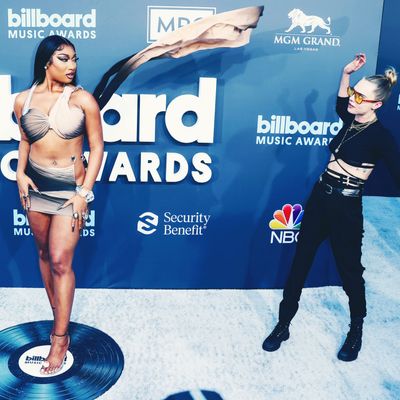 Photo: Image Press Agency/NurPhoto/Shutterstock
If you saw Megan Thee Stallion at the 2022 Billboard Music Awards, then you also saw Cara Delevingne. The model and "adult playhouse" resident did not attend the award show with the rapper, at least in the conventional sense. However, anywhere Megan Thee Stallion went, Cara Delevingne was there, too.
While Megan posed on the red carpet, Delevingne was peering from behind the step and repeat, mouthing what looks like the words "Yes, bitch." Then, Delevingne joined Megan on the red carpet, tossing her train in the air for photos. Inside the awards show, Delevingne was inexplicably seated next to Megan and behind Doja Cat. When Megan won Top Rap Female Artist, Delevingne celebrated with an obligatory tongue in Megan's face. At one point, Doja Cat was seen talking to Megan, and suddenly, a rogue Delevingne leaned into the conversation to tell Doja Cat that she loves her. "Oh my God. Hi, Cara Delevingne," Doja Cat responded." Oh my god, hi, indeed.
On Monday, Megan reposted a photo of herself and Doja Cat at the BBMAs on her Instagram story. Was this one of the few pictures from the night where Megan was photographed sans Cara? Not exactly. It appears the original account that posted the photo conveniently cropped Delevingne out. It's not clear whether Megan knew that when she posted the photo — though if she and Cara Delevingne are close friends, that would be news to most of us.
Delevingne's interactions with Megan reminded some of the time she hopped on stage with Azealia Banks and proceeded to … pretend to lick her? Back in November, Julia Fox shared a story on her podcast "Forbidden Fruits" about a party she'd recently attended. While Azealia Banks was performing, Julia and her co-host, Nikki Takesh, noticed someone on in the crowd trying to push past security. "And we realize it's Cara Delevingne," they said, adding that they saw Delevingne "begging Azealia's security to get on stage." Eventually, Delevingne, who they said appeared "wasted," got on stage and did … whatever this is:
So if we've learned anything today, it's that Cara Delevingne may be behind you at any moment.