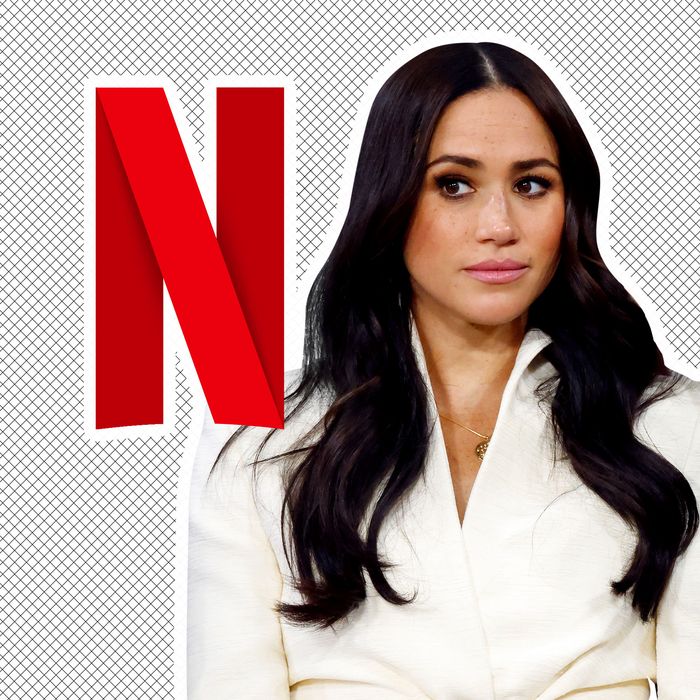 Photo-Illustration: by The Cut; Photos: Getty Images, Netflix
Things aren't looking great at Netflix. Last week, the streaming giant laid off at least ten writers from Tudum, its fan-focused editorial site. Over the past couple months, Netflix increased subscription prices, announced plans to crack down on password sharing, and renewed its dating show The Ultimatum for a second season — clearly a sign of end-times. However, Netflix's latest cut seems proof of just how dire things are at the company. Folks … Meghan Markle's animated Netflix series has been canceled.
Deadline broke the news yesterday, noting that the project, titled Pearl, was only in the development phase. (Extra-sad news if you were hoping for a leaked version of an early episode.) Pearl was meant to be an animated series following the adventures of a 12-year-old girl, named Pearl, who is finding herself with the help of various female historical figures. "Like many girls her age, our heroine Pearl is on a journey of self-discovery as she tries to overcome life's daily challenges," Markle, who was an executive producer on the series, said when the project was announced, noting that the series "celebrates extraordinary women throughout history." Unfortunately, now you will have to find your inspiring feminist cartoon content elsewhere. May I suggest Bob's Burgers?
Markle was developing the series through Archewell Productions, the media company formed by Markle and Prince Harry. In 2020, Archewell Productions signed a major deal with Netflix rumored to be worth around $100 million. Pearl was among the first projects announced amid the deal, along with a docu-series called Heart of Invictus, a program showcasing competitors in the Invictus Games. Unlike Pearl, that project seems to still be in the works.
Pearl's cancellation isn't too surprising given recent news that Netflix's animation department as a whole seems to be unraveling. Still, if Meghan Markle can't get a Netflix show made, what hope is there for anyone else?