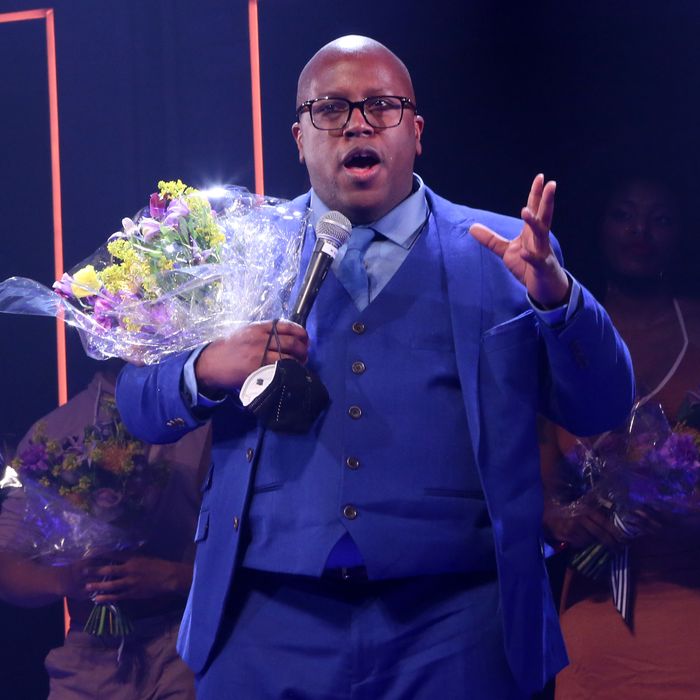 Michael R. Jackson on opening night of
A Strange Loop
.
Photo: Bruce Glikas/Getty Images
"I've been having this ongoing debate with myself. What is being gay now?" Michael R. Jackson asks me, picking at a bowl of unusually orange bang bang shrimp at the nearly deserted Bobby Van's Steakhouse on 45th Street. It's just a few nights before his "Big Black Queer Ass American Broadway Show," A Strange Loop, was to open across the street at the Lyceum Theater, and though the musical is maybe the gayest thing I've ever seen on Broadway, Jackson has clearly not spent much time lately on the gay nightlife circuit. "Where's the counterculture? Where's the danger? Where's the excitement? Like, to say, 'I'm gay.' Does anyone care?"
Obviously he's hoping the ticket buyers for Broadway musicals, who trend white, heterosexual, and in from out of town, are at least … curious. A Strange Loop, which won the 2020 Pulitzer Prize for Drama — "I was surprised that they made the right choice," Jackson says — opens with the promise that "There will be butt-fucking!" And its young, fat, queer, Black theater-queen aspiring-playwright protagonist, Usher (yes, he works as an usher), who's writing a musical (yes, called A Strange Loop), certainly wants to have gay sex and feels like something is wrong with him for not having it, but the promised butt-fucking, when it appears, is not something anybody wants.
"You're a young gay living in the big city!" Usher's doctor scolds (when he admits, shyly, "I average one penetration a year"), which is essentially what I tell Jackson myself. Add to that: He's a fabulously talented and successful gay living in New York and working in what has to be one of its highest-gay-headcount industries, the musical (this particular musical attracted quite a few A-list producers, including RuPaul, Billy Porter, Jennifer Hudson, and Mindy Kaling). But he has his excuses: He got ghosted shortly before the pandemic, and a tarot-card reader in Florida recently told him he shouldn't get laid until June. Jackson is 41, and right now there are different priorities.
A Strange Loop's Usher is in his 20s, and like many a baby-faced NYU graduate is haunted by self-doubt and self-hatred (literally — the rest of the cast is comprised of six "Thoughts," all nagging voices in Usher's head that represent everything from "Sexual Ambivalence" to "Daily Self-Loathing"), trapped between his homophobic family whose only understanding of what he could or should be doing was what Tyler Perry does, and a "white gaytriarchy" that he feels both sexually enthralled and belittled by.
Right before we met, I'd been standing outside of the Lyceum Theatre across the street, watching Jackson hold court for his fans — on this night, mostly queer teens in Docs and T-shirts that read things like "Unapologetically Black," all hoping to snap a selfie with Jackson or ask him to sign their Playbill. "I'm still processing …", "As a queer writer …", "I'm happy, and I am who I am …", I overheard them saying, several wiping away tears or holding their hands over their hearts. "Thank you," he said politely in response to their oversharing, again and again, to which they'd usually respond, "No, thank you."
Jackson, who describes himself as "an outsider's outsider's outsider," is constitutionally wary of being on the inside. Which makes sense. Even as a teen in Detroit he says he struggled to get in with the other discreetly gay high-schoolers. "They were all fucking each other. I was on the outside of it. I was watching it. That watching thing has largely been my path even now," he says. But he got here for a reason, and gives some credit to Liz Phair, whose final lyrics from "Help Me, Mary" once graced his Grindr profile: "Temper my hatred with peace / Weave my disgust into fame / And watch how fast they run to the flame."
A Strange Loop is full of references to the singer-songwriter sexpot who made it in the early '90s for ripping the male-dominated Chicago rock scene a new one with Exile in Guyville (the musical is named after both the final track on the album and the 2007 book about consciousness by Douglas Hofstadter). "To me she was this little superhero character or something. I related to her. I related to the feelings. I did not have the same problems, but I felt like I understood the alienation and the anger and the marginalization," Jackson tells me. Phair is just one member, the "daughter," of his "triumvirate" of inspirations, alongside Joni Mitchell (the mother) and Tori Amos (the Holy Ghost). Jackson says all three speak to his "inner white girl": "Those were just women who were being themselves and not afraid to show even the ugly parts." At one point, A Strange Loop was even intended to be a jukebox musical, where Usher writes "mash-ups" to Phair's songs, finding comfort in their shared outsiderness. Phair has called Guyville a "response record" to the Rolling Stones' Exile on Mainstreet, in which she treated Mick Jagger's lyrics as a "love object," the male sounding board to her own female perspective. Jackson had similar plans for A Strange Loop, intending to put his point of view as a Black gay man into conversation with Phair's feminist screaming. But she denied him permission to use her music. (One can imagine a much less enthusiastic response to that show, especially after Jagged Little Pill, last year's Tony-winning Alanis Morisette jukebox musical; Jackson voted for it, even though he calls the show "like water torture of knowing when things are going to happen.")
The upside? "It forced me to actually go and write songs," Jackson says. Which is why we have numbers like "Inner White Girl" ("White girls can do anything, can't they? Black boys must always obey their mothers") and "Exile in Gayville" ("Inner white girl, it's not fun, in this age of fuck-and-run … It's an exile in Gayville here from Hell's Kitchen to Sayville").
Phair aside — by the way, he'd love for her to come to the Lyceum — A Strange Loop's earliest form was a monologue called "Why I Can't Get Work" that Jackson wrote after graduating, in the midst of trying to figure out what to do with a bachelor's in playwriting. "I had no prospects. I was like, What the fuck is going on?" he says. "I felt unseen, I felt unheard, I felt lost, I felt and, and, and, and, and, and, and, and, so I just started writing this thinly veiled personal monologue about a young Black gay man walking around New York City, wondering why life was so terrible." Over the years, he refined the piece. "I was just trying to get at a truth," he explains. "I was trying to capture what it means to be a self in general, and a Black queer or gay self in particular."
In 2018, A Strange Loop opened Off Broadway. Today, Usher is played by the 23-year-old Broadway newcomer Jaquel Spivey, who was born the same year Jackson began writing his monologue. "Watching him feels weirdly like that's my son telling this family story," Jackson says, before reminding me that Usher is a character he wrote. The similarities between Usher and Jackson exist, of course, but he sees the constant desire by viewers to conflate the two in part as a condition unique to marginalized artists creating work about marginalized identities. "It is a piece of fiction. That's something that a lot of people don't want to afford. Like everything has to be real. It has to be cinéma-vérité," he says. In other words, would you be just as nosy if it was a show about a brooding white guy? If you're too busy wondering how much of the story is "real," Jackson thinks you're neglecting to pay attention to his artistry. "There's actual work and craft happening. It's not just me cutting my veins open and bleeding on the page."A Strange Loop is "self-referential, as opposed to autobiographical." At most, he says it's "emotionally autobiographical."
He will confirm, however, that "Inwood Daddy," a song about a racially charged hookup, is an "amalgamation" of three different real-life sexual encounters that all took place in Inwood. As for Usher's homophobic parents? His actual mom and dad are in town for the premiere; if they ever were too much like those characters he wrote, time, and perhaps his success, have let them come to terms with him, and themselves.
One of the wonderful experiences of the play is that it isn't from the perspective of a brooding white guy/gay. The night I saw it, it was clear that some of the jokes and references weren't discernible to the older, whiter, straighter audience members; you could feel people wondering — as I did sometimes — Wait, can I laugh at that? In one scene, the cast encourages audience members to clap along gospel style to the chant "AIDS is God's punishment," which most of the people around me started to do before they realized what they were doing. The awkwardness was palpable. A Strange Loop is not so much trying to provoke you as it is trying to get you to provoke yourself. "You have the total freedom to respond however you authentically respond," Jackson assures me.
"I personally am tired of people trying to tell me what my response to anything artistic has to be," he says. "Or to decide that because I'm in this category that it's for me or it's not for me." He quotes Robert O'Hara — "Everyone is welcome, and no one is safe" — before also sharing advice from his Holy Ghost: "Tori Amos always says that other people's interpretation of her music is none of her business."
Even so, Jackson has one unexpected dream: that Tucker Carlson buys tickets for the show. "I don't know if he'd actually come. He might not like musicals or whatever," Jackson says, though Carlson does seem to have a surprising interest in homoerotic themes. "I wanted to create something that everybody could find their way into and have whatever response they had to it. Even if that response was to get up and walk out."
Shortly after 11 p.m., Jackson and I head back across the street, this time to Connolly's, an Irish pub where one of the production companies behind A Strange Loop is hosting an after-party for donors and board members and other supporters of the show. Inside, Jackson orders a glass of Knob Creek and sets out to schmooze and booze.
In the meantime, I meet Michael Walkup, the artistic director of this production company, and his friend. Across the room, Jackson begins chatting up a table of guests picking at paper plates of bar food. "That's my founder and two of my board members. He's killing it right now. And he got the food," Michael coos. He tells me he's also wondering about the people who will come see the "Big Black Queer Ass American Broadway Show," and he's hoping that the "older … white … wealthy … heterosexual" couple he saw crying on their way out of the theater a few nights ago was a good sign. "I was like, I think we might sell a lot of tickets, actually, if that's happening."
Eventually, Jackson joins the two of us in a corner of the bar for another drink, where, once again, he receives his admirers — this time mostly white ladies with hair-sprayed bouffants and designer coats. "It's just so amazing to see a dream come true. Thank you so much. The world needs it. It's great. It's wonderful," one, who's visiting from Texas, says with a drawl on her way out the door. Jackson responds, simply, "Thank you. Thank you for your contribution."
Again, we return to talking about gay sex and dating in the city, a subject A Strange Loop tackles head-on, but that Jackson, in person, seems determined to distance himself from. "Do gay men like sex anymore? It's just not clear to me. I might still be on the outside looking in," he says, before launching into a song (not for the first time tonight) from another gay musical, Dear Evan Hansen, "Waaavvvinngggg through a window!" When he's not listening, his friend tells me, "Back in 2018, when we were younger, we would, like, hit gay bars. But then he'd end up essentially performing a scene from the show about how like, No, it's not working, no one wants me here, whatever."
Despite our subtle attempts at getting Jackson out to another bar tonight — we are, after all, as "Exile in Gayville" says, "just steps away from Industry and Therapy" and the rest of theHell's Kitchen gay nightlife district— it's after 1 a.m. and Jackson is ready to head home to Washington Heights. Earlier in the night, he told me, "I'm a bitter old career gal. A lonely spinster. For the moment."