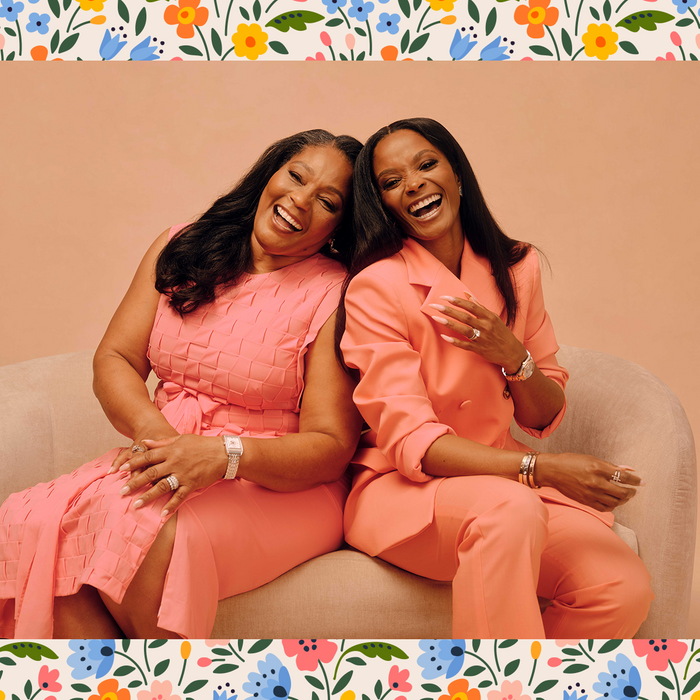 They teach us how to tie our shoes, to look both ways while crossing the street, and shelter us from harm's way. The distinct relationship between a mother and a daughter is (naturally) complex and constantly shifting. No matter how complicated the mother-daughter bond may be, a mom will inherently pass down their personal traits and quirks, from a nervous giggle to the desire to dress up for every occasion.
Even though our styles may differ from theirs (sometimes wildly, sometimes slightly), we always remember their style choices: a pearl necklace, a signature red lip, a weekend trip to the mall's best department stores.
Loreal Sarkisian is a personal stylist, (and a Neiman Marcus personal stylist), with an eye for traditional silhouettes and classic details. Her mother, Loretta Smith, is a talented seamstress with a love for interior design and fine art. Neiman Marcus brought Loreal and Loretta together — just in time for Mother's Day — for a photoshoot featuring some of their favorite brands, trends, and silhouettes. We asked Loreal to share more about their relationship, the memories they share, and how their bond has evolved with age. Read on for Loreal's story, and shop their looks plus their must-gift Neiman Marcus Mother's Day picks.
Every morning, after my mom would drop us off at school, she would go work out. And like clockwork, as we were getting out of the car, she would pull down the mirror and put on lipstick. Who puts on lipstick before working out? I remember this fondly because it shows how girly she was, and how she always made sure to put her best foot forward — even if it's something as simple as going to work out.
My mom and I have always been close, especially coming from a tight-knit family. We have all had our tiffs along the way, but family is at the top of our priority list, only after God. She has always taken the role of mother, sister, and wife seriously, so we have always been shown tough love. Growing up, I felt like I heard the word "no" more than I heard "yes," but I appreciate it now because the older I've gotten, the more I've realized she was right.
My mom is multifaceted. She ran track and coached, so she became my coach from when I was 5 years old up until college. That meant a lot of years of nurturing and support as an athlete. Those lessons have transferred on and off the track, from mental and emotional well-being to all things physical. She has always been what I like to call a creative. She can draw, paint, snap a photo, sew, cook, and bake; when she does all these things, there is an art in the presentation and detail. I did not get her vocals in being a singer or her ability to paint, but her passion for creativity rubbed off on me. I learned from her about fashion at a young age while watching her sew and curate interior designs.
I have a hashtag that I use, "when you look good, you feel good," another lesson I learned from my mother. With that being our mantra, it inspires us to look and feel our best every day. Growing up, she taught me to wear things that enhanced my body, which was something she did and emphasized looking presentable. Our styles are similar, in that she is super classy. She likes to wear things that are timeless and never go out of style. I also lean towards the classic and timeless style, but I add a little more edge to my everyday wear.
Shop Loreal and Loretta's Looks
My mom is the type of person who has always looked good. even when she goes to bed — silk pajamas, no bonnets, no scarves, just a cute braid. She doesn't own any sweatpants or sneakers unless they are for practical workouts, because she always taught us to be presentable no matter what we were doing. She is a true "girly girl," setting the tone for my style — after I got out of my tomboy stage, of course. She would shy away from a trendy piece as it serves no purpose for her. Depending on what it is, I may gravitate towards a new trendy piece, only if I can find a way to make it an essential.
We just finished throwing a baby shower for one of my best friends. We bounced ideas off each other during the planning process, like color, aesthetic, mood, atmosphere, etc. Whether they are mine or hers, projects are constantly evolving, allowing space for my mom and me to lean on each other creatively at all times.
In recent years, I have loved working with my team at Neiman's to curate items for my mom and bring Neiman's to her! It's hard to shop together now that we're not in the same city, but yes, we definitely share new finds and run potential purchases past each other.
We love being all together, but the photoshoot with you all made it special that it got to be just the two of us. [When I think about my mom in the future], I want her to continue to have longevity in her mental and emotional health. She has turned into a completely different person now that the littles have arrived, and Lord willing, she will be able to continue to be there for all the recitals and games. But, again, she is so multi-faceted and has reached so many achievements already in her career. Still, I know her love for interior design will allow her business to continue to grow.
Shop Loreal and Loretta's Looks
This advertising content was produced in collaboration between Vox Creative and our sponsor, without involvement from Vox Media editorial staff.