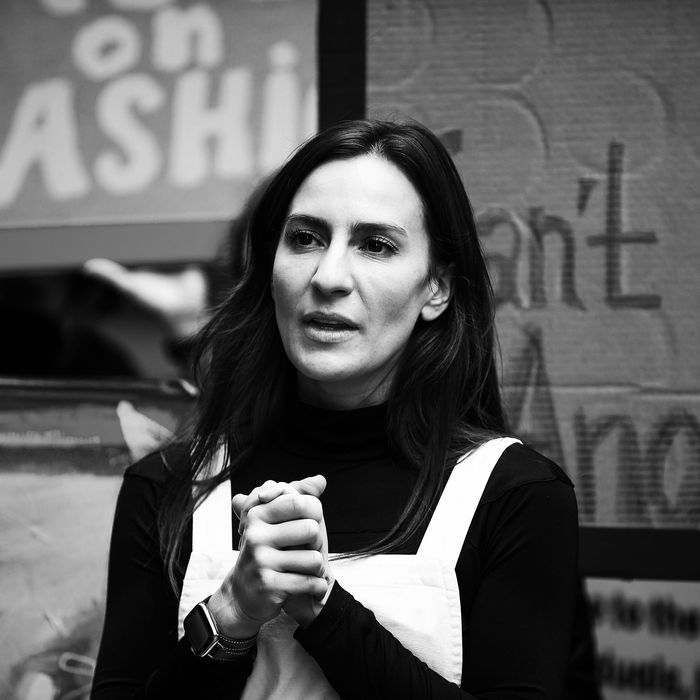 Photo: Tayfun Coskun/Anadolu Agency via Getty Images
As news broke Monday night of a leaked Supreme Court draft opinion on Dobbs v. Jackson Women's Health Organization, signaling an impending decision to overturn Roe v. Wade, Governor Kathy Hochul invited people looking for abortion access to come to New York: "For anyone who needs access to care," she wrote on Twitter, "our state will welcome you with open arms. Abortion will always be safe & accessible in New York."
New York passed its Reproductive Health Act in 2019 — legislation that expanded access to abortion care and codified Roe in the state's constitution. At the time, New York politicians touted the law as a major victory in the nationwide battle to shore up reproductive rights against abortion bans in red states. That same year, the New York City Council voted to allocate $250,000 to an abortion access fund that, in part, helps people cross state lines to receive care in NYC. It has continued to fund that amount each year ever since.
But how much of a "reproductive sanctuary" or safe haven is New York, really? "New York has done part of its job in codifying Roe," says State Senator Alessandra Biaggi, who ran in 2018 against a member of the Independent Democratic Caucus, a group of state senators who cooperated with Republican legislators out of a bipartisan lack of interest in protecting abortion rights. "There's still more to do."
In a conversation in the wake of the SCOTUS news, Biaggi pointed to at least five bills introduced into the State Legislature that would help protect and improve access for both residents and people who travel here. Her own bill, which has languished since September, would make it easier for New Yorkers to donate to a state abortion fund.
Biaggi criticized Hochul, who last year announced a new abortion-rights agenda — in response to bans in states like Texas and Mississippi — that included an educational program but no new legislation. "We've seen a lot of talk around this issue with regard to our governor," Biaggi says ahead of the end of the current State Legislative session. "But she has 15 days to prove to us that she actually cares about expanding access and making New York a true reproductive sanctuary state."
How much is New York State actually a so-called reproductive-rights safe haven?
New York has done part of its job in codifying Roe — but I just want to be really clear with you. In New York, we were only able to codify Roe after we removed turncoat Democrats who were handing power to Republicans for years, and nobody did anything. Nobody did a thing in New York until I and seven other people ran against these members, beat most of them, then were able to codify Roe. And that entire setup was supported by our previous governor — another Democrat. There's a pattern in this party of accommodating people who call themselves Democrats but don't actually uphold the values of what it means to be a Democrat. These are people who still get up every morning and go to work in their nice offices in the senate, get money to go to their districts, get support from the Democratic Party. That was the story that played out in New York until a lot of us stood up and said, "No, we're not going to allow that to happen."
How much did abortion access motivate you to run for State Senate in the first place?
Codifying Roe defined my 2018 race for State Senate. The Reproductive Health Act was a bill I worked on in 2017 as a lawyer for Cuomo. I thought to myself, Oh, this is gonna be so easy. New York is a progressive beacon. We protect women here. And it didn't pass. And, frankly, people didn't even bat an eyelash. When I peeled the curtain back, I realized that there were Democrats giving power to Republicans and stopping these bills from passing. And it was my state senator leading the charge. I decided to run — at the very least to make all of his constituents aware that he was standing in the way of protecting every single person and woman who was trying to access an abortion in New York.
What has the State Legislature accomplished since passing the Reproductive Health Act?
We passed the Comprehensive Contraceptive Coverage Act [part of the RHA bundle in 2019, which requires insurers to cover contraception]. We passed the "Boss Bill" [in November 2019, which keeps medical decisions private from employers and protects employees from reprisal]. Yet there's still more to do to make sure that New York is solidified as a reproductive sanctuary state — namely, making sure that we don't just offer the right to people but we also make sure that there is access. And access equals funding. I proposed a bill that would allow a voluntary contribution on our state taxes so that people can give money to an abortion-access fund. We can then use that money to provide funding for child care, transportation, and the actual cost of the service — not just for New York residents but for people who are coming to New York from outside of the state.
But your bill hasn't gotten the support it needs to pass. 
We have really not done much, to be perfectly blunt, to continue to protect abortion access and rights in this past budget. There have been moments in the past two years when we have said, "We have to go further. We have to do more." And, essentially, we're told, "No, we're not prioritizing that."
In this past budget cycle, women's health centers requested something along the lines of $30 million, because they were saying that there has been an increase in the number of people who are coming to their clinics and they can't keep up with the pace. That request was denied [by the governor's office]. How do you deny that in a year when we know Roe is going to be overturned? The things that actually have been prioritized are things like stadiums and changing election law. We act with haste and urgency around these things — but not around the things that we know will save lives. Building a stadium is not going to save lives.
What can the Legislature do right now to make New York a real sanctuary?
There are bills in the Legislature right now that we can pass tomorrow. If we wanted to actually do this, we could stay in Albany and stay in session to vote — if we actually cared about it.
There are three additional bills that Senator Liz Krueger introduced that are essentially modeling what California has done to go beyond codifying Roe. [S8777 prohibits the extradition of abortion providers, S8778 gives certain legal protections to providers in the state, and S8779 prohibits courts from issuing subpoenas if other states try to initiate legal proceedings on New York providers.] There is Senator Brooks's bill that would require private-insurance plans in New York that offer maternity-care coverage to cover abortion care. Just this morning, I introduced a bill with an assemblymember to protect people who travel to the state from having any kind of harm done to them — to address laws being passed now in places like Texas and Missouri. [The bill is the FIRE HATE Act, which modifies civil-rights law to empower people to sue in New York State Supreme Court if their home state tries to criminalize them for receiving abortion care here.]
And you'd like to see support from Hochul on getting these bills passed. 
We've seen a lot of talk around this issue with regard to our governor, but she has 15 days for the Legislature to vote before the end of the Legislative session on June 2 — to prove to us that she actually cares about expanding access and making New York a true reproductive sanctuary state. I think that if she doesn't, New Yorkers know that this is not somebody who's going to protect a woman's right or a person's right to choose. Then we have to make decisions accordingly. And it's not a threat. It's just the reality.
This interview has been lightly condensed and edited for clarity.